Plants of the Week Advanced Search
Search results for "Rhoicissus" (displaying 3 of 3 on page 1)
Refine your search
Sort by date added
Sort Alphabetically
Common names:
northern Bushman's grape, bitter grape, wild grape (Eng.); noordelike boesmansdruif, bitterdruif, droog-my-keel, wildedruif (Afr.); isaqoni, umnxeba
... Acknowledgements: Images by Geoff Nichols. Rhoicissus tridentata is a deciduous, scrambling, shrubby creeper, that has ... are near round and 15–20 mm in diameter. Rhoicissus tridentata is not endemic to South Africa, it is widely ...
25 / 09 / 2017 | Sisanda Alakhe Velembo-Mhlauli | Kirstenbosch NBG
Read More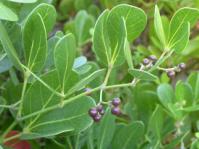 Common names:
baboon grape (Eng.); bobbejaandruif (Afr.); isiNwazi, umThwazi, umNangwazi, umPhambane (Z); isaQoni, isaQoni esincini (X)
... National Botanical Garden January 2012 Rhoicissus digitata is a mainly woody perennial climber with a possible ... by birds and mammals. Larvae of various moths feed on Rhoicissus and the leaves are also browsed by game. Large tuber-like roots ...
16 / 01 / 2012 | Cherise Viljoen | Kirstenbosch NBG
Read More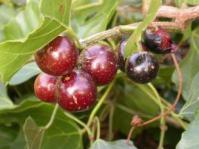 Common names:
wild grape, bush grape, African grape, forest Grape, monkey rope, wild vine (Eng.); Bosdruif, Wildedruif, Bostou, Bobbejaantou (Afrikaans), isaQoni, i
... celerio ) have been recorded eating the leaves of Rhoicissus tomentosa and R. tridentata . The leaves exhibit the ... out of the tips of the veins in the leaves. Rhoicissus This vigorous, scrambling, evergreen climber is a good garden ...
07 / 06 / 2004 | Alice Notten | Kirstenbosch NBG
Read More