Plants of the Week Advanced Search
Search results for "Roella" (displaying 4 of 4 on page 1)
Refine your search
Sort by date added
Sort Alphabetically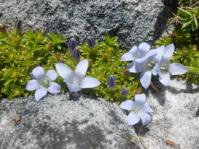 Common names:
None recorded
... Cupido Compton Herbarium February 2015 Roella muscosa is a flat-growing, herbaceous, perennial plant. It forms dense ... areas among rocks, often in shady areas. Roella muscosa is likely to have a similar pollination syndrome as other ...
09 / 02 / 2015 | C Cupido | Compton Herbarium
Read More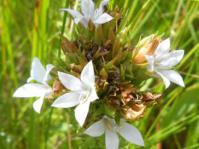 Common names:
Amazombe (isiZulu); ibhosisi (isiXhosa)
... Compton Herbarium September 2014 Roella glomerata is a summer flowering, erect, branched shrublet, up to ... fruit is a capsule which opens by an apical plug. Roella glomerata is endemic to South Africa and is the only Roella ...
22 / 09 / 2014 | C Cupido | Compton Herbarium
Read More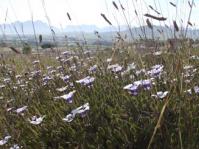 Common names:
prickly roella, white-eyed roella, giant capebell
... National Botanical Garden May 2012 Roella ciliata is a scrambling or erect shrublet to 500 mm high, with small, ... It flowers in summer, from August to March. Roella ciliata has fragmented (patchy) populations in the wild. It is ...
14 / 05 / 2012 | Zoleka Maphanga | Kirstenbosch NBG
Read More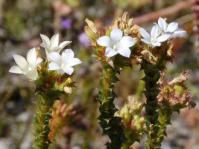 ... Kirstenbosch March 2011   Species of Roella are summer flowering dwarf shrubs or perennial herbs with an erect to ... opens by an apical plug or longitudinal slits. Roella comprises over 20 species, endemic to South African where they are ...
28 / 03 / 2011 | C Cupido | Compton Herbarium
Read More