Plants of the Week Advanced Search
Search results for "Rothmannia" (displaying 2 of 2 on page 1)
Refine your search
Sort by date added
Sort Alphabetically
Common names:
September bells, bell gardenia (Eng.); klokkies-valskatjiepiering (Afr.); umGubhe (Xhosa); umPhazane (Zulu); Thudwane (Venda); siKoba (Swati)
... of the bell gardenia. Carpenter bees visit the flowers. Rothmannia The plant is easily cultivated from seed in ... of the fruit. Rothmannias are related to gardenias and Rothmannia capensis with larger flowers is also cultivated in gardens. Rothmannia globosa is a decorative small garden tree with ...
14 / 11 / 2005 | J K Baloyi | Pretoria NBG
Read More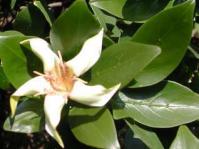 Common names:
wild gardenia, common Rothmannia (Eng.); wildekatjiepiering (Afr.); modulatshwene (Northern Sotho); mukubudu (Venda); umPhazane-mkhlu (Zulu); iBolo (X
... turn brown. They contain many flat seeds embedded in pulp. Rothmannia capensis is distributed from Limpopo in the north ... and bushpigs immediately devour dropped fruits in forests. Rothmannia This beautiful tree is suitable even for small ... until germination, which takes place from 14 days onwards. Rothmannia was named in honour of Dr Georgius Rothman ...
28 / 06 / 2004 | J K Baloyi | Pretoria NBG
Read More