Plants of the Week Advanced Search
Search results for "Ruschia" (displaying 3 of 3 on page 1)
Refine your search
Sort by date added
Sort Alphabetically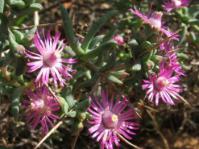 Common names:
thorny vygie, spiny ruschia (Eng.); doringvygie (Afr.)
... Garden August 2014       Ruschia spinosa is a spinescent shrub, 350-700 mm high with a rounded habit. ... or without narrow valve wings. Seeds are very small.  Ruschia spinosa takes about two years to be fully grown. ...
18 / 08 / 2014 | Hannelie Snyman | Kirstenbosch NBG
Read More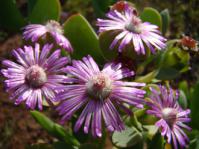 Common names:
giant mountain vygie (Eng.)
... Flowering can take place at any time of the year, but most Ruschia species flower from September to November. Mature fruits of this ... are small, hard and contain 4 or 5 locules. Ruschia maxima occurs in the Western Cape near the coast and inland towards ...
02 / 01 / 2012 | Ricardo Riddles | Karoo Desert NBG
Read More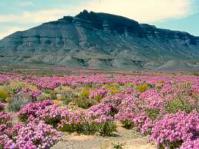 Common names:
beesvygie (Afr.)
... as protection against grazing animals. The flowers of Ruschia vary from white to pink and purple. They very much resemble another ... have much bigger flowers and more colour types. Members of Ruschia are all very floriferous; flowers literally cover the entire plant. ...
14 / 11 / 2005 | Werner Voigt | Kirstenbosch NBG
Read More