Plants of the Week Advanced Search
Search results for "Scadoxus" (displaying 3 of 3 on page 1)
Refine your search
Sort by date added
Sort Alphabetically
Common names:
dwarf paintbrush, (Eng.); seeroogblom (Afr.); idumbi (Zul.)
... National Botanical Garden October 2018 Scadoxus membranaceus is the smallest of the known Scadoxus species, entirely evergreen and low growing, its height varies from ...
29 / 10 / 2018 | Nomama Mei | Kirstenbosch NBG
Read More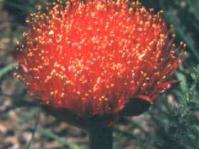 Common names:
Paintbrush lily, Snake lily (E), Rooikwas (Afr), isisphompho, umgola (Z)
... September 2001 In spring and early summer the Scadoxus puniceus bears large dense heads (inflorescences) up to 15cm across ... with its distribution extending to Tropical Africa. Scadoxus A popular garden subject, the paintbrush lily has been in ...
08 / 10 / 2001 | Sharon Turner | Walter Sisulu NBG
Read More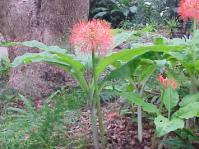 Common names:
fireball lily, blood flower, katharine wheel, poison root (Eng.); bloedblom, gifwortel (Afr.); inkupulwane (isiXhosa); idunjana, ubukhoswane (isiZulu)
... National Botanical Garden February 2001 Scadoxus multiflorus ssp katharinae is an evergreen rhizomatous ... can remain on the plant for up to 2 months. Scadoxus multiflorus  has a wide distribution and varying habitat and is ... and is very common in the shade of trees at river banks.  Scadoxus multiflorus  ssp  katharinae  occurs in the Eastern Cape, ...
26 / 02 / 2001 | Alice Notten | Kirstenbosch NBG
Read More