Plants of the Week Advanced Search
Search results for "Schotia" (displaying 4 of 4 on page 1)
Refine your search
Sort by date added
Sort Alphabetically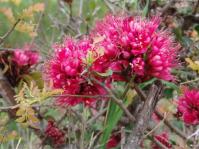 Common names:
dwarf boer-bean, forest tree-fuschia, wild-fuschia, Transvaal boer-bean (Eng.); kleinboerboon, transvaalboerboon (Afr.); isincasha, uvovovo (Zulu).
... Riddles Karoo Desert National Botanical Garden August 2020 Schotia capitata is an evergreen, multi-stemmed shrub that ... wide when matured, with a compressed yellow basal aril.  Schotia capitata looks similar to S. brachypetala , the ... the flowerheads, which are all smaller on S. capitata . Schotia capitata has a widespread distribution. It occurs in ...
31 / 08 / 2020 | Thabang Makola | Karoo Desert NBG
Read More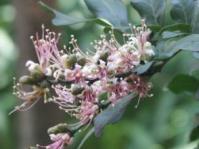 Common names:
forest boer-bean, bush boer-bean (Eng.); bosboerboon, boerboontjie (Afr.); umGxam, umXamo (isiXhosa); umGxamu (isiZulu)
... Aubrey Walter Sisulu National Botanical Garden April 2007 Schotia latifolia is a tree which grows up to 3 m high where ... are light brown with a yellow attachment called an aril.  Schotia latifolia grows in forests and forest margins, scrub ... nesting sites of the Greater Double-collared Sunbird. Schotia Propagate Schotia latifolia  from seed in spring. ...
16 / 04 / 2007 | Alice Aubrey | Walter Sisulu NBG
Read More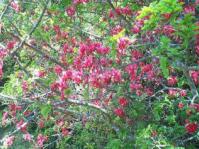 Common names:
Karoo boer-bean (Eng.), Karoohuilboerboon (Afr.)
... Karoo Desert NBG Ian Oliver Karoo Desert NBG March 2003 Schotia afra var. af ra  is small in stature (max. height 5 ... in moist soil in late spring after the winter rains. Schotia afra  var.  afra  is in the subfamily ... are more than three terminally. The stipules are present Schotia Schotia afra  var.  afra  seed is easy to collect. ...
10 / 03 / 2003 | Roger Oliver | Karoo Desert NBG
Read More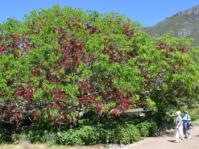 Common names:
weeping boer-bean, tree fuchsia, African walnut (Eng.); huilboerboon (Afr.); umfofofo, umgxam, ishimnumyane (Xhosa), ihluze, umgxamu, uvovovo (Zulu),
... Botanical Garden August 2001 , updated January 2014 Schotia brachypetala  is a handsome, medium to large tree ... tree, maturing during late summer to autumn (Feb.-May). Schotia brachypetala  occurs in warm dry areas in bushveld, ... Northern Province and into Mozambique and Zimbabwe. Schotia brachypetala  attracts a wide variety of birds, ...
03 / 09 / 2001 | Giles Mbambezeli | Kirstenbosch NBG
Read More