Plants of the Week Advanced Search
Search results for "Schotia" (displaying 3 of 3 on page 1)
Refine your search
Sort by date added
Sort Alphabetically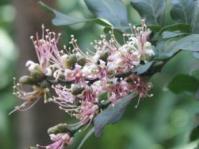 Common names:
forest boer-bean, bush boer-bean (Eng.); bosboerboon, boerboontjie (Afr.); umGxam, umXamo (isiXhosa); umGxamu (isiZulu)
... Sisulu National Botanical Garden April 2007 Schotia latifolia is a tree which grows up to 3 m high where the habitat is ... with a yellow attachment called an aril.  Schotia latifolia grows in forests and forest margins, scrub and bushveld. ...
16 / 04 / 2007 | Alice Aubrey | Walter Sisulu NBG
Read More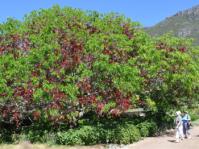 Common names:
weeping boer-bean, tree fuchsia, African walnut (Eng.); huilboerboon (Afr.); umfofofo, umgxam, ishimnumyane (Xhosa), ihluze, umgxamu, uvovovo (Zulu),
... 2001 , updated January 2014 Schotia brachypetala  is a handsome, medium to large tree with a ... during late summer to autumn (Feb.-May). Schotia brachypetala  occurs in warm dry areas in bushveld, deciduous ... Province and into Mozambique and Zimbabwe. Schotia brachypetala  attracts a wide variety of birds, animals and insects ...
03 / 09 / 2001 | Giles Mbambezeli | Kirstenbosch NBG
Read More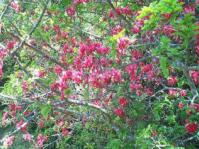 Common names:
Karoo boer-bean (Eng.), Karoohuilboerboon (Afr.)
... Ian Oliver Karoo Desert NBG March 2003 Schotia afra var. af ra  is small in stature (max. height 5 m), ... soil in late spring after the winter rains. Schotia afra  var.  afra  is in the subfamily Caesalpinioideae. All the ...
10 / 03 / 2003 | Roger Oliver | Karoo Desert NBG
Read More