Plants of the Week Advanced Search
Search results for "Solanum" (displaying 2 of 2 on page 1)
Refine your search
Sort by date added
Sort Alphabetically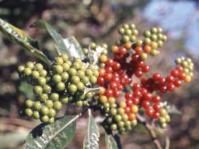 Common names:
healing-leaf tree, giant bitter-apple, red bitter-apple, red bitter-berry, thorny bug-tree (Eng.); geneesblaarboom, grootbitterappel, rooibitterbessie
... in late winter when food is in short supply. Solanum This species is an attractive garden subject, mainly because of the ... year. Jaeger (1985) explains that the genus name Solanum is possibly connected to the Latin noun solamen , meaning a relief ...
19 / 01 / 2004 | M Welman | National Herbarium Pretoria
Read More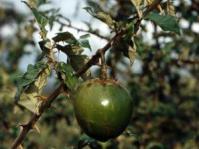 Common names:
goat bitter-apple, bitter-apple, goat apple, poison apple (Eng.); bok-bitterappel, bitterappel, bokappel, gifappel (Afr.); thola (Tswana); murulwa (Ve
... fruit make this plant unique among the African species of Solanum . It could perhaps be confused with S. lichtensteini i (= S. ... as a component of the north-eastern Mountain Sourveld. Solanum This plant could be an attractive garden subject, but unfortunately ...
01 / 03 / 2004 | M Welman | National Herbarium Pretoria
Read More