Plants of the Week Advanced Search
Search results for "Strophanthus" (displaying 2 of 2 on page 1)
Refine your search
Sort by date added
Sort Alphabetically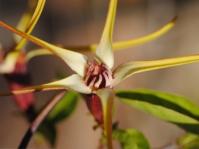 Common names:
elephant vine, knob-stemmed poisonrope (Eng.); knopstamgiftou (Afr.); omhundure (Otjiherero); mangala-ndumbu (Lunyaneka, Muila & Muquilenge); muzua-ng
... segment) — this is one of the outstanding characters of Strophanthus . In this species the corona lobes are also dark ... found on sandy plains. Figure 9. Known distribution of Strophanthus amboensis . Very little information is known on the biology of the genus Strophanthus . The only pollinator that has been mentioned in ...
03 / 09 / 2018 | Stoffel Petrus Pieter Bester | National Herbarium Pretoria
Read More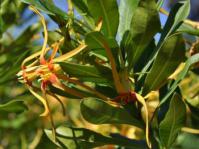 Common names:
forest tailflower, poison rope, common poison rope, forest poison rope (Eng.); giftou, bobbejaantou, bosgiftou, osdoring (Afr.); umhlazazane (Swati/si
... pod) split to release seeds dispersed by the wind. Strophanthus speciosus is found in forest margins in the ... is wind-dispersed. Whether as a tree, shrub or climber, Strophanthus speciosus provides good nesting sites for birds. Strophanthus Strophanthus speciosus is easily grown from seed ...
29 / 07 / 2013 | Hannelie Snyman | Kirstenbosch NBG
Read More