Plants of the Week Advanced Search
Search results for "Strumaria" (displaying 4 of 4 on page 1)
Refine your search
Sort by date added
Sort Alphabetically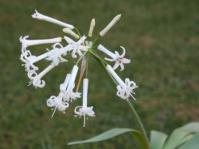 ... takes place in May and early June. Strumaria phonolithica is endemic to the Aurus and Klinghardt mountains in ... of over six months from early summer to early autumn. Strumaria For the specialist bulb grower, Strumaria phonolithica is ...
21 / 07 / 2014 | Graham Duncan | Kirstenbosch NBG
Read More
Common names:
Cape snowflake (Eng.); tolbol (Afr.)
... Kirstenbosch September 2008   Strumaria is a moderately diverse group of small, bulbous plants. Covered ... leaves that grow in a spreading, somewhat erect fan. Strumaria truncata is unusual in having a prominent, inflated, ... seeds which vary from 2-5 mm in diameter. Strumaria is endemic to southern Africa. Most of the 28 species are found in ...
15 / 09 / 2008 | D Snijman | Compton Herbarium
Read More
Common names:
Free State snowflake ( Eng. ); tolbol (Afr.)
... National Botanical Garden March 2008   Strumaria tenella subsp. orientalis is a fast-growing perennial bulb ... and flowers from April to July/August. Strumaria tenella subsp orientalis is currently known only in the Free ...
10 / 03 / 2008 | Luambo David Rambuwani | Free State NBG
Read More
Common names:
Namaqualand snowflake
... in botanical terms) which supports the base of the leaves. Strumaria truncata is the only species in the genus that produces this ... leaves. The flowers vary in colour from pure white as in Strumaria barbarae from southern Namibia, to bright pink as in Strumaria ...
06 / 05 / 2002 | Graham Duncan | Kirstenbosch NBG
Read More