Plants of the Week Advanced Search
Search results for "Struthiola" (displaying 4 of 4 on page 1)
Refine your search
Sort by date added
Sort Alphabetically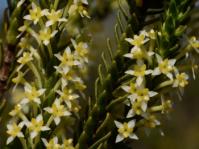 Common names:
roemenaggie, katstertjie (Afr.)
... has been shown to be true for S. ciliata . Struthiola Cultivation requirements are not yet known, but the cultivation ... furrows that form at the back of the dry leaves. Struthiola is a largely southern African genus of ± 40 species, with 3 or 4 ...
15 / 01 / 2018 | Thuli Makhoba | Compton Herbarium
Read More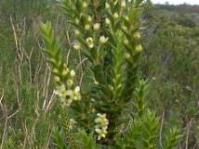 Common names:
roemenaggie, aandgonna, slapgonna, slapaand (Afr.)
... occurring in spring (August, September). Struthiola argentea occurs from Stellenbosch in the Western Cape to Port ... sweet scent attracts moths to pollinate the flowers. Struthiola Struthiola argentea is easily propagated from tip cuttings ...
13 / 08 / 2007 | Phakamani Xaba | Kirstenbosch NBG
Read More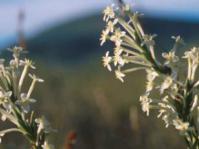 Common names:
evening gonna, lax gonna, the lady that passes by in the night (Eng.); stroopbossie, juffertjie-roer-by-die-nag, aandgonna, slapgonna (Afr.)
... National Botanical Garden July 2006 Struthiola ciliata is a shrub of up to 1.5 m high with flatly pressed back, ...                           The genus Struthiola , with some 40 species, is distributed throughout southern and ...
24 / 07 / 2006 | Tsepang Makholela | Pretoria NBG
Read More
Common names:
Juffertjie-roer-by-die-nag (Afr.)
... Porter National Botanical Garden November 2002 Struthiola myrsinites is an open, willowy shrub which grows to a height of 2 ... or fleshy lobes at the mouth of the calyx. Struthiola myrsinites occurs widely in sandy soil, often near watercourses. ...
09 / 12 / 2002 | Berenice Carolus | Harold Porter NBG
Read More