Plants of the Week Advanced Search
Search results for "Strychnos" (displaying 4 of 4 on page 1)
Refine your search
Sort by date added
Sort Alphabetically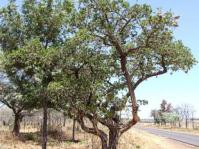 Common names:
corky-bark monkey-orange (Eng.); kurkbasklapper (Afr.); morapa (North Sotho); omusu (otjiHerero); liguni, maguni (Ovambo) Tree No: Zimbabwe 881
... me with the information on the habit of West African Strychnos. Strychnos cocculoides is an evergreen tree up to about 8 m tall; crown ...
31 / 08 / 2009 | Hugh Glen | KwaZulu-Natal NBG
Read More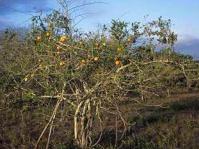 Common names:
black monkey orange (Eng.); swartklapper, botterklapper (Afr.); Morapa (N Sotho); Nkwaka (Tsonga); Mogorwagorwana (Tswana); Mukwakwa (Venda); umGluguz
... Botany Department, Pretoria University.   Strychnos madagascariensis is 5-8 m tall and is heavily branched. The bark is ... The seeds are then rolled with the dung and buried. Strychnos Strychnos madagascariensis is easily grown from seed and will ...
08 / 12 / 2008 | Marcini Govender | National Herbarium Pretoria
Read More
Common names:
Cape teak (Eng.); Kaapse kiaat (Afr.); umhlamahlala, umkhangele (Xhosa); umkhombazulu, umlahlankosi, umphatha-wenkosi (Zulu)
... National Botanic Garden December 2008 Strychnos decussata is a small to medium tree, 3-12 m high. It has a dense ... to oval, small, 17 mm in diameter. Strychnos decussata occurs in the coastal belt of the Eastern Cape from ...
01 / 12 / 2008 | Giles Mbambezeli | Kirstenbosch NBG
Read More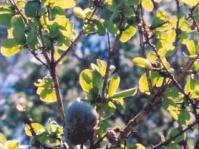 Common names:
spiny monkey orange/green monkey orange (Eng) doringklapper (Afr) morapa (NS) umKwakwa (Sw) nsala (Ts) muramba (V)
... is believed that various insects pollinate the flowers. Strychnos This small to medium sized tree with its dark green glossy leaves ... pest organisms has been documented. The genus name "Strychnos" is taken from the Greek word for deadly, which refers to poisonous ...
24 / 01 / 2005 | Lou-nita LeRoux | Lowveld NBG
Read More