Plants of the Week Advanced Search
Search results for "Syncolostemon" (displaying 8 of 8 on page 1)
Refine your search
Sort by date added
Sort Alphabetically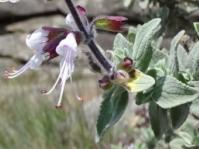 Common names:
Kaapsehoop sagebush (Eng.); Kaapsehoopsalie (Afr.)
... images by Peter Warren, posted on iNaturalist.   Syncolostemon incanus is a sparsely branched shrub, about 0.6 ... and summer (from September to March). Seeds are brown. Syncolostemon incanus is endemic to South Africa, it occurs ... grassland, in shallow sandy soil among quartzite rocks. Syncolostemon incanus flowers are pollinated by bees and ...
14 / 02 / 2022 | Fergy Nkadimeng | Millennium Seed Bank Partnership
Read More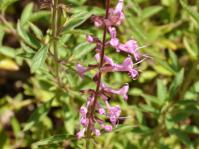 Common names:
coconut-scented sagebush, grey-haired sagebush
... Notten Kirstenbosch National Botanical Garden March 2017 Syncolostemon canescens is an attractive, herbaceous ... calyx long after the flower has dried up and dropped off. Syncolostemon canescens occurs from the Mahikeng region in ... are pollinated by insects, probably by long-tongued flies. Syncolostemon Syncolostemon canescens needs a sunny or ...
13 / 03 / 2017 | Alice Notten | Kirstenbosch NBG
Read More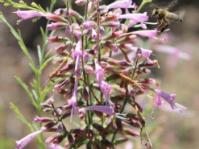 Common names:
long-flowered sagebush, long-flowered pink plume
... Garden February 2017 Like most species of Lamiaceae, Syncolostemon macranthus is an aromatic, straggling, soft ... summer (March). Fruit is an oblong, semi-terete nutlet. Syncolostemon macranthus has a restricted distribution, ... tolerate frost, but does slowly bounce back after frost. Syncolostemon macranthus has been observed to have been ...
20 / 02 / 2017 | Mpendulo Gabayi | Kirstenbosch NBG
Read More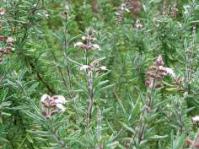 Common names:
teucrium-leaved sagebush
... Wall Kirstenbosch National Botanical Garden June 2008 Syncolostemon teucriifolius  is a bushy, rounded, herbaceous ... begins in spring (September) and ends in autumn (April). Syncolostemon teucriifolius occurs from the Eastern Cape, ... quickly due to a woody rootstock which will resprout. Syncolostemon Syncolostemon teucriifolius does best in a ...
02 / 06 / 2008 | Karen Wall | Kirstenbosch NBG
Read More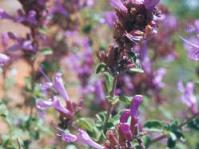 Common names:
rounded-leaf sagebush, round-leaved pink plume
... some rain can be expected every month of the year. Syncolostemon This plant grows well in full sun conditions. ... not dry out. Most soils are good for the cultivation of Syncolostemon, but it appears to enjoy the KwaZulu-Natal ... to this family are Plectranthus and Salvia. The name Syncolostemon refers to the shape and size filaments in the ...
31 / 10 / 2005 | Karen Moodley | KwaZulu-Natal NBG
Read More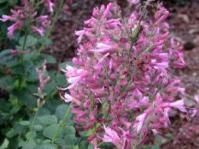 Common names:
broad-tooth sagebush, broad-toothed pink plume
... for pollination. Long-togued flies may also be involved. Syncolostemon Raised easily from seed in slightly acidic ... making an attractive massed effect near the restaurant. Syncolostemon ( syn - united; kolos - stunted; stemon - ... in 1910 as an  Orthosiphon  and later transferred to  Syncolostemon  by Codd in 1976. The subtle beauty of the ...
10 / 01 / 2005 | S Khanyile | KwaZulu-Natal NBG
Read More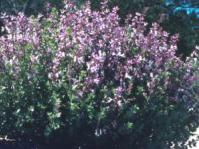 Common names:
Mpumalanga sagebush (Eng.), Mpumalangasalie (Afr.)
... the base of the calyx after the corolla has dropped off. Syncolostemon transvaalensis has a wide distribution in ... nature is a chemical defence against plant eating insects. Syncolostemon Syncolostemon transvaalensis requires a sunny or semi-shaded ...
05 / 11 / 2001 | Ernst van Jaarsveld | Kirstenbosch NBG
Read More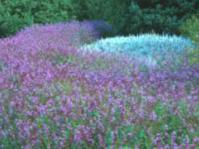 Common names:
Soutpansberg sagebush, pink sagebush (Eng.); Soutpansbergsalie (Afr.)
... April), making this a very rewarding plant in the garden. Syncolostemon obermeyerae is restricted to the Northern ... Erasmus Pass in the Northern Drakensberg mountain range. Syncolostemon obermeyerae grows in grasslands, rocky ... 1800m with a high rainfall of more than 1250mm per annum. Syncolostemon obermeyerae resprouts after fires in grasslands ...
30 / 04 / 2001 | Ebrahim Lawrence | Kirstenbosch NBG
Read More