Plants of the Week Advanced Search
Search results for "Syzygium" (displaying 4 of 4 on page 1)
Refine your search
Sort by date added
Sort Alphabetically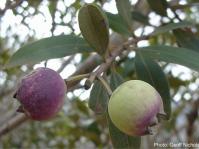 Common names:
mountain waterberry, mountain umdoni, white umdoni, water pear (Eng.); bergwaterbessie, waterpeer, waterbos (Afr.); mutawi (Tshivenda); umdoni-wamanzi
... Botanical Garden June 2023 Acknowledgements: images of Syzygium legatii in habitat and in fruit by Geoff Nichols. Syzygium legatii is a small to medium sized, evergreen tree ... purple or black when mature and is juicy when it is ripe. Syzygium legatii is native to the northern provinces of South ...
05 / 06 / 2023 | Winfred Velephi Ngwenya | Lowveld NBG
Read More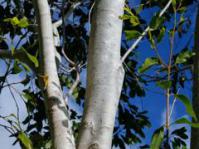 Common names:
woodland waterberry, waterpear (Eng.); waterpeer (Afr.); umdoni (isiNdebele)
... Kirstenbosch National Botanical Garden September 2013   Syzygium guineense is a medium-sized to large evergreen tree ... Botswana and northern Namibia towards central Africa. Syzygium Syzygium guineense  is easily propagated from seed.  For ...
02 / 09 / 2013 | Kuphumla Zenze | Kirstenbosch NBG
Read More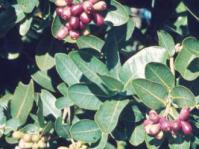 Common names:
water berry (Eng.); waterbessie, waterbessieboom, waterboom, waterhout (Afr.); umdoni (Zulu); umswi, umjomi (Xhosa), mawthoo (Southern Sotho), motlho
... The fruits are oval berries, red to dark-purple when ripe. Syzygium cordatum occurs along streambanks from the Eastern ... large hairy caterpillars that sometimes infest the tree. Syzygium The tree is best grown from seed. For better ... According to Pitman and Palmer (1972), the generic name Syzygium is based on a Greek word meaning 'coupled', an ...
13 / 09 / 2004 | Berenice Carolus | Harold Porter NBG
Read More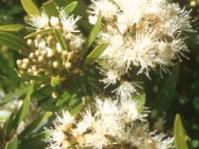 Common names:
Pondo Waterwood, Pondowaterhout (A) umdoni wehlathi (Z)
... Eastern Cape, but extends to southern KwaZulu-Natal. Syzygium The Pondo waterwood can be used in many ways. It is ... the family common name. The genus name of this plant ' Syzygium ' is derived from the Greek "syzygos", meaning ... a name which is pronounced  sigh-zig-ee-um pondo-en-see. Syzygium pondoense Engl. 558.1 Syzygium pondoense This plant ...
13 / 05 / 2002 | Mhlonishwa D Dlamini | Walter Sisulu NBG
Read More