Plants of the Week Advanced Search
Search results for "Tarchonanthus" (displaying 3 of 3 on page 1)
Refine your search
Sort by date added
Sort Alphabetically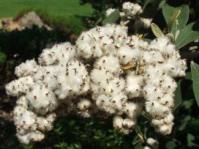 Common names:
coastal camphor bush ( Eng. ); kuskanferbos (Afr.); isiduli selindle (Xhosa); igqeba-elimhlophe, isidulu-sehlathi (Zulu)
... Notten Kirstenbosch National Botanical Garden April 2008 Tarchonanthus littoralis is a large, dense, bushy shrub or ... this is most easily seen on the young coppice growth). Tarchonanthus littoralis is dioecious, meaning that the male ... and brown and the male trees are quite drab in comparison. Tarchonanthus littoralis occurs from the Cape Peninsula in ...
07 / 04 / 2008 | Alice Notten | Kirstenbosch NBG
Read More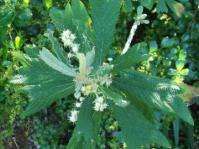 Common names:
three-lobed tarchonanthus, three-lobed camphor bush, trident camphor bush ( Eng. ), drietandkanferbos (Afr.), isiMemela, iGqeba-lamatshe (Xhosa), isiD
... At Kirstenbosch they flower in autumn-winter (May-June). Tarchonanthus is dioecious, i.e. male and female flowers are ... familiar with the showy, white, cotton-wool-like fruits of Tarchonanthus littoralis (previously known as T.camphoratus - ... female fruits are much less woolly and are not showy. Tarchonanthus trilobus is divided into two varieties: var. ...
24 / 09 / 2007 | Alice Notten | Kirstenbosch NBG
Read More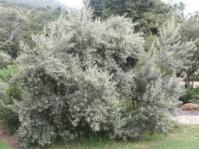 Common names:
camphor bush (E), moologa (V), mofahlana (S.Sotho), igqeba emlimhlophe (Z), wildekanferbos (A), mofathla (T)
... Garden with additions by Yvonne Reynolds May 2002 Tarchonanthus camphoratus grows from 2-9 m high. It is a ... Male and female flowers are borne on separate trees. Tarchonanthus camphoratus is widely distributed in a variety ... tropical and north Africa and the Arabian Peninsula . See Tarchonanthus littoralis for more information on the ...
27 / 05 / 2002 | Andrew Hankey | Walter Sisulu NBG
Read More