Plants of the Week Advanced Search
Search results for "Terminalia" (displaying 2 of 2 on page 1)
Refine your search
Sort by date added
Sort Alphabetically
Common names:
Lebombo cluster-leaf (Eng.); Lebombotrosblaar (Afr.); amaNgwe-amnyama, amaNgwe-omphofu (isiZulu); mambonjwane (SiSwati)
... on the leaves. Leaves are browsed by elephants. Terminalia Brickell (1990) reports that germination of seemingly good wild ... if summers are warm and conditions suit the plant. Terminalia is a fairly large genus of 150 species found throughout most of ...
11 / 08 / 2014 | F Nonyane | Pretoria NBG
Read More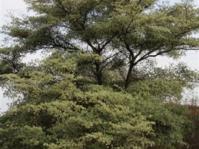 Common names:
mususu (Venda); silver cluster-leaf or silver terminalia (Eng.); vaalboom (Afr.)
... National Herbarium Pretoria February 2012 Terminalia sericea has reddish-brown branches. The leaves are crowded at the ... form deformed masses of thin round galls. Terminalia sericea occurs in a variety of types of open woodlands ...
06 / 02 / 2012 | T Masupa | National Herbarium Pretoria
Read More