Plants of the Week Advanced Search
Search results for "Tetragonia" (displaying 2 of 2 on page 1)
Refine your search
Sort by date added
Sort Alphabetically
Common names:
sprawling sea coral, trailing dune-spinach (Eng.); kinkelbossie, kinkelklappers, kleinsaadklappiesbrak, klimopkinkelbossie, porseleinbos, slaaibos, wa
... Nanna Joubert and Nicola van Berkel for providing images. Tetragonia fruticosa is a sprawling, much-branched, shrubby ... the soil to a reasonable depth (van Breda & Barnard 1991). Tetragonia Cuttings should be harvested in autumn (March-May) ... are known to feed on this plant. In a garden situation, Tetragonia fruticosa can be planted with appropriate ...
19 / 12 / 2022 | Shireen Harris | Karoo Desert NBG
Read More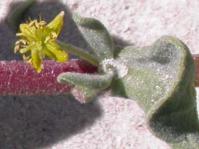 Common names:
dune spinach (Eng.); duinespinasie (Afr.)
... dunes. The accumulation of plants matter such as that of Tetragonia decumbens , and the subsequent establishment of ... easily blown about by the wind, aiding their dispersal. Tetragonia The easiest method of growing this plant is to ... to develop into a friendly environment for other plants. Tetragonia decumbens Mill. Tetragonia decumbens Apart from ...
12 / 04 / 2004 | Jane Forrester | Harold Porter NBG
Read More