Plants of the Week Advanced Search
Search results for "Turraea" (displaying 2 of 2 on page 1)
Refine your search
Sort by date added
Sort Alphabetically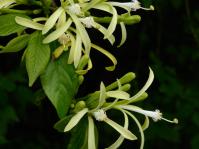 Common names:
honeysuckle-tree, wild honeysuckle-tree (Eng.); kanferfoelieboom (Afr.); umdlozana (Swazi); umadlozane (isiZulu)
... Charaxes brutus , a swift-flying forest butterfly. Turraea The species is suitable for cultivation outdoors in ... in good, compost-enriched soil and watered regularly. Turraea was named for Giorgio della Turre, Director of the ... The best known species in South African gardens is Turraea obtusifolia , and T. floribunda is surprisingly ...
16 / 02 / 2015 | John Manning | Compton Herbarium
Read More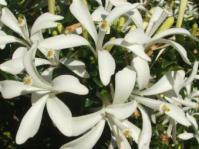 Common names:
small honeysuckle tree, lesser honeysuckle tree, (Eng.); kleinkamperfoelieboom (Afr.); amazulu, ikhambi-lomsinga [roots], ikunzi [roots], ikunzi ebomv
... who eat and disperse the seeds. The orange-red part in Turraea obtusifolia is not an aril but the seed coat. There ... completely hidden. All parts of this plant are poisonous. Turraea obtusifolia is found in coastal forest, bushveld, ... is receptive to pollen, so self-pollination is avoided. Turraea Turraea obtusifolia will perform at its best if grown ...
05 / 02 / 2007 | Alice Notten | Kirstenbosch NBG
Read More