Plants of the Week Advanced Search
Search results for "Vernonia" (displaying 2 of 2 on page 1)
Refine your search
Sort by date added
Sort Alphabetically
Vernonia This plant is now called Hilliardiella aristata Vernonia natalensis Sch.Bip. e x Walp. Vernonia natalensis Hilliardiella aristata (DC.) H.Rob. ...
01 / 04 / 2015 | |
Read More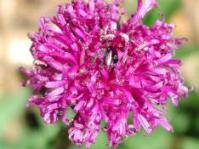 Common names:
Bloukwasbossie, Perskwasbossie (Afr)
... and the central disc florets, members of the genus Vernonia have only one type of floret. The seeds are produced ... 'pappus' hairs which aid in wind distribution of the seed. Vernonia galpinii is common in the summer rainfall grasslands ... like hairs aid in wind distribution of the seeds. Vernonia Vernonia galpinii makes a lovely groundcover or ...
03 / 01 / 2005 | Isabel Johnson | KwaZulu-Natal NBG
Read More