Plants of the Week Advanced Search
Search results for "Willdenowia" (displaying 2 of 2 on page 1)
Refine your search
Sort by date added
Sort Alphabetically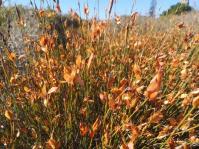 Common names:
sonkwas restio (Eng.); sonkwasriet (Afr.)
... National Botanical Garden June 2019 Willdenowia incurvata is an evergreen, perennial, grass-like restio that ... in shape, with a smooth apex and a pitted wall. Willdenowia incurvata is widely distributed, occurring from False Bay in the ...
01 / 07 / 2019 | Mashudu Nndanduleni | Kirstenbosch NBG
Read More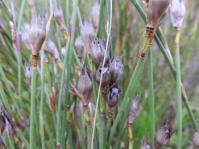 Common names:
None recorded.
... Sisanda Velembo Kirstenbosch NBG July 2015 Willdenowia teres is a clumped, rhizomatous perennial, 0.3–1 m high. The ... the ants ( https://en.wikipedia.org/wiki/Elaiosome ). Willdenowia Like most restios, this plant also grows from seed, ...
22 / 07 / 2015 | Sisanda Alakhe Velembo-Mhlauli | Kirstenbosch NBG
Read More