Browse through all previous entries of Plants Of The Week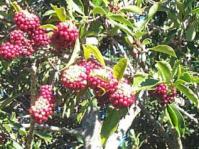 Common names:
African holly, Cape holly, wild holly, water tree (Eng.); waterboom, waterhout, without (Afr.); monamane (Northern Sotho); iPhuphuma (Zulu), umDuma (X
The African Holly has attractive bark and berries. It grows throughout the country, making it suitable for colder, frosty gardens too....
19 / 07 / 2004 | Jane Forrester | Harold Porter NBG
Read More