Browse through all previous entries of Plants Of The Week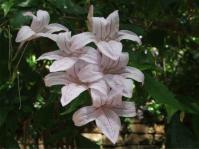 Common names:
mackaya, forest bell-bush, river bells, beautiful mackaya (Eng.); bosklokkiesbos, blouklokkiesbos (Afr.); umavuthwa, uzwathi, uphulule, icaphozi (Zul.
A graceful shrub or small tree with slender branches bearing glossy, dark green leaves and beautiful sprays of showy, white to mauve, bell-shaped flowers...
01 / 10 / 2001 | Thompson T Mutshinyalo | Walter Sisulu NBG
Read More
Common names:
river macaranga, false-poplar, spiny macaranga, wild-poplar (Eng.); riviermakaranga, valspopulier, wildepopulier (Afr.); umbengele, umphumelezi, umphu
A perfect feature plant for a tropical garden, Macaranga capensis is also used medicinally for various ailments, and it attracts bees and birds to the...
27 / 03 / 2017 | M.S. Mothogoane | National Herbarium Pretoria
Read More