Browse through all previous entries of Plants Of The Week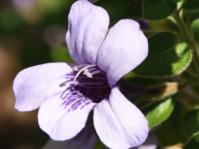 Common names:
purple bells (Eng.); persklokkies (Afr.)
A versatile, evergreen shrub for semi-shade, with attractive dark green foliage and eye-catching, large, blue-purple, trumpet-shaped flowers, occurring...
04 / 04 / 2016 | Cherise Viljoen | Kirstenbosch NBG
Read More
Common names:
yellow pistolbush, lemon pistolbush (Eng.); geelpistoolbos, lemoenpistoolbos (Afr.)
Duvernoia aconitiflora is now called Justicia aconitiflora. ...
15 / 01 / 2018 | | Kirstenbosch NBG
Read More