Browse through all previous entries of Plants Of The Week
Common names:
white paint brush (Eng.); witpoeierkwas (Afr.); umathunga (Xho.); uzaneke (Zul)
Haemanthus albiflos is the best known of the three evergreen species of Haemanthus and with its handsome leaves, long flowering season and red berries...
10 / 06 / 2002 | Graham Duncan | Kirstenbosch NBG
Read More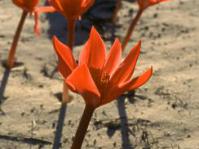 Common names:
paintbrush, powderpuff (Eng.); poeierkwas, velskoenblaar (Afr.)
Haemanthus may be perceived as brilliant, brazen blood lilies or demure, soft, powderpuffs-in either guise they can surprise and delight you....
15 / 08 / 2005 | D Snijman | Kirstenbosch NBG
Read More