Browse through all previous entries of Plants Of The Week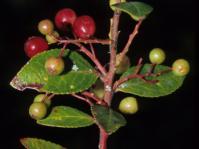 Common names:
African blueberry, African cranberry (Eng.); Afrika-bloubessie, bosbessiebos (Afr.)
In southern Africa the heath family (Ericaceae) is represented by only two indigenous genera: Erica which is extremely speciose, containing ± 770...
28 / 12 / 2015 | Stoffel Petrus Pieter Bester | National Herbarium Pretoria
Read More
This plant is now called Hilliardiella hirsuta....
23 / 01 / 2003 | | National Herbarium Pretoria
Read More