Browse through all previous entries of Plants Of The Week
Common names:
Knysna lily (Eng.); Knysnalelie (Afr.); Umathaga (IsiZulu)
Cyrtanthus obliquus is a very attractive evergreen species, with its large pendulous flowers and grey-green leaves. It would be a welcome addition...
26 / 10 / 2009 | Lufuno Konanani | KwaZulu-Natal NBG
Read More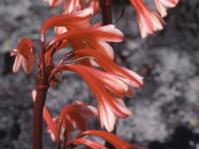 Common names:
fire lily; brandlelie (Afrikaans)
This plant, a true fire lily, defies the elements by producing its beautiful, salmon to scarlet blooms just nine days after the seemingly destructive effects...
07 / 10 / 2013 | D Snijman | Compton Herbarium
Read More