Browse through all previous entries of Plants Of The Week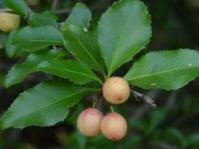 Common names:
black forest spikethorn (Eng.); swartbospendoring (Afr.)
This is an evergreen, dense, spiny shrub or small tree, with lovely shiny foliage and small white-and-red fruits. It is suitable for small gardens as a...
14 / 06 / 2004 | M Jordan | National Herbarium Pretoria
Read More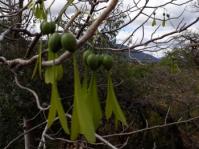 Common names:
propeller tree, helicopter tree (Eng.); helikopterboom (Afr.); mutama, mudzoudzhou (Tshivenda).
An interesting tree with a smooth, grey to silvery white trunk, and ovoid fruit crowned with 2 wings, which look remarkably like the slender wings of a...
20 / 08 / 2018 | Matome Leboho | Pretoria NBG
Read More