Browse through all previous entries of Plants Of The Week
This plant is now called Ornithogalum candicans....
14 / 04 / 2011 | |
Read More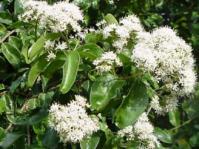 Common names:
wild pride of India (Eng.); knoppieblaar (Afr.); UmDlampangele ( Zulu)
This tree is part of a small family of herbs, small trees and shrubs found in subtropical and tropical regions. Its attractive flowerheads and coloured...
22 / 11 / 2004 | Linette Ferreira | Pretoria NBG
Read More