Browse through all previous entries of Plants Of The Week
Common names:
file-leaf haworthiopsis (Eng.); isihlalakahle, omathithibala, umathithibala (isiZulu)
Haworthiopsis limifolia is a small, compact, rosulate, leafy succulent that grows singly or in groups. This species is commonly known as umathithibala...
28 / 03 / 2022 | Lungisani Zondi | Walter Sisulu NBG
Read More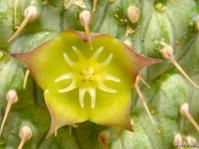 Common names:
yellow-flowered ghaap (Eng.); soetghaap (Afr.)
Hoodia flava is an indigenous shrublet of southern Africa that is popularly used amongst the Khoi-San people as a hunger and appetite suppressant....
01 / 02 / 2016 | Lerato Hoveka | National Herbarium Pretoria
Read More