Browse through all previous entries of Plants Of The Week
Common names:
blossom tree, amaqua tree (Eng.); keurboom, amakwasboom (Afr.)
Gardeners need not hesitate on the choice of tree if the keurboom is on the list; it is a beautiful tree, suitable for both the domestic garden and big...
18 / 08 / 2003 | Giles Mbambezeli | Kirstenbosch NBG
Read More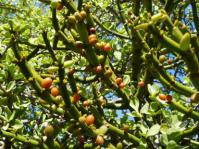 Common names:
Spekboom mistletoe, Spekboom-voelent
Viscum crassulae is a rounded, succulent shrublet growing as a parasite on branches of Portulacaria afra (spekboom). It is easily grown by placing its...
01 / 12 / 2013 | Ernst van Jaarsveld | Kirstenbosch NBG
Read More