Plectranthus ciliatus E.Mey. ex Benth.
Family: Lamiaceae
Common names: speckled spur-flower, eyelash spur-flower, white wild sage; gespikkelde muishondblaar, wimperspoorsalie (Afr.); lephele-phele (Sesotho); umsuthuza (isiZulu)
Introduction
With its attractive white to light purple-pink flowers and ornamental foliage, this species is a pleasure for any moist subtropical garden, ideal for hanging baskets and containers.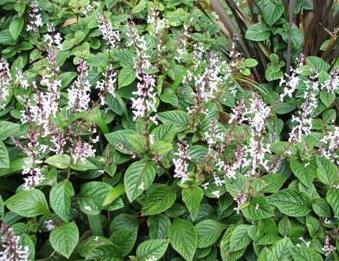 Description
Description
Plectranthus ciliatus is a procumbent to decumbent (i.e. grows along the ground) herb that grows up to 0.6m high. The stems are covered with purple hairs, giving the branches a purplish appearance.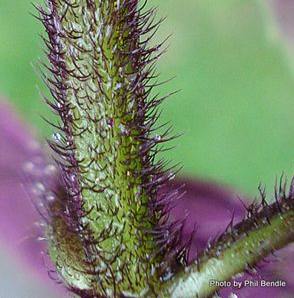 It has broadly elliptic to broadly ovate leaves that are covered with short stiff hairs and colourless glands. The lower leaf surface is often purple and the leaf margins are noticeably hairy with pairs of shallow teeth. The flowerheads are terminal, simple and racemose, often with a pair of side branches near the base. Flowers are sessile, white to light purple-pink, and arranged in 3-flowered cymes. The 1.5mm long nutlets are dark brown and attached inside the calyx. Flowering time is mainly in the summer rainfall months (late summer to winter) between mid-February and June, with its peak in April.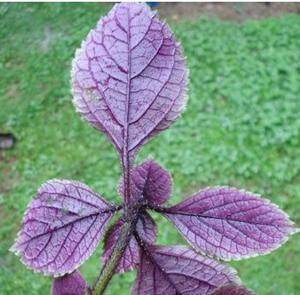 Conservation Status
Status
Plectranthus ciliatus is listed as Least Concern (LC) in the Red List of South African Plants.
Distribution and habitat
Distribution description
This species prefers frost free, damp and shady environments where the annual precipitation is 800-1625mm. It is restricted to the moist well-wooded afromontane and subtropical forests where it grows on the forest floor. Plectranthus ciliatus occurs from Uniondale and Knysna in the Western Cape to Mpumalanga and is commonly found in the forests of KwaZulu-Natal and Swaziland.
Derivation of name and historical aspects
History
Plectranthus comes from the Greek word plektron, meaning spur, and anthos, meaning flower. This refers to the spur found at the base of the corolla tube. The specific epithet ciliatus comes from the Latin word cilia , meaning fine hairs, and refers to the characteristic hairs on the leaf margins giving the appearance of eyelashes, hence the vernacular name eyelash spur-flower.
This species was first collected by a German horticulturist and botanical collector, Johann Drège, at the Mzimvubu River in Transkei, South Africa. Later, in 1914, it was introduced to the National Botanic Gardens in Kirstenbosch by Mrs Carter where this decumbent herb is still largely grown as groundcover. In 1932, Mrs Karlsberg took it to Sweden where it was named the `Karlsbergia hanging plant'. Plectranthus ciliatus is also a popular groundcover herb in areas as far as America, Europe and Australia.
Ecology
Ecology
Plectranthus species are insect-pollinated, and most have short-tubed flowers that attract honeybees, butterflies, bumblebees and bombyliid flies. They have tall flowers which allow them to attract pollinators. In order to prevent self-pollination, their pollen-bearing anthers will ripen before the style does. When all the pollen has been shed, the anthers will curve backwards and the style that extends out the corolla tube will then receive the pollen from pollen-carrying insects that visit the plant.
The seeds are small and smooth and are arranged in the calyx. The calyx has teeth that aid in seed dispersal.
Plectranthus undergoes root competition and trampling to which it is well adapted. When trampled, plants are pushed into the ground, which help them to sprout. They have shallow roots that grow in the upper layer of the soil that enables them to use only small amount of water.
Plectranthus flowers mostly during late summer to early autumn, which is at the end of the growing season. During this period, it often rains causing the plants to be at their peak, as they have enough water and energy to aid flower and seed growth. Seed dispersal occurs from late autumn to winter and seeds are ready to germinate upon arrival of the spring or summer rains.
Uses
Use
Plectranthus ciliatus is used for personal hygiene, to wash clothing and garments made out of sheepskin or animal skins.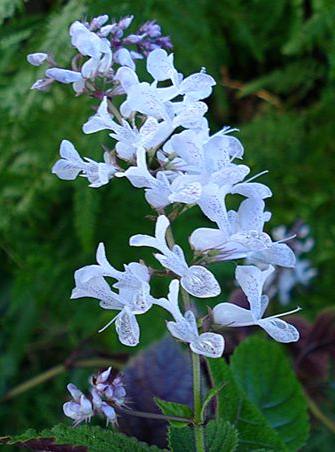 Growing Plectranthus ciliatus
Grow
The prolific and showy flowers and foliage of Plectranthus ciliatus make for attractive garden plants as they are suitable not only as groundcovers, where they form dense carpets under trees, but they are also ideal for pot plants and hanging baskets. Since they grow from late summer to winter, as they require summer rainfall, they prefer subtropical gardens where the soil is moist and damp. Seeds can easily be sown in a standard houseplant soil mixture that is rich in organic matter, and they will require plenty of water. It is advisable to prune the plant and pinch out the tips which will help keep the plant neat and maintain vigour. This is best done after flowering. If the plant starts to become dilapidated, it should be replaced with cuttings. Repotting should be done in late winter so that the roots can be checked for pests such as eelworm which damage the roots and block the root tissue.
For optimum results, sow seeds in spring to early summer. Use a 50mm deep container or plant pot with drainage holes and fill the bottom with coarse sand or gravel, stones or broken pieces of pottery to aid drainage. Use a well-drained growing medium. Fill a seed tray with this soil and press it down firmly in the container. Level the soil using a flat plank and water generously using a fine spray watering can. Distribute the seed evenly and in a fine layer in the soil. Cover seeds with clean river sand and ensure the soil remains moist and are placed in a shady area or under a canopy. These seedlings grow fast and will germinate in two to three weeks. To use Plectranthus ciliatus as groundcovers, plant seedlings in open ground once they have grown about 80mm.
Two cultivars have been introduced into cultivation:
'Drège' (1268/82 Kirstenbosch)This commonly cultivated species which has dark undersides is thought to come from the Port St. Johns area. It was named in honour of the German horticulturist, Johann Drège.
'Richard' (1309/82 Kirstenbosch)This is a small form with hairy leaves and pink inflorescences. It was named after the horticulturist Richard Jamieson who specialised in the plants of South Africa.
References
Jackson, W.P.U. 1990. Origins and Meanings of Names of South African Plant Genera . U.C.T. Printing Dept., Cape Town.
Lukhoba, C.W., Simmonds, M.S.J. & Paton, A.J. 2006. Plectranthus : A review of ethnobotanical uses. Journal of Ethnopharmacology 103:1-24.
Pooley, E. 1998. A Field Guide to Wild Flowers KwaZulu-Natal and the Eastern Regions. Natal Flora Publications Trust, Durban.
SANBI Red List of South African plants. 2007-01. www.sanbi.org/biodiversity/reddata.htm.
Van Jaarsveld, E. 1987. The Plectranthus Handbook. National Botanic Gardens, Cape Town.
Van Jaarsveld, E. 2006. The Southern African Plectranthus and the art of turning shade to glade. Fernwood Press, Simon's Town.
Credits
Bronwynne Busch
National Herbarium, Pretoria
September 2013
Plant Attributes:
Plant Type: Perennial
SA Distribution: Eastern Cape, Gauteng, KwaZulu-Natal, Limpopo, Western Cape
Soil type: Sandy
Flowering season: Late Summer, Autumn
PH: Alkaline
Flower colour: Purple, White, Mauve/Lilac
Aspect: Shade
Gardening skill: Easy
Special Features:
Attracts butterflies
Good potplant
Useful plant
Feeds honeybees
Horticultural zones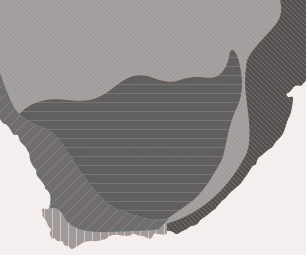 Zone 1 Coastal summer rainfall, frost free
Zone 2 Coastal winter rainfall, frost free
Google QR Code Generator