Plumbago auriculata Lam.
Family: Plumbaginaceae
Common names: Cape leadwort, plumbago (English); blousyselbos (Afrikaans); umabophe (Xhosa/ Zulu); umasheleshele (Zulu)
Introduction
Plumbago is an extremely reliable, resilient plant which has been popular for home gardens as well as for commercial landscapes for many years. Plumbago may be found in gardens all over the world, and was apparently popular as a standard plant in Europe.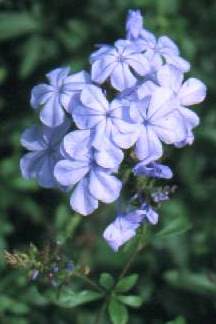 Description
Description
In nature Plumbago auriculata is a scrambling shrub, about 3 m x 3 m. It grows in scrub and thicket (valley bushveld). The new growth is bright green, darker when mature. The leaves are thin in texture and have minute gland dots. The leaf stalk is winged at the base, and clasps the stem. Underneath the leaves are greyish green, sometimes with whitish scales apparently for light reflection.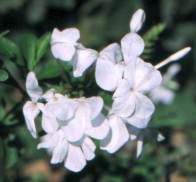 In summer the bush is covered with pretty trusses of pale sky blue flowers, although there are often flowers at other times of the year. The main flowering period is between November and May. "Royal Cape" is a darker blue form which is available in many nurseries. There is also a white form which is very attractive. It is slightly less vigorous than the normal blue but is a prolific flowerer and wonderful for working gardeners who only see their gardens in the twilight - the white blooms appear to glow in the dusk.
Plumbago is visited by butterflies and is one of the larval foods plant for the common blue butterfly (Cyclyrius pirithous) which is apparently fairly common in gardens as a result of the popularity of plumbago as a garden plant.
Distribution and habitat
Distribution description
The distribution ranges from the southern Cape, Eastern Cape and into KwaZulu-Natal. It appears in Gauteng and the adjacent areas of the Free State and North West Province. There is also an isolated distribution in Mpumalanga. Plumbago shares a habitat with Tecomaria capensis, the Cape Honeysuckle. 
The genus Plumbago comprises 10 species from the warmer parts of the world. There are 5 species in South Africa.
Derivation of name and historical aspects
History
The name Plumbago is derived from plumbum meaning lead, referring to it being a supposed cure for lead poisoning. Auriculata means ear-shaped and refers to the leaf base. Plumbago auriculata was known as P. capensis, which was the name given by the botanist Thunberg in 1794. However, the plant had already been named auriculata by Lamarck in 1786 in what was known as the East Indies where it had been taken as a garden plant. The Dutch East India Company trade routes included the Cape and this was most likely how the plant reached the East Indies.
Ecology
Ecology
Children often make "earrings" with the sticky flowers,  letting them stick to their earlobes. There are sticky, gland tipped hairs on the flower calyx. The seed capsule retains the stickiness which presumably helps disperse the seed by attaching to animals. The top of the capsule splits opens and drops the seed out.
Uses
Use
Plumbago is used traditionally to treat warts, broken bones and wounds. It is taken as a snuff for headaches and as an emetic to dispel bad dreams. A stick of the plant is placed in the thatch of huts to ward off lightning.
Growing Plumbago auriculata
Grow
Plumbago makes a very good informal or formal hedge as it responds well to pruning. It will flower profusely after being cut back or after a growth flush, as it bears flowers on new wood. It may need to be cut back after winter to keep it tidy, even if this is only done every few years. Plumbago will scramble into trees if allowed and, depending on the size and style of your garden, you may need to control it. It is very useful in large gardens and landscapes as it forms suckers and will cover fairly big areas. It is fast growing, drought resistant and rewarding and will grow in any soil, but will perform best if planted with plenty of compost. Plumbago is somewhat frost tender but will quickly re-grow if damaged.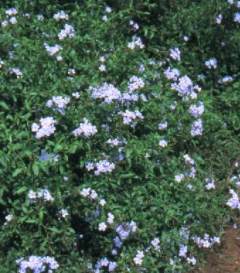 A relatively recent South African trend is to attract birds and other wildlife to gardens by creating the right habitat. Plumbago makes a good, fast growing "exclusion zone" or bush-clump plant for attracting birds such as robins which like dense plant growth.
Plumbago is propagated easily from seed, cuttings and suckers. Sow seed in spring in seedling trays. Use good seedling mix and cover the seeds lightly. Do not allow to dry out. The easiest method of propagation is to remove rooted suckers from the mother plant.
References
Batten, A. 1986. Flowers of Southern Africa. Frandsen Publishers. Sandton.
Joffe, P. 1993. The Gardener's Guide to South African Plants. Delos. Cape Town
Kroon, D.M. 1999. Lepidoptera of Southern Africa: Host Plants & other associations. Lepidopterists Society of Africa & D.M. Kroon. Sasolburg.
Migdoll, I. 1987. Field Guide to the Butterflies of Southern Africa. Struik. Cape Town
Pooley, E. 1998. A Field Guide to Wild Flowers of Kwazulu-Natal and the Eastern Region. Natal Flora Publications Trust. Durban
Van Wyk, B-E, van Oudtshoorn, B & Gericke, N. 1997. Medicinal Plants of South Africa. Briza Publications, Pretoria.
Credits
Alice Aubrey
Witwatersrand National Botanical Garden
December 2001
Plant Attributes:
Plant Type: Scrambler, Shrub
SA Distribution: Eastern Cape, Free State, Gauteng, KwaZulu-Natal, Mpumalanga, North West, Western Cape
Soil type: Loam
Flowering season: Early Summer, Late Summer
PH: Neutral
Flower colour: Blue, White
Aspect: Full Sun, Morning Sun (Semi Shade), Afternoon Sun (Semi Shade)
Gardening skill: Easy
Special Features:
Attracts birds
Attracts butterflies
Drought resistant
Hedge/screen
Medical plant
Useful plant
Horticultural zones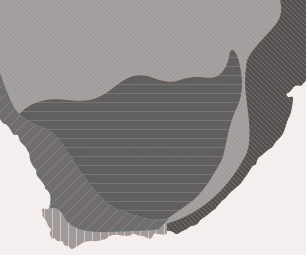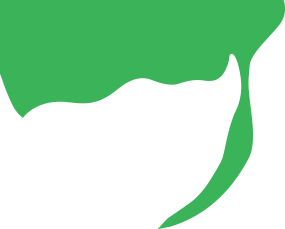 Zone 1 Coastal summer rainfall, frost free
Zone 2 Coastal winter rainfall, frost free
Zone 3 Winter rainfall Karoo, light frost
Zone 4 Summer rainfall Karoo and Highveld, Frost in winter
Zone 5 Bushveld summer rainfall, Light frost
Google QR Code Generator