Podalyria burchellii DC.
Family: Fabaceae
Common names: hairy blossom-pea, hairy Cape sweetpea (Eng.); keurtjie (Afr.)
Introduction
Hairy blossom-pea, as the name says, is covered with fine white hairs, from leaves to stem and fruits, making it hard to ignore this shrub even from a distance. During its autumn flowering season, it shows off with sweetpea-like, magenta flowers.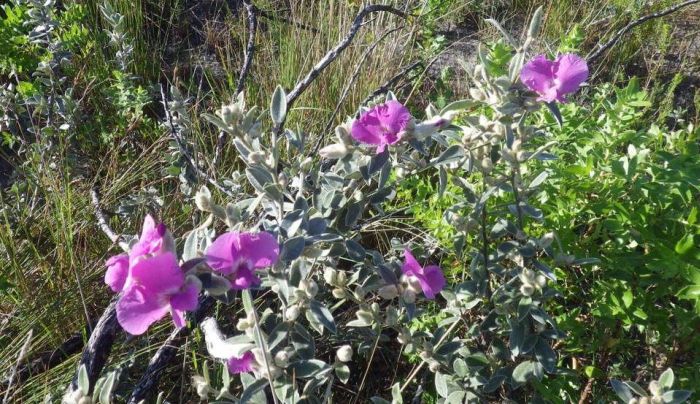 Description
Description
Podalyria burchellii is a willowy to dense, much-branched shrub, growing from 600 mm up to 2.5 m tall. Leaves are dark green, narrowly elliptic to ovate to almost circular, and shiny, with closely pressed hairs above, beneath they are covered in white woolly hairs.
Flowers 1 or 2 per inflorescence, with a large standard petal, corolla is pink to dark pink or magenta and has a white nectar guide, which is rarely marked pink in the center. Flowering is in autumn and early winter (from April to June).
Fruits pods are ovate to obliquely oblong, inflated and covered with erect white to rufous hairs. Seeds are uniform and brown. 
Podalyria burchellii is a variable species and until 2011 was differentiated from P. velutina by the shape and size and hairiness of their leaves and by the hairs on their seed pods: the leaves of P. velutina are three times longer than broad, they are ellipitic and its pods are covered with hairs that are much longer than those of P. burchellii. However, these variations fall within the variation range of P. burchellii, and P. velutina occurs within the distribution range of P. burchelli and they are now considered to be synonymous.
Conservation Status
Status
Podalyria burchellii is assessed as Least Concern (LC) in SANBI's Red List of South African Plants. This simply means that there are currently no known threats which could lead this species to extinction. 
The Millennium Seed Bank Partnership is a partnership between SANBI and the Royal Botanic Gardens, Kew, that focuses on collecting seeds for various reasons, one of them being to conserve plant species through seed banking. Seeds of Podalyria burchellii have been collected and are in the process of being banked. Banking seeds acts as insurance, just in case something happens to the wild populations of P. burchellii, there will always be seeds that can be germinated and reintroduced to the wild.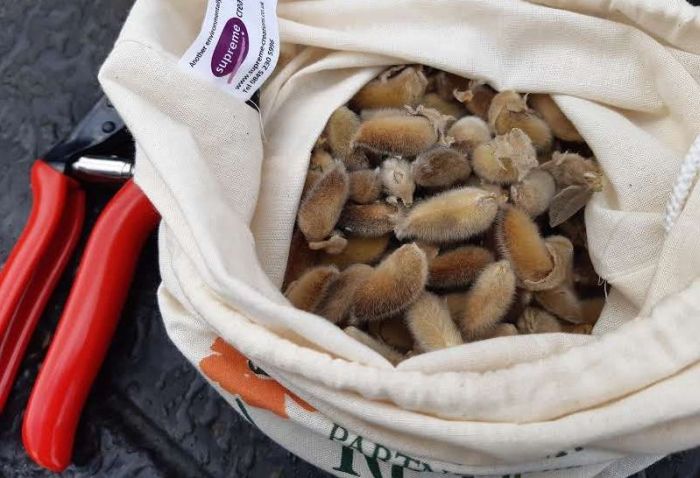 Distribution and habitat
Distribution description
Podalyria burchellii is a South African endemic plant, distributed in KwaZulu-Natal, Eastern Cape and Western Cape. It has a wide distribution range, occurring along the coast from the Langeberg to the Tsitsikamma Mountains, and inland it is found from the Kammanassie Mountains to Kouga and the Baviaanskloof Mountains, and further north into Pondoland and southern KwaZulu Natal. It has been found growing in rocky grasslands in the Van Stadens area. It occurrs on soils derived from Table Mountain Sandstone. Both sprouting and non-sprouting growth forms have been recorded for P. burchellii. The plants in the Pondoland area populations are non-sprouters and are restricted to marshy areas or deep sandy soils along streams. In other populations where it was recorded that they are resprouters, they are found in drier habitat in mountain fynbos vegetation where the conditions are rocky with loamy soils. Further, plants growing in cool, moist habitats have long, elliptic leaves whereas those in hotter, drier habitats have ovate to almost circular leaves.
Derivation of name and historical aspects
History
The genus name Podalyria is derived from the name Podaleirios (Greek), who was a skilled physician like his father Asklepios. This species was named after English explorer, naturalist and botanical collector William John Burchell (1781–1863) who collected the type specimen in 1813. 
This genus has about 25 species, that occur mainly in Western Cape but extends into the Eastern Cape and as far as KwaZulu-Natal.
Ecology
Ecology
Podalyria burchellii flowers are pollinated by carpenter bees, honey bees and other insects, which are attracted by the sweet nectar. The sprouting forms are able to survive fires and will resprout from the woody rootstock after a fire.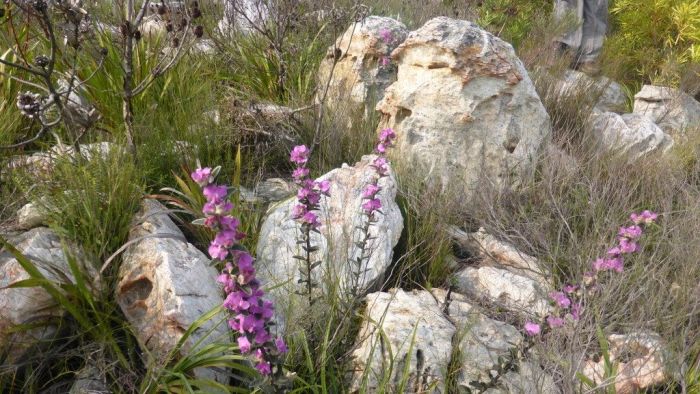 Uses
Use
No record of medicinal uses or any other uses were found. It is a pretty plant that shows off when in flower, and has decorative, swollen fruit pods, but even when not in flower or fruit, the velvety leaves are also attractive, and, therefore, it would make a good ornamental plant. 
Growing Podalyria burchellii
Grow
They produce lovely, fat seed pods, although often the seeds are eaten by insects. When one gets good and viable seeds they germinate well, sown in autumn or spring, in a well-drained soil mixture, and they need to be placed in a misting house.
Cuttings taken in spring do very well too, they should be treated with the normal rooting hormone, planted in well-aerated rooting medium, kept moist but not wet in a well-ventilated spot and not placed in a misting house, as they are prone to rot. 
References
Boon, R. 2010. Pooley's trees of eastern South Africa, a complete guide. Flora & Fauna Publications Trust, Durban.
Harvey, W.H. 1894. Flora capensis: being a systematic description of the plants of the Cape Colony, Caffraria, & Port Natal (and neighbouring territories) Volume 2:12.
Pooley, E. 1998. A field guide to wild flowers Kwazulu-Natal and the eastern region. Natal Flora Publications Trust, Durban.
Schutte-Vlok, A.L. & Raimondo, D. 2012. Podalyria burchellii DC. National Assessment: Red List of South African Plants version 2020.1. Accessed on 2020/09/07
Schutte-Vlok, A.L. & van Wyk, B-E. 2011. A taxonomic revision of Podalyria (Fabaceae). Systematic Botany 36(3): 631-660.
Vanderplank, H.J. 1999. Wild flowers of the Port Elizabeth area, Gamtoos to Swartkops Rivers (The coastal bush and fynbos region). Bluecliff Publishing, Port Elizabeth.
Credits
Sibahle Gumede
Millennium Seed Bank Partnership
November 2020
Plant Attributes:
Plant Type: Shrub
SA Distribution: Eastern Cape, KwaZulu-Natal, Western Cape
Soil type: Sandy, Loam
Flowering season: Autumn, Winter
PH:
Flower colour: Pink, Mauve/Lilac
Aspect: Full Sun
Gardening skill: Average
Special Features:
Feeds honeybees
Horticultural zones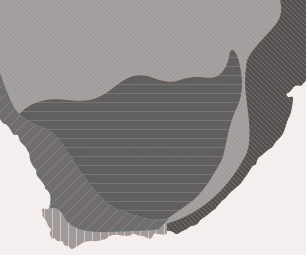 Zone 1 Coastal summer rainfall, frost free
Zone 2 Coastal winter rainfall, frost free
Google QR Code Generator