Pogonarthria squarrosa (Roem. & Schult.) Pilg.
Family: Poaceae
Common names: herringbone grass, sickle grass
Introduction
Pogonarthria squarrosa is a loosely tufted grass with interesting, reddish-brown inflorescences which have led to its common name, herringbone or sickle grass.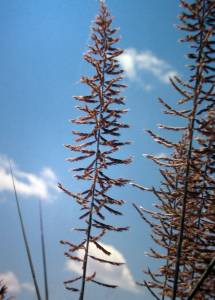 Description
Description
This is an erect, perennial grass, growing up to 1.2 m tall. The long, tapering inflorescence is up to 400 mm long, has a firm, straight, central axis with numerous short, usually upward-curving branches (hence the name herringbone); the spikelets are arranged all along the branches on the lower side. The spikelets are elliptic to linear, up to 8 mm long, with numerous sharply pointed, green florets, and these contrast with the red to reddish-brown glumes. Flowering time is from November to May.
Distribution and habitat
Distribution description
This grass is widespread in South Africa , growing in well-drained and especially sandy soils. It is common in disturbed places such as roadsides and old cultivated lands.
Derivation of name and historical aspects
History
The meaning of the genus name Pogonarthria comes from the Greek pogon meaning beard, and arthron, a joint, probably referring to the beaded joints of the rhachilla in the spikelet. The specific epithet squarrosa is Latin and means a tip projecting outwards, usually at a angle of 90º, probably referring to the position of the stiff inflorescence branches.
There are four species, all of which occur in Africa, of which P. squarrosa is the only perennial.
Ecology
Ecology
The grass is an indicator of poor, sandy soils, old lands and disturbed areas.
Uses
Use
Pogonarthria squarrosa is a hard, unpalatable grass, therefore seldom grazed. As it is a subclimax grass that colonises disturbed areas, it would be useful in preventing erosion. There are reports of the culms (stems) being tied together and used as hand brooms.
Growing Pogonarthria squarrosa
Grow
Up to now, indigenous grasses have seldom been used in gardens, therefore not much is known about the cultivation especially of the non-pasture grasses, nor are seeds or plants easy to obtain. However, this is changing as people become aware of how grasses can add interest to the garden as a feature. Many also attract birds and other wild life to the garden.
Pogonarthria squarrosa,  with its unusual inflorescence and red-brown colour, would be an asset to a garden. Since it is found in disturbed areas, it should be quite easy to grow in a sandy inland garden.
References
Chippindall, L.K.A. & Crook, A.O. 1976. 240 grasses of southern Africa , part 175. Collins, Salisbury.
Gibbs Russell, G.E., Watson, L., Koekemoer, M., Smook, L., Barker, N.P., Anderson, H.M. & Dallwitz, M.J. 1991. Grasses of southern Africa . Memoirs of the Botanical Survey of South Africa No. 58.
Van Oudtshoorn, F. 1999. A guide to the grasses of southern Africa . Briza Publications, Pretoria.
Credits
Lyn Fish
National Herbarium, Pretoria
July 2005
Plant Attributes:
Plant Type: Grass
SA Distribution: Eastern Cape, Free State, Gauteng, KwaZulu-Natal, Limpopo, Mpumalanga, North West, Northern Cape
Soil type: Sandy
Flowering season: Early Summer, Late Summer, Autumn, Winter
PH:
Flower colour: Brown, Red
Aspect:
Gardening skill:
Special Features:
Useful plant
Horticultural zones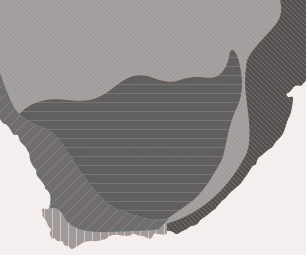 Google QR Code Generator