Pouzolzia mixta Sohms
Family: Urticaceae
Common names: soap-nettle (Eng.); seepnetel, wildebraam (Afr.); isikukuku (IsiNdebele); nthadzwa (Setswana); muthanzwa, murovhadembe (Tshivenda); nthadzwa (Xitsonga)
SA Tree No: 71
Introduction
Pouzolzia mixta is a multi-stemmed shrub with conspicuously bicoloured (two coloured) leaves which are spirally arranged with smooth margins.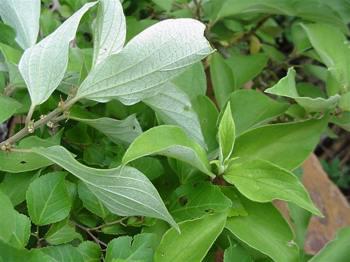 Description
Description
Pouzolzia mixta is a small tree or multi-stemmed shrub growing up to 4 m high. The bark is dark reddish-brown and smooth; branchlets have a velvety surface. Watery latex present.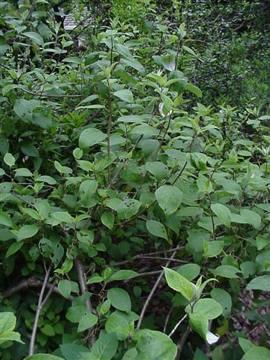 The leaves are simple, spirally arranged and ovate with a tapering apex and lobed base, 3-veined from the base with smooth margins. The leaves have contrasting upper and lower surfaces, the upper surface dark green and the lower surface silvery white-felted. Leaves tend to stick together and to clothing.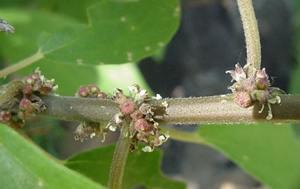 The flowers are small and greenish with separate male and female flowers on the same plant. They grow in dense clusters in the axils of leaves. The fruit is a very small nut enclosed in the remains of the flower.
Conservation Status
Status
Pouzolzia mixta is Red Listed (Raimondo et. al. 2009) as Least Concern (LC).
Distribution and habitat
Distribution description
The distribution of Pouzolzia mixta extends from northern KwaZulu-Natal, through Swaziland, the South African provinces of Mpumalanga, Gauteng, North-West and Limpopo, Botswana, Zimbabwe, and then further north as far as Malawi. These shrubs grow on rocky hillsides, in open woodland, wooded grassland, and along riparian thickets in bushveld.
Derivation of name and historical aspects
History
The genus name Pouzolzia was named after Pierre M. de Pouzolz (1785–1858), who wrote about the French flora. The specific epithet, mixta, means mixed, possibly referring to the contrasting colours of the upper and lower surfaces of the leaves.
Uses
Use
Soap-nettle fibres from the bark are used to make rope, string and fishing nets. The leaves are cooked as a green vegetable often with that of Obetia tenax. The crushed leaves are used as a soap substitute to wash hands and clothes. The plant can be used as an ornamental in gardens and is a source of bee forage. It is also used as traditional medicine where a root extract or root decoction is taken for the treatment of diarrhoea and dysentery.
Growing Pouzolzia mixta
Grow
Pouzolzia mixta is usually collected from the wild but very easily grown from fresh seed and cuttings. According to Lucy Shai, a horticulturist at the Pretoria National Botanical Garden, the best way to grow it is to soak the seed in water overnight. The seed germinates in few days depending on heat, water and light. Plants often arise spontaneously in cultivation from the abundant viable seed produced by established specimens. The plant is very cold sensitive.
References
Coates Palgrave, M. 2002. Keith Coates Palgrave Trees of southern Africa, edn 3. Struik, Cape Town.
Drummond, R.B. 1981. Common trees of the Central Watershed Woodlands of Zimbabwe. Natural Resources Board, Harare
Palmer, E. & Pitman, N. 1972. Trees of southern Africa. Balkema, Cape Town.
Raimondo, D., Von Staden, L., Foden, W., Victor, J.E., Helme, N.A., Turner, R.C., Kamundi, D.A. & Manyama, P.A. (eds) 2009. Red List of South African plants. Strelitzia 25. South African National Biodiversity Institute, Pretoria.
Van Wyk, B. [A.E.] & Van Wyk, P. 1997. Field guide to trees of southern Africa. Struik, Cape Town.
Wilmot-Dear, C.M. & Friis, I., 2006. The Old World species of Pouzolzia (Urticaceae, tribus Boehmerieae). A taxonomic revision. Nordic Journal of Botany 24(1): 5–111
Credits
Thabo Masupa
National Herbarium, Pretoria
September 2013
Plant Attributes:
Plant Type: Shrub, Tree
SA Distribution: Gauteng, KwaZulu-Natal, Limpopo, Mpumalanga, North West
Soil type: Loam
Flowering season: Spring, Early Summer
PH: Neutral
Flower colour: Green
Aspect: Full Sun, Shade
Gardening skill: Average
Special Features:
Edible plant
Useful plant
Horticultural zones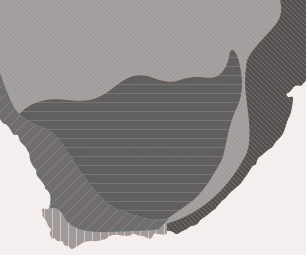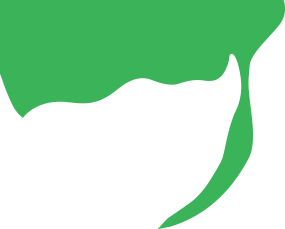 Zone 1 Coastal summer rainfall, frost free
Zone 4 Summer rainfall Karoo and Highveld, Frost in winter
Zone 5 Bushveld summer rainfall, Light frost
Google QR Code Generator