Protea amplexicaulis (Salisb.) R.Br.
Family: Proteaceae
Common names: clasping-leaf sugarbush (Eng.); aardroos (Afr.)
Introduction
This sprawling protea shyly hides its velvety flowerheads under its unusual grey-green, pink-margined leaves.
Description
Description
Protea amplexicaulis is a low-growing, sprawling shrub that varies in size and can grow up to 1.3 m in diameter, whereas the height remains under 500 mm. The plant more commonly grows close to the ground and has been spotted spilling over cliff faces, with dramatic effect.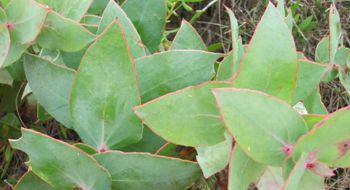 Thin stems of semi-hardwood, pinky-coloured branches grow horizontally from a short, single main stem. The bark of this shrub is a dull grey. The leaves are heart-shaped to oval, with a pointed tip. They are at right angles to the stem and quite sparsely arranged, but on new growth leaf arrangement, may be denser. They are sessile, i.e. have no petiole, and clasp the stem at the base. The leaves are powdery-green and are laced with bright, almost luminescent, pink edges. New shoots are often reddish pink, whereas older leaves are a duller, more powdery shade of green. At sunnier, higher altitudes, the leaves tend to be blue-grey, and when exposed to frost, they turn purple. At lower elevations, the leaves are usually a dull green.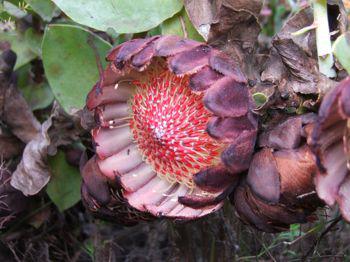 At the base of the plant, hidden under the leaves and branches, 60–80 mm flowerheads may be seen in late winter to spring (from June to September). They are produced in the axils of the lowermost leaves on all the stems and on the old growth at the centre of the plant. Spherical buds open to shallowly cup-shaped flowerheads. The flowers form a dense mass in the centre of the flowerhead; they are cream-coloured with red tips. They are surrounded by floral bracts. The outer surface of the floral bracts are velvety hairy and deep purple-black, later turning rusty brown, and they have a ciliate margin. Their inner surface is ivory to pale pink. The flowerheads give off a strong yeasty odour which attracts pollinators, like small mammals, such as mice and shrews. This protea is grouped in the rodent sugarbushes, with Protea cordata (heart-leaf sugarbush), P. decurrens (linear-leaf sugarbush), P. humiflora (patent-leaf sugarbush) and P. subulifolia (awl-leaf sugarbush).
The seeds are encased in the hard, woody remains of the flowerhead, and thus can withstand fires. They are stored on the plants for a few years.
Conservation Status
Status
According to SANBI's Red List of South African plants, this species is listed as LC (Least Concern) as it occurs in extensive stands, has a stable population and is not threatened with extinction.
Distribution and habitat
Distribution description
Protea amplexicaulis occurs along the inland mountain ranges of the Western Cape. Its distribution ranges from the Koue Bokkeveld to the Langeberg, Hottentots Holland, Caledon Swartberg, as well as eastwards to Worcester and along the Riversonderend range.
It is found in Table Mountain Sandstone-derived soils, on sunny, north-facing, dry, well-drained slopes. Protea amplexicaulis grows within a wide altitudinal range between 180 and 1 600 m.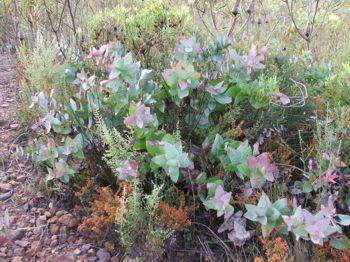 Derivation of name and historical aspects
History
It is thought that the genus name Protea was named after the Greek God Proteus by Swedish botanist Linnaeus. Proteus was a water and sea god, with variable and different qualities, much like the many species belonging to the family Proteaceae.
The species name amplexicaulis means 'stem-clasping' or 'stem-embracing' referring to the leaves, which tightly clasp the stem, from the Latin, amplector, meaning 'to wind around', 'surround', 'embrace' or 'clasp', and the Greek caulis, meaning 'stem'.
Ecology
Ecology
Protea amplexicaulis plants are killed by fire, however, a few years worth of seeds are stored on the plant in the woody remains of the flowerheads, and they open after the fire and release the seeds en masse. The seeds germinate with the first rains and the population continues. A few plants may survive the fire and resprout from the main stem. Fire has a rejuvenating effect on many fynbos plants.
The flowerheads are produced at ground-level and have a strong yeasty odour, which attracts mice and shrews. As they move from flowerhead to flowerhead, lapping up the nectar, they pick up pollen on their snouts, which they transfer between the flowers, thus bringing about cross-pollination.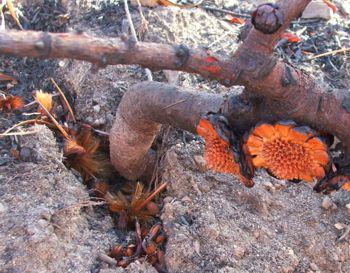 Uses
Use
Protea amplexicaulis has no notable cultural uses, but can be used horticulturally.
Growing Protea amplexicaulis
Grow
The flowers of Protea amplexicaulis are concealed and inconspicuous, which rules it out as a showy flowering shrub, but its sprawling habit and attractive foliage, make it a useful and interesting ground cover. It's also a plant for gardeners that enjoy the unusual. It needs a sunny spot, in well-drained, sandy, acidic soils, preferably on a slope, in a raised bed, or in a rockery. Planted in groups spaced about half a metre apart they will take about three years to create a dense mat. Protea amplexicaulis would also be appealing spilling over the side of a large pot, or used to create a curtain effect, covering a small garden wall from a raised bank or terrace. It is well suited to fynbos gardens and water-wise gardens in winter-rainfall areas, as it can withstand the hot, dry summers, and periods of drought once they are established. It is also a candidate for Mediterranean-type gardens, provided the soil is acidic, or gardens that receive summer rainfall, provided they are in sandy soil in a well-drained spot with free air circulation and low humidity.
Feed with well-rotted compost applied as a mulch in autumn and spring. Very little fertilizing is necessary, but if used, make use of low dose or slow-release organic and ammonia-based fertilizers. Also, take special care to keep root disturbance to a minimum. P. amplexicaulis withstands frost and temperatures down to -7ºC. When exposed to light frost, the leaves turn pinkish or blue-grey.
Protea amplexicaulis can be propagated from cuttings or seed. Take semi-hardwood cuttings from the current season's growth, in autumn or spring. Remove the leaves from the basal third of the cutting, treat with a rooting hormone, and place in well-drained rooting medium under intermittent mist with bottom heat of 25oC. Cuttings take up to eight weeks to root. Sow P. amplexicaulis seeds in late summer to autumn (March or April). Use a sandy acidic medium, cover lightly with clean sand, and keep moist and warm. Pot up as soon as the first pair of true leaves have developed. Harden off in 40% shade for a couple of weeks and then move them into the sun. Plant them out into the garden when they are at least a year old. Flowering will occur 2–5 years after sowing.
References
Iziko: Biodiversity Explorer. Protea amplexicaulis (Clasping-leaf sugarbush). Available: http://www.biodiversityexplorer.org/plants/proteaceae/protea_amplexicaulis.htm [ 8 June 2015].
Manning, J. C. & Paterson-Jones, C. 2007. Field guide to fynbos. Struik, Cape Town.
Oertel, C. & Oertel, J, The Fijnbosch farme Trust. Protea amplexicaulis. Available: http://finebushpeople.com/content/protea-amplexicaulis [23 March 2015].
Protea Atlas Project. Clasping-leaf Sugarbush- Protea amplexicaulis. Available: http://www.proteaatlas.org.za/sugar5.htm [25 March 2015].
http://Redlist.sanbi.org
Rebelo, T. 1995. SASOL Proteas, a field guide to the proteas of southern Africa, Edn 2. Fernwood Press, Vlaeberg, Cape Town.
Rourke, J.P.1980. The Proteas of Southern Africa by J.P. Rourke. Purnell. Cape Town
Vogts, M. 1982. South African's Proteaceae: know them and grow them. Struik, Cape Town.
Credits
Aimee Plutsick and Alice Notten
Kirstenbosch National Botanical Garden
August 2015
Plant Attributes:
Plant Type: Ground Cover, Scrambler, Shrub
SA Distribution: Western Cape
Soil type: Sandy
Flowering season: Winter
PH: Acid
Flower colour: Brown, Purple, Cream
Aspect: Full Sun
Gardening skill: Challenging
Special Features:
Drought resistant
Fragrant
Horticultural zones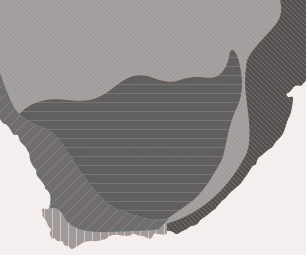 Zone 2 Coastal winter rainfall, frost free
Zone 3 Winter rainfall Karoo, light frost
Zone 4 Summer rainfall Karoo and Highveld, Frost in winter
Google QR Code Generator