Protea angustata R.Br.
Family: Proteaceae
Common names: Kleinmond sugarbush
Introduction
This is a protea you will be lucky to find when walking through the fynbos. Not only are there few plants, but they are also very cryptic. They are low-growing and concealed between reedy restios, where the longish narrow leaves blend in with the other vegetation.
Description
Description
This protea is classified as a dwarf shrublet up to 350 mm tall. It forms a sparse mat up to 1.5 m across. Tufts of leafy shoots rise above the ground from a subterranean system of branches attached to a woody rootstock. The long, narrow leaves curve upwards and are about 120-250 mm long and 2-8 mm wide. They are smooth and hairless, usually flat but sometimes have a rolled-back margin. The base is tapering and the tip pointed. The creamy green to apple-green flower bracts of the cup-shaped flower heads are only 30-45 mm wide, with the leaves growing out above them. The numerous narrow, tubular flowers enclosed by the bracts are 22-28 mm long and tipped with brown velvety hairs.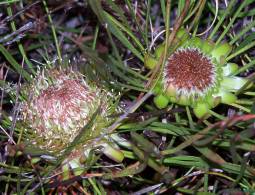 The flower heads have a strong yeasty smell and flower between July and October with a peak in early September.
Conservation Status
Status
Protea angustata is red-listed in the Endangered category, mainly because of urban expansion. Alien invasion and expanding protea orchards also pose threats to the continued existence of this interesting plant.
Distribution and habitat
Distribution description
P. angustata has a limited distribution range which runs in a narrow belt along the south-western Cape coastline. This is a temperate, winter rainfall area. Never plentiful, the biggest numbers of this protea can be found from Hermanus in the east to Pringle Bay in the west on the southern foothills of the coastal mountains between sea level and 180 m, usually not further than 5 km inland from the sea. Some populations occur on the Groenland mountains. Smaller numbers can be found east of Hermanus with a few outlying populations on the Caledon Swartberg.
Deep, white, flat or gently sloping sandy soils derived from the Table Mountain Geological series are the favoured soil type of this protea. However, in some localities, such as at Kleinmond, it grows happily in clay soils derived from a shale band which runs through the area. Just a few individuals grow widely scattered throughout its range.
Derivation of name and historical aspects
History
The genus Protea is named after the god Proteus who was renowned for his ability to change his form. The specific name angustata is derived from the Latin for 'narrowed', as this plant has very long narrow leaves.
The species was discovered in 1801 by James Niven in the mountains near Houwhoek, but only introduced into cultivation around 1930 at Kirstenbosch.
Protea angustata is one of about 112 species belonging to the genus Protea in the famous family Proteaceae. There are 14 indigenous South African genera in this family, many of them with very showy flower heads and making up one of the most important components of the fynbos veldtype in the south-western Western Cape.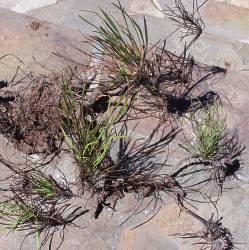 Ecology
Ecology
Protea angustata has an extensive underground branching system of stems growing from a thick rootstock. This growth form makes the species very resistant to fire. In fact, fire stimulates new growth that will produce flowers about three years later. Fire is necessary for the existence of this plant as it becomes senescent without it, diminishing its ability to produce flowers over the years until it is once again burned. The seeds are held in the spent flower heads until they are released 1 to 2 years after flowering. P. angustata  is designed to resprout after fires and can therefore become very old.
The greenish flower heads produce a strong yeasty smell when they open. This, and the fact that they are so low growing and cryptically coloured, point to mice being the probable pollinators.
Uses
Use
This is not a showy species of protea, growing as it does with its few, small, greenish cream flowers close to the ground. It is not easy to grow and is recommended only for the serious collector. As the flowers are never plentiful and the flowering stalks very short it is not worthwhile as a cutflower.
Growing Protea angustata
Grow
Success has not been achieved with cuttings, so best results are obtained by sowing seed. Dust seeds with a fungicide after smoke treatment to prevent post emergence infections. Sow seed in late autumn in trays in well drained and aerated soil. A well sieved mixture of 10 parts river sand, 6 parts loam and 4 parts compost or well rotted bark works well. Place trays in a sunny place with good air circulation. Germination takes about 6 weeks and occurs best between temperatures of 1-11°C. Prick out seedlings when the first true leaves appear. Transplant seedlings into bags in sandy soil, or the above mixture, and be very careful not to overwater.
Plant in a sunny open situation where it can grow undisturbed, but close to a path where this small plant can be admired when it does flower. Make sure there is good drainage and water regularly for the first two years. Plants will only begin flowering in their seventh year. Flowering is not regular and only two or three flowers may be produced each season. Old flower heads and their supporting stems should be pruned back to ground level to stimulate new flower-bearing growth from the subterranean stems.
References
Brown, N. & Duncan, G. 2006. Grow fynbos plants. South African National Biodiversity Institute, Cape Town.
Leistner, O.A. (ed.) 2000. Seed plants of southern Africa: families and genera. Strelitzia 10. National Botanical Institute, Pretoria.
Raimondo, D., Von Staden, L., Foden, W., Victor, J.E., Helme, N.A., Turner, R.C., Kamundi, D.A. & Manyama, P.A. (eds). 2009. Red List of South African plants. Strelitzia 25. South African Biodiversity Institute, Pretoria.
Rebelo, T. 1995. SASOL Proteas, A field guide to the proteas of Southern Africa. Fernwood Press in association with the National Botanical Institute.
Rourke, J.P. 1980. The proteas of Southern Africa. 1980. Purnell, Johannesburg, Cape Town, London.
Credits
Jane Forrester
Harold Porter National Botanical Garden
August 2010
Plant Attributes:
Plant Type: Ground Cover
SA Distribution: Western Cape
Soil type: Sandy, Clay
Flowering season: Spring, Winter
PH: Acid
Flower colour: Green
Aspect: Full Sun
Gardening skill: Challenging
Special Features:
Horticultural zones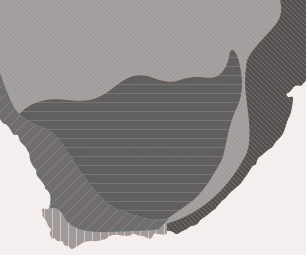 Zone 2 Coastal winter rainfall, frost free
Google QR Code Generator