Protea cordata Thunb.
Family: Proteaceae
Common names: Heart-leaf sugarbush; hartblaarsuikerbos (Afr.)
Introduction
This little protea is something of a Cinderella before the glass slipper came her way. The flower heads growing at ground level are unobtrusive, small and papery brown. However the well-spaced heart-shaped leaves are unusual and very attractive - sure to capture attention!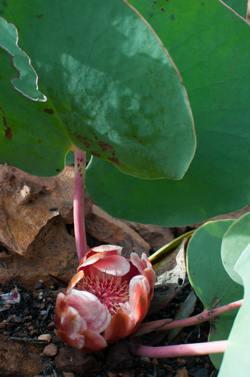 Description
Description
Protea cordata is an erect, multi-stemmed, perennial dwarf shrub, growing to 0.5m tall and 0.3m across, from a woody base at ground level. The red, hairless, stems are unbranched, reaching a length of 500mm. Brown, lance-shaped scale leaves occur at the base of the stem.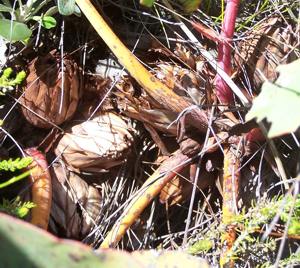 The stalkless, heart- shaped leaves are arranged in a zigzag formation directly along the stems, with the largest one at the base of the stem, the others becoming progressively smaller towards the tip. The leaves are hairless, 20-160mm wide, 30-140mm long and are a lovely crimson when young, becoming sea-green with a whitish bloom as they mature.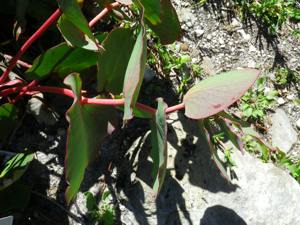 The flowerheads, 40-50mm in diameter, are clustered at the base of the stems at ground level on short stalks. Brown, dry, papery bracts form a cup shape surrounding the cream-coloured flowers with red tips. The plants flower in June and July.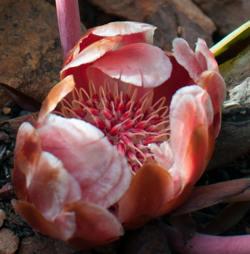 The 5mm long inverted cone-shaped fruits, each contain a single seed, and are covered with 12mm long yellow-brown hairs. New stems grow each year from the woody base while the old ones die down in a year or two and are eventually blown away.
Conservation Status
Status
Distribution and habitat
Distribution description
These southwestern Cape endemic plants grow in the winter rainfall region, from sea level to an altitude of 1200m on various soils, including sandstone, but they favour Cedarberg shales. Although they usually grow sporadically in clumps of a few plants, they occasionally form extensive stands. Occurring in the west from the Kogelberg and Du Toit's Kloof Mountains they extend eastwards to the Bredasdorp, Riviersonderend and Langeberg Mountains. They may be found further eastwards, where suitable habitat is present in, as yet, unexplored areas. This is not a very hardy species and would be unsuitable to try to grow in areas that experience frost.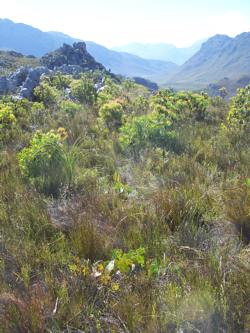 Derivation of name and historical aspects
History
The genus name Protea is derived from the name Proteus, a mythological Mediterranean god who was able to change his form at will. The huge variation in the plant forms of the Protea family reminded Linnaeus, who originally named the genus and family, of this god. The species name cordata means heart-shaped, a reference to the shape of the leaves.
Thunberg first came across Protea cordata on his travels at some time between 1772 and 1775, recording it from the Houwhoek and Riviersonderend mountains. In 1790 Francis Masson introduced it to the Royal Botanical Gardens at Kew where it flourished. It became a sought after species and growers in England and France had a hard time keeping up with the demand. However its popularity was short-lived and interest in the plant waned. It was first grown at Kirstenbosch in 1930.
Proteas (plants in different genera of the Protea family) belong to a big family found in the southern hemisphere with most genera and species occurring in Australia. In southern Africa there are 14 genera with about 360 species in the family with some 330 of these species found in the Cape Floral Kingdom. In the genus Protea there are about 112 species, the most famous of which is the king or giant protea, Protea cynaroides, which is the national flower of South Africa and the emblem of the national cricket team.
Ecology
Ecology
The colouring and growth habit of this species with the flowers at ground level is typical of the rodent pollinated protea species such as Protea amplexicaulis, P. humiflora, P. decurrens and P. subulifolia. However P. cordata does not have the very yeasty smell of the others which helps to attract mice as pollinators. It has not yet, as far as is known, been established whether this species is definitely pollinated by mice, but it is probable. Although it would appear to be a resprouter, with stems growing from a woody base, this is not the case as the plant is destroyed by fire. The fruits containing the seeds are stored in the flowerheads and are usually released after fire.
Uses
Use
The unusual stems with their heart-shaped leaves are extremely attractive in flower arrangements and last well. Cutting the stems right down at the base to use in arrangements will ensure new growth for the following year. It is also an excellent plant to use in rockeries, as the colour, shape and texture add a lot of interest.
Growing Protea cordata
Grow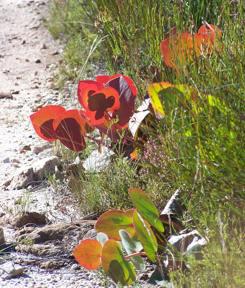 This plant makes an excellent addition to a well-drained rockery and copes well in either sandy or more clayey soils. In spring the new leaves provide a wonderful red colour, while later in the year the large sea-green heart-shaped leaves on the red zigzag stems provide good textural contrast to many other rockery plants, especially if given a prominent position where they can be admired. In order for them to be seen they should be grown amongst low growing fynbos plants such as small types of restios, buchus, daisies, ericas, bulbous plants and other members of the Protea family which will not overwhelm them.
At the Harold Porter National Botanical Garden they have only been grown from seed but it is mentioned in the literature that they have also been propagated from cuttings. Treat the seed with a fungicide during storage or just before sowing to prevent infection and improve the chances of germination. Sow in a well-draining mixture of one part loam, one part leaf mould or finely sieved, well-rotted bark and two parts of coarse sand during autumn. Cover with a layer of sand and water thoroughly.
Keep the soil moist but not wet and place in a sunny position in the glasshouse. Once germination takes place and the first true leaves appear, prick out the seedlings into individual containers containing a similar well-drained soil mix such as that used for sowing. Keep the plants just moist and harden off under 40% shade cloth for a couple of weeks. Move them into the sun and once the plants attain a height of 200 mm they can be planted out into the chosen sunny position in the garden. Mulch around the plants, being careful not to allow the mulch to touch the stems. Keep them just moist until they have established well. Prune old stems each year so that new growth will be promoted.
References
Adamson, R.S. & Salter, T.M. (eds). 1950. Flora of the Cape Peninsula . Juta, Cape Town.
Bean, A. & Johns, A. 2005. Stellenbosch to Hermanus. South African Wildflower Guide 5. Botanical Society of South Africa.
Brown, N. & Duncan, G. 2006. Grow Fynbos Plants. Kirstenbosch Gardening Series . South African National Biodiversity Institute, Cape Town.
Dyer, R.A. 1975. The genera of southern African flowering plants . Botanical Research Institute, Pretoria.
Eliovson , S. 1965. Proteas for pleasure, how to grow and identify them . Howard Timmins, Cape Town.
Goldblatt, P. & Manning, J. 2000. Cape plants, a conspectus of the Cape flora of South Africa, Strelitzia 9. National Botanical Institute of South Africa, Pretoria and Missouri Botanical Garden Press, Missouri.
Jackson, W.P.U. 1990. Origins and meanings of names of South African plant genera. UCT Ecolab, Botany Department.
Matthews, L. 1993. The Protea growers handbook including Leucadendrons, Banksias and Grevilleas . Trade Winds Press, Durban.
Pauw, A. & Johnson, S . 1999. Table Mountain--a natural history . Fernwood Press, Vlaeberg.
Raimondo, D., Von Staden, L., Foden, W., Victor, J.E., Helme, N.A., Turner, R.C., Kamundi, D.A. & Manyama, P.A. (eds). 2009. Red List of South African plants. Strelitzia 25. South African National Biodiversity Institute, Pretoria.
Rebelo, T. 1995. Sasol Proteas: a field guide to the proteas of southern Africa . Fernwood Press, Vlaeberg.
Rebelo, T. 2000. Field guide to the proteas of the Cape Peninsula . Protea Atlas Project, National Botanical Institute, Cape Town.
Rourke, J.P. 1980. The proteas of southern Africa . Purnell, Johannesburg.
Trinder-Smith, T.H. 2003. The Levyns Guide to the plant genera of the southwestern Cape. Contributions from the Bolus Herbarium 21.
Vogts, M. 1982. South Africa's Proteaceae, know them and grow them . Struik, Cape Town.
Credits
Jane A. Forrester
Harold Porter National Botanical Garden
July 2013
Plant Attributes:
Plant Type: Ground Cover, Shrub
SA Distribution: Western Cape
Soil type: Sandy, Clay
Flowering season: Winter
PH: Acid
Flower colour: Brown, Pink, Cream
Aspect: Full Sun
Gardening skill: Challenging
Special Features:
Feature plant
Horticultural zones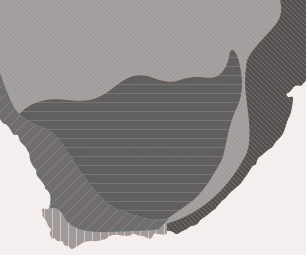 Zone 2 Coastal winter rainfall, frost free
Google QR Code Generator