Protea cryophila Bolus
Family: Proteaceae
Common names: snow protea, snowball protea (Eng.); sneeuprotea, sneeublom (Afr.)
Introduction
Protea cryophila is a sprawling, densely tufted shrub with attractive pink and white flowerheads and leathery, ascending, inward-folded leaves. It is confined to peaks usually above 1 700 m, and is closely related to the 'frosted snow protea', P. pruinosa from the peaks of the Groot Swartberg Mountains.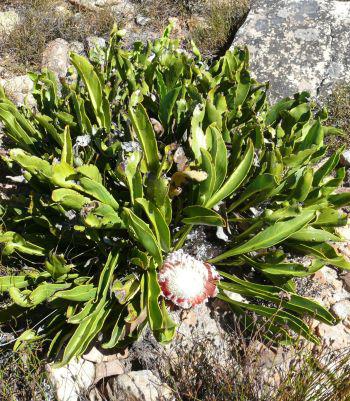 Description
Description
Plants have a procumbent growth habit, with branches radiating from a central main branch, forming dense, tight mats, up to 3 m in diameter. The older, dry, dead, branch remnants persist for some time. The branches are 10–20 mm in diameter and are covered in dark, blackish brown, more or less egg-shaped, papery bracts. The leaves are leathery and firm, ascending, grouped at the branch ends. The leaf petioles are yellowish green, 200–250 mm long and 5 mm in diameter, swollen at the base. The leaf blades are elliptic, 100–250 mm long, and 50–70 mm broad, folded inwards, with a prominent yellowish green midvein. The margins are entire, horny and yellowish green and with a blunt tip.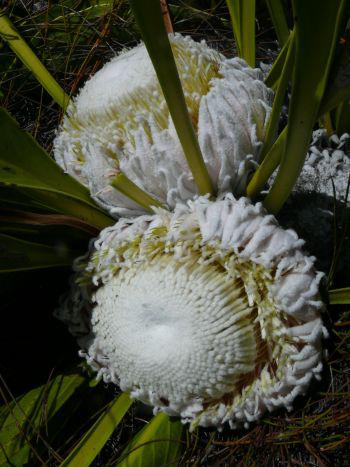 The inflorescence is without a stalk (sessile), and when fully opened, is shaped like a crater or shallow mug, 120–150 mmlong and 130–160 mm in diameter, densely covered on the outside with woolly, white, papery bracts, 60–70 mm long and 10–15 mm broad, in 6 or 7 series, arranged like tiles on a roof (imbricate). The inside of the bracts are pink, becoming whitish at the base, sometimes entirely white. The individual flowers are straight to slightly bent, creamy white to pinkish or white, 85–90 mm long; the tube 10–15 mm long. The 4 anthers are 15 mm long; the filaments 2–3 mm long. The style is straight to slightly curved. Seed are oblong, brownish, hairy. Flowering time is mid- to late summer (January to March).
Conservation Status
Status
According to the Red List of South African Plants, checked on 4 October 2016, Protea cryophila is assessed as Near Threatened (NT). It is a rare species, consisting of about 7 isolated subpopulations, in a small, 43 km2 area. Plants are slow to mature and are sensitive to increased frequency of fire. This species is potentially threatened by too frequent fire and the effects of climate change.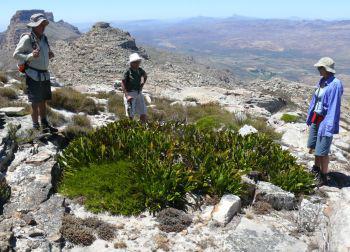 Distribution and habitat
Distribution description
Protea cryophila is confined to the Cederberg in the Western Cape Province of the Republic of South Africa, and within this mountain range, the plants are restricted to full sun on mountain peaks, at altitudes from about 1 750–2 000 m above sea level, and can be found mainly between Sneeukop in the north, to Sneeuberg in the south, a distance of about 25 km. The other peaks where the plants grow, include Shadow Peak, and Table Mountain.
The habitat consists of rocky terrain, the geology consists of acidic, mineral-poor, quarzitic sandstone of the Table Mountain Group (Cape Supergroup). The plants often grow in crevices on flat bedrock where fire cannot reach. The vegetation consists of Western Altimontane Sandstone Fynbos. The habitat is above the tree line and consists mainly of dense stands of restios, and alpine fynbos. Succulents noticed in the habitat include Crassula obtusa and C. nudicaulis, Senecio citriformis and Esterhuysenia mucronata. Rainfall occurs mainly in winter (April to October) and about 800–1 300 mm per annum. Winters are cold and the plants are often underneath a blanket of snow. The mean daily temperature in winter is about 0.1oC and 22.9oC in summer (Mucina & Rutherford 2006).
Derivation of name and historical aspects
History
Protea cryophila was named by Dr Harry Bolus from plants collected on 5 October 1897, by Alfred Bodin, a maths teacher of the Diocesan College, Rondebosch (Cape Town), who collected his plant on the summit of Sneeukop in the Cederberg. He gave it to his friend, Dr Harry Bolus who named the species, cryophila (Rourke 1980). The name cryophila pertains to the cold, alpine climate, cryos meaning 'frost or cold' and philios meaning 'to love'. In addition to its frosty habitat, the plant in bud and sometimes in flower, also has a frosty appearance (see photos). Because of its alpine habitat, this species is only rarely seen.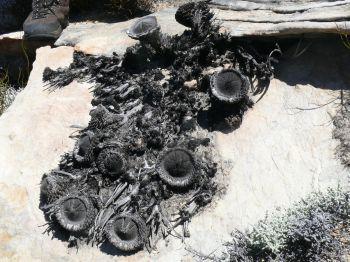 Ecology
Ecology
Protea cryophila is well adapted to fires, which can occur any time between 8 and twenty-five years. Plants exposed to fires are killed and cannot resprout, and will only regenerate from seed. Plants on bedrock can escape fires. The open flowers (January to March), emit a yeasty smell and the position at ground level, strongly suggests pollination by rodents. The leathery leaves and low procumbent growth is a clear adaptation to cope with snow so regularly experienced during the winter months.
Uses
Use
Apart from ornamental use, no other uses have been recorded.
Growing Protea cryophila
Grow
Protea cryophila is best grown in cold, higher altitude fynbos gardens (Van Jaarsveld 2010). Plant on sunny, open rockeries and provide sufficient space for the plants to grow. This species should be able to be grown in colder parts of the world, such as northern America, Europe and New Zeeland. It requires acidic, mineral-poor soil and plenty of sunshine and snowy winters.
Protea cryophila is a slow grower according to John Rourke in Proteas of South Africa. Sow seed in the autumn in an acidic sandy soil mixture low in mineral content. Cover with a thin layer of sand or gravel and keep moist. Seed germinates within 3 weeks and the seedlings are slow to mature. Best to feed plants with a diluted, organic, liquid fertilizer.
References
Mucina, L. & Rutherford, M.C. (eds) 2006. The vegetation of South Africa, Lesotho and Swaziland. Strelitzia 19. South African National Biodiversity Institute, Pretoria.
Rebelo, A.G. et al 2006. Protea cryophila Bolus. National Assessment: Red List of South African plants version 2015.1. Accessed on 2016/10/04
Rourke, J.P. 1980. Proteas of South Africa. Tafelberg, Cape Town, Johannesburg.
Van Jaarsveld, E.J. 2010. Water wise gardening. Struik, Cape Town.
Credits
E.J. van Jaarsveld
Kirstenbosch National Botanical Garden (Retired)
Babylonstoren Farm
Extraordinary senior lecturer and researcher, Department of Biodiversity and Conservation, University of the W. Cape.
October 2016
Plant Attributes:
Plant Type: Shrub
SA Distribution: Western Cape
Soil type: Sandy
Flowering season: Early Summer, Late Summer
PH: Acid
Flower colour: White, Pink
Aspect: Full Sun
Gardening skill: Challenging
Special Features:
Drought resistant
Fragrant
Good potplant
Horticultural zones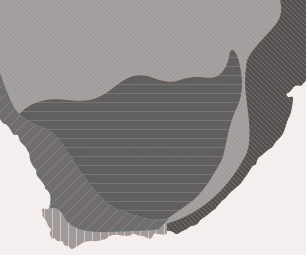 Zone 2 Coastal winter rainfall, frost free
Zone 3 Winter rainfall Karoo, light frost
Google QR Code Generator