Protea lacticolor Salisb.
Family: Proteaceae
Common names: Hottentot's Holland sugarbush, hottentot sugarbush, hottentot white sugarbush (Eng.), witsuikerbos, hottentotwitsuikerbos (Afr.)
SA Tree No: 90
Introduction
A large shrub or small tree from the fynbos, with creamy white or pink flower heads in autumn to winter, that can be used for screening, or as a focal point in fynbos-friendly gardens.
Description
Description
Protea lacticolor is an erect shrub or a small tree that grows from 2 m up to 6 m tall. It grows from a single main stem, 80–300 mm in diameter. The stems are hairless with a smooth, grey bark, when they are matured. The leaves are lance-shaped to ovate, with a heart-shaped base and always curved upwards. They are dark blue-green, quite thick and tough, hairy when young, with a distinct red margin and a thick fringe of white-brown hairs on the leaf margins, that can clearly be seen, particularly in the early stage.
Male and female elements are carried in the same flower; the female consists of the stigma and pollen presenter, style and ovary, and the male consists of the stamen and anther. Protea lacticolor produces oblong to narrowly obconic inflorescences, 60–80 mm long and 50–60 mm in diameter. The involucral bracts are creamy white or pink and densely covered with silky hairs. The Hottentot's Holland sugarbush flowers mainly in autumn (March and April) and in late summer to midwinter (February–June).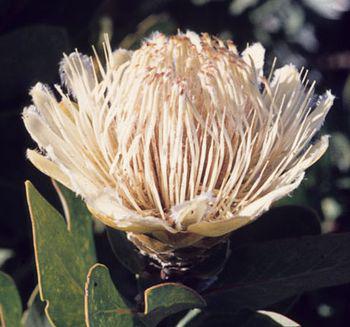 The fruits are serotinous, i.e. they take about 7 months to ripen, and will remain on the plant for years until the plant dies, or a fire occurs, or if insects consume the seedhead stalk,and the water supply to the seedhead stops. In the wild, this shrub is killed by fire and then releases all its seeds at once, a strategy known as reseeding.
Conservation Status
Status
According to the Red List of South African plants, checked on 27 March 2017, Protea lacticolor is assessed as Endangered (EN). Its natural habitat is fragmented and decreasing, and it only occurs at 8 known locations. This species is threatened because part of its habitat is densely invaded with alien pine trees and its northern subpopulations are declining for reasons that are unknown.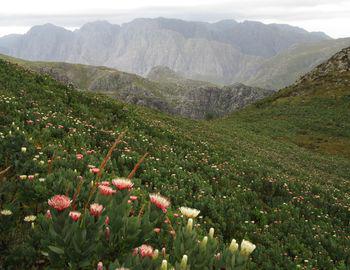 Distribution and habitat
Distribution description
The natural habitat of Protea lacticolor is on the mountains, most often on streams banks and on high-altitude shale bands, on moist south- and east-facing slopes. It is widely distributed from Bain's Kloof to the Hottentos-Holland and Groenland Mountains. The population that grows in the upper Jonkershoek Valley, on the Boland hiking trail near Somerset Sneeuwkop, is protected from burning.
Derivation of name and historical aspects
History
The genus Protea was named by Carl Linnaeus, the father of taxonomy. Proteus was the mythological Greek god who could see into the future and always spoke the truth. However, to be able to extract a prophecy, one had to grasp him while he changed into numerous animate or inanimate forms. The species name lacticolor, is a Latin word meaning 'milk-coloured', referring to the milky white colour of the floral bracts. Protea lacticolor is commonly known as Hottentot's Holland sugarbush, after the mountain range where it grows naturally.
The Proteaceae is a family of one magnificent flowering plant after another. It comprises of 80 genera and more than 1 700 species. Most of about 45 genera and 800 species are native to Australia. Africa has about 16 genera and 400 species, of which 352 species occur in southern Africa, mainly in the winter rainfall area of the Western Cape. The remainder of the species occur in Central and South America, New Caledonia, Madagascar, Southeast Asia, the Malaysian region, Pacific Islands, New Guinea and New Zealand.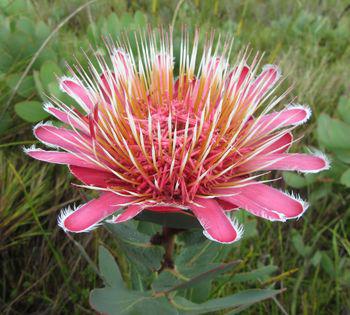 Ecology
Ecology
Protea lacticolor is pollinated by birds, mostly the visitors are sunbirds and sugarbirds. Protea beetles (Trichostetha fascicularis) and other Scarabaeidae, are also important pollinators of protea flowers. Sugarbirds are dependent on sugarbushes (Protea spp.), pagodas (Mimetes spp.) and pincushions (Leucospermum spp.), for food.
This species is half hardy to frost. It is also wind and drought tolerant, making it a water-wise plant for gardens. Proteas are serotinous; when a plant dies or is killed by fire, the retained seedheads open to release all the stored seeds at once, which fall to the ground or are blown from the plant. They seeds lie on the ground and become available as food for rodents and birds, until they germinate after the winter rain.
Uses
Use
The height, slenderness and foliage of the Hottentot's Holland sugarbush, make this a popular landscaping plant. It can be used as an accent plant or focal point, be used in the wild garden and it can also be used as small tree and as a screening plant along a boundary. It is also a good cutflower and is cultivated for the cutflower industry
Growing Protea lacticolor
Grow
Protea lacticolor is easily propagated and responds best when propagated by seed. Sow the seed in autumn (March to May) in a well-drained sowing medium, such as a mixture of coarse sand and finely milled pine bark. It is important to select the fertile seed before sowing. The fertile seeds are plump, whereas infertile ones are not. Protea seeds are very sensitive to waterlogging and humidity. Place them on a well-aerated sowing bench and use a free-draining container. Treating the seeds with smoke will improve germination. Place the seed trays in an airtight plastic tent and pipe in smoke from burning fynbos for 30 minutes. Allow the air to clear and then water the seed trays. Smoke extract can also be used. The seeds are soaked in the smoke extract for 24 hours and sown. Packets of the Kirstenbosch Instant Smoke Seed Primer are available for sale from the Seedroom. Treat your seed with a dusting systemic fungicide containing the active ingredient metalaxyl to prevent the post emergence seedling infection. The optimum temperature for germination of the seed is 5–10ºC for night temperature and 15–200C for day temperature.
After sowing, cover the seed with a light layer of sand to cover any exposed seed. Keep the soil moist and apply a fungicide once a week. To prevent birds and rodents from eating the seeds, cover the benches or trays with a grid. Once the seed has germinated, they will produce the cotyledons, followed by true leaves. The seedlings are ready to be transplanted into small plastic bags or into compartmentalized trays when they have true leaves. Once potted up, place them under the shade net for hardening off, particularly in dry and hot conditions. Plants grown from seed can begin to flower in 3 years after been propagated.
Protea lacticolor grows on nutrient-poor soil, more specifically where phosphorus is scarce. They have sensitive proteoid roots that can extract minute amounts of minerals from the soil. High levels of phosphates in the soil can be toxic to proteas. Feed proteas with light applications of an organic fertilizer to encourage the sensitive proteoid roots. Avoid using artificial fertilizers containing phosphorus, as they can cause protea plants to collapse and eventually die. Phosphate toxicity of the tip of young growth induces scorching or necrosis and cause the leaves to yellow.
Keep the soil moist during the hot, dry season by mulching your bed with a layer of mulch about 5 mm thick. Ensure that the mulch is free of Armillaria root rot, as they will spread to the plants. The mulch will keep the roots cool, keep moisture in the soil and reduce the growth of weeds. Chipping mulch is highly recommended, as they break down very slow and also release small amount of nutrients to the plant. The use of compost should be taken into consideration as it may burn the proteoids roots or change the texture of the soil.
Protea lacticolor requires little pruning. Pinch the tips of young plant regularly to encourage branching.
References
Brown, N.A.C. & Duncan, G.D. 2006. Grow fynbos plants. Kirstenbosch Gardening Series. South African National Biodiversity Institute, Cape Town.
Coates Palgrave, K. 2002. Trees of southern Africa. Struik, Cape Town.
Duncan, G., Brown, N. & Nurrish, L. 2013. Grow proteas. Kirstenbosch Gardening Series. South African National Biodiversity Institute, Cape Town.
Goldblatt, P. & Manning, J. 2000. Cape Plants. A conspectus of the Cape flora of South Africa. Strelitzia 9. National Botanical Institute, Pretoria & Missouri Botanical Garden, Missouri.
Rebelo, A.G. et al. 2005. Protea lacticolor Salisb. National Assessment: Red List of South African plants version 2017.1. Accessed on 2017/04/10
Rebelo, T. 1995. Proteas, a field guide to the proteas of southern Africa . Fernwood Press, Cape Town.
Rourke, J.P. 1980. Proteas of South Africa. Tafelberg, Cape Town, Johannesburg.
Website: Khumbula indigenous garden. Protea lacticolor. http://kumbulanursery.co.za/plants/protea-lacticolor, Accessed 27 March 2017.
Website: Protea Atlas Project. Meanings of scientific names. http://www.proteaatlas.org.za/meanings.htm, Accessed 27 March 2017.
Website: Protea Atlas Project. White water sugarbushes — proteas. http://www.proteaatlas.org.za/sugar3.htm Accessed 27 March 2017
Website: Tree Tags. National List of indigenous trees. http://www.treetags.co.za/indigenous-south-african-trees/, Accessed 27 March 2017.
Credits
Zitobile Sikova and Mashudu Nndanduleni
Kirstenbosch National Botanical Garden
April 2017
Plant Attributes:
Plant Type: Shrub, Tree
SA Distribution: Western Cape
Soil type: Sandy
Flowering season: Autumn, Winter
PH: Acid
Flower colour: White, Pink, Cream
Aspect: Full Sun
Gardening skill: Average
Special Features:
Attracts birds
Drought resistant
Feeds honeybees
Horticultural zones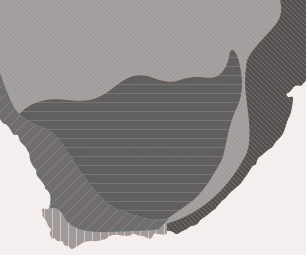 Zone 2 Coastal winter rainfall, frost free
Zone 3 Winter rainfall Karoo, light frost
Google QR Code Generator