Protea mundii Klotzsch
Family: Proteaceae
Common names: forest sugarbush, white protea (Eng.); witsuikerbos, boswitsuikerbos (Afr.)
SA Tree No: 93
Introduction
Although not as eye-catching as the glorious king protea (Protea cynaroides), Protea mundii has a pronounced and unusual charm to it that will add value to any garden. Being fast growing, quick flowering, tolerant of a variety of soil types, generally quite tough and a host to many nectar feeding birds and bees, it is surprising that it is still so underutilized by gardeners! Many people are also often surprised to learn that there is a small white protea when they first encounter the pale cream-coloured and petite flowerheads.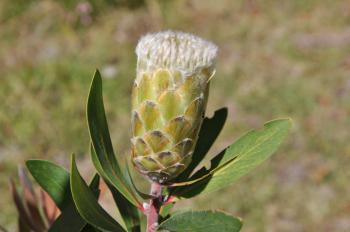 Description
Description
Protea mundii is a single-stemmed, upright shrub that reaches an average height of 3–8 m, but can occasionally reach 12 m, making it the tallest tree-like protea (Bean & Johns 2005). It reaches a width of 1.5–2 m. The trunk bears smooth, grey bark and reaches a diameter of 150–250 mm. Stems are downy but become hairless when mature (Rebelo 2001).
Leaves of P. mundii are elliptic to elliptic-lanceolate, a bright green with sparse hairs, becoming hairless when mature, although older leaves may have long hairs near the leaf base, whereas young leaves are velvety (Coates Palgrave 2002). Leaves are 60–120 mm long and 18–40 mm wide, tapering to the base, with an entire leaf margin distinctly veined with the midrib often reddish (Rebelo 2001; Bean et al. 2005) .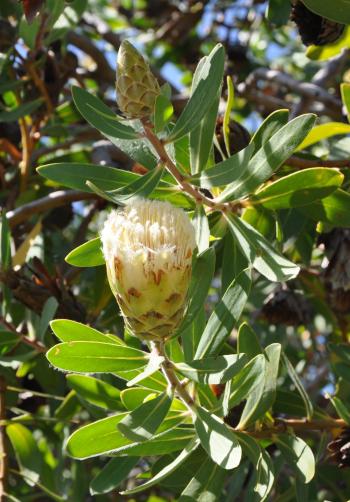 Humbly-sized flower cups are 60–80 mm long and made up of floral (involucral) bracts that range from pink to cream-green and are lightly covered with pale hairs. Flowerheads do not open widely, yet are clearly visible as they stand well above the leaves. Bract tips are fringed with white to tawny silky hairs, more so on the upper bract tips than the lower bracts. Flowers contained within the goblet of bracts rarely protrude from the mouth. The individual flower (perianth) is 50–70 mm long, the tube 12–15 mm long with wavy tips covered in silky hairs. The style is straight, 55–65 mm long and cream-coloured or pink. The pollen presenter is linear to thread-like, 8–10 mm long, having a large-knobbed tip (Rebelo 2001; Coates Palgrave 2002).
Flowering occurs in summer, from January to September, with a peak from February to April in the southern hemisphere. P. mundii is fast growing and easily reaches an age of 20 years (Brown, Duncan & Nurrish 2013). Fruit is a hairy nutlet which is retained on the plant (Coates Palgrave 2002). The predominant colour of P. mundii flowerheads is creamy white with a slightly greenish flush. Naturally occurring pink colour variants are much less common, though they are found in most populations (Rourke 1980).
Conservation Status
Status
According to the website http://redlist.sanbi.org, checked on 10/11/2015, the conservation status of this plant is Least Concern (LC). Protea mundii is common in dense local stands.
Distribution and habitat
Distribution description
P. mundii has a rather disjointed distribution. Its main range stretches from the Outeniqua and Kouga Mountains near George, to the Strydomsberg Mountain range near Uitenhage, even extending up to the Winterhoek Mountains. It also occurs in a short coastal strip between Betty's Bay and Hermanus in stands fringing forests from 200–1 300 m on permanently moist slopes. In the westerly population, it is locally common in ravines and sheltered, humid kloofs; whereas in the south Eastern Cape coast where rainfall is more evenly distributed, they occur in open country. Permanently moist habitats are a prerequisite for this species, bearing in mind that these are often well-draining areas receiving fresh mountain water.
It can survive in temperatures as low as -4°C. It is suitable for coastal gardens as well as temperate high rainfall areas.
Derivation of name and historical aspects
History
The name Protea was given by Linnaeus, allegedly after the mythological Mediterranean god Proteus who was able to take on many different forms; the allusion of the name being to the great variability of the genus. However, Linnaeus had only seen a few proteas by 1735, many only as drawings by Boerhaave. It seems unlikely that Linnaeus could have been aware of the variability in the genus by this stage and so a different derivation of Protea is possible. The greek proteia was a plural derived from protos, 'before' or 'first', and indicated 'first prize' or originally 'chief rank' or 'first place' (Jackson 1990).
Even though P. mundii was first collected near Knysna by William Burchell in March 1814, the species name mundii was given by J.F. Klotzsch (curator of the Berlin Herbarium) in honour of J.L. Leopold Mund, a Berlin pharmacist who was sent to the Cape in 1815 and collected plant specimens for the Prussian government, as a gesture of posthumous pardon towards their former employee who died in Cape Town in 1831 (Rourke 1980).
Interestingly, according to Rourke (1980) the plant was not described from Mund's specimens of P. mundii, but from a living plant flowering in the Cape House at the Berlin Botanic Garden in 1838. The plant had been grown from seed collected by Zeyher in South Africa and was given to the gardens by Mr Ecklon in 1835.
Ecology
Ecology
Protea mundii is a pioneer in the successional stages from tall fynbos to evergreen forest (Rourke 1980).
It is pollinated by Cape Sugarbirds and Sunbirds, and is visited by a number of other bird species as well. It is also popular with the bees that are often seen in the flowerheads at Kirstenbosch.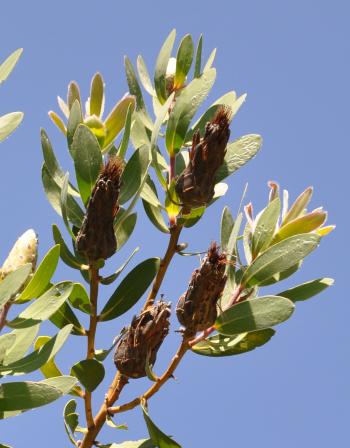 Protea mundii has adapted to survive periodic Cape fires by means of serotiny, and can be classified as a reseeder since plants are totally killed by fires. In this adaptation, seeds are withheld in the cone-like remains of the flowerheads on the plant until fire sweeps through in late summer. The old flowerheads open and the seeds are released and stimulated to germinate by the smoke. Open land provides an area with limited competition from other plants, and germination is assisted by the following autumn and winter rains.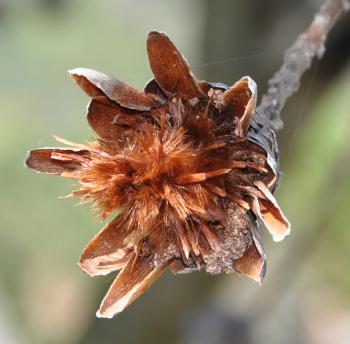 Uses
Use
At Kirstenbosch, Protea mundii is often used as a cutflower in the specimen displays, and it does last fairly well. It is also established as a cutflower in the cutflower trade. It can be planted as a source of food for local nectar-feeding birds in wildlife gardens.
Growing Protea mundii
Grow
This plant is very useful in a larger garden and is well-suited for screening or informal hedging. Although the flowers are not as attractive, large or showy as other Protea species, P. mundii is great for attracting birdlife such as Sunbirds and Sugarbirds into the garden. It can be planted amongst species of Coleonema, Felicia, Salvia and Leonotus to create an attractive Fynbos garden. This shrub or small tree grows well on a variety of soils, but is better suited to a well-drained soil that is slightly acidic, although it can tolerate slightly alkaline soils. In the garden it requires a position in full sun and regular watering until it has established. Branches should be shortened while the plant is still juvenile in order to maintain a compact and neater growth form (Eliovson 1967). When planting with companion plants, be sure to leave sufficient space around it for future growth; according to Eliovson (1967), P. mundii can reach a height of 1.8 m in a year if it receives sufficient watering! P. mundii can tolerate semi-arid conditions and is one of the easiest and fastest species of Protea to grow and will make a long-lasting addition to the garden. Flowering commences in the third year grown from seed.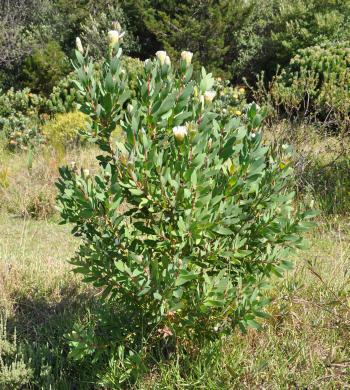 Propagation of Protea mundii is successful by either cuttings or seed-sowing.
In the southern hemisphere, the best time to sow protea seeds is from late summer to autumn (March to May). Only plump, fertile seeds should be selected for sowing as most seeds within a seed head are infertile. In nature, many species of Protea have the adaptation of serotiny and P. mundii is a reseeder. Seeds therefore need smoke treatment to increase the germination rate. Seeds are sensitive to excess water and can rot; it is therefore essential that they be sown in a well-aerated, well-drained, sandy medium (Brown et al. 2013). Use a mixture of coarse river sand and finely milled bark as a sowing medium and cover seeds lightly with the medium. Place trays in a makeshift 'tent' which is pumped with smoke by means of a pipe connected to a fire drum. A smouldering burn can be created by burning a mixture of dry and green fynbos leaf and stem material. Seed trays should be left in the smoke for one to two hours. Water trays to rinse the smoke deposit into the medium and place under cover in a shade-house where they will be exposed to the fluctuating temperatures of warmer days and cooler nights. An optimum fluctuation is between 10°C and 20°C (Brown et al. 2013). Once the first true set of leaves emerge, prick seedlings out and plant into individual containers or pots into a soil mixture similar to that used for sowing. Water seedlings thoroughly and place under light shade for 7 days to harden off before placing in full sun. Transplant as required to prevent plants from being pot-bound and developing unhealthy roots (Brown et al. 2013).
Collect cutting material in the cool early morning and place in a wet plastic bag until propagation takes place. Take cutting material from healthy, disease-free plants during the summer months of November to late March when plants are not flowering and new firm growth has emerged. Ideally, cutting material is 200–250 mm long and is taken from upright growing, terminal or lateral shoots and not from side shoots. Remove the lower third of basal leaves, cutting below a node and above a node at the tip of the cutting. Dip the cutting in a liquid rooting hormone of sufficient concentration (Brown et al. 2013). Place cuttings in a sterilized multi-tray filled with a well-aerated medium consisting of equal parts finely milled bark and polystyrene beads. Trays are placed under standard mist-bed conditions with bottom heating of 22–25°C, and free air circulation is essential to prevent fungal growth and rotting of cuttings. Rooting takes place from 8–16 weeks. Transplant successfully rooted cuttings into larger pots, using coarse sand and finely milled pine bark, and harden-off under 50% shade cloth for 3–4 weeks before placing them in full sunlight. Plants can be fed with an organic slow-release fertiliser and a regular spraying programme be set in place to avoid any fungal attack (Brown et al. 2013).
Many species of Protea are susceptible to diseases and pests when cultivated in the artificial garden environment. Caterpillars, nematodes, scale insects, tipwilters and snout beetles are all possible pests of Protea mundii (Brown et al. 2013). There are a variety of fungi that can cause death of plants. Phytophthora cinnamomi causes root rot and is the most important root disease of proteas since it causes heavy losses during warmer summer months.
For more thorough information, refer to Grow proteas in the Kirstenbosch Gardening Series, where pests and diseases, as well as their remedies, are discussed in more detail.
Acknowledgements: Thanks to Alice Notten for her help with the writing and suggestions for improvement.
References
Bean, A. & Johns, A. 2005. Stellenbosch to Hermanus South African wild flower guide 5. Botanical Society of South Africa, Cape Town.
Duncan, G., Brown, N. & Nurrish, L. 2013. Grow proteas. Kirstenbosch Gardening Series. South African National Biodiversity Institute, Cape Town.
Coates Palgrave, K. 2002. Trees of southern Africa. Struik, Cape Town.
Eliovson, S. 1965. Proteas for pleasure: how to grow and identify them. Howard Timmins, Cape Town.
Jackson, W.P.U. 1990. Origins and meanings of names of South African plant genera . University of Cape Town.
Rebelo, A.G. 2001. Proteas. A field guide to the proteas of southern Africa, edn 2. Fernwood Press, Vlaeberg, Cape Town.
Rourke, J.P.1980. The Proteas of Southern Africa by J.P. Rourke. Purnell. Cape Town
Credits
Megan Blatchford
Kirstenbosch National Botanical Garden
February 2016
Plant Attributes:
Plant Type: Shrub, Tree
SA Distribution: Western Cape
Soil type: Sandy, Loam
Flowering season: Early Summer, Late Summer
PH: Acid, Neutral
Flower colour: Green, White, Pink, Cream
Aspect: Full Sun
Gardening skill: Average
Special Features:
Attracts birds
Hedge/screen
Feeds honeybees
Pioneer plant
Horticultural zones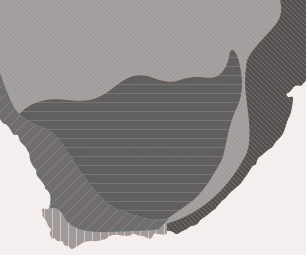 Zone 1 Coastal summer rainfall, frost free
Zone 2 Coastal winter rainfall, frost free
Zone 3 Winter rainfall Karoo, light frost
Google QR Code Generator