Protea namaquana Rourke
Family: Proteaceae
Common names: Kamiesberg sugarbush
Introduction
A very localized, rare shrub, distinct in its environment, with flowerheads that have a strong yeasty odour. Protea namaquana is one of the two Proteaceae species endemic to the Kamiesberg Mountains.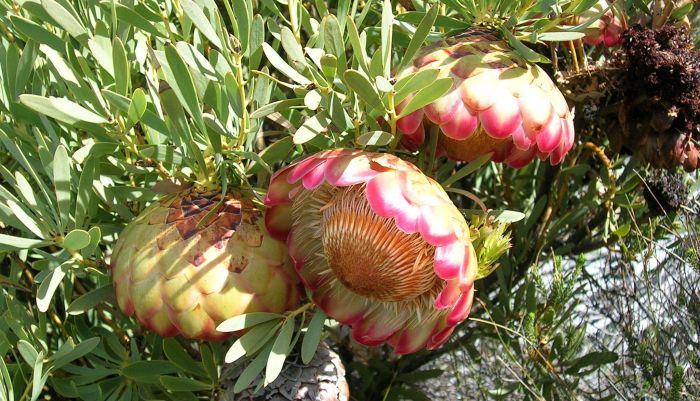 Description
Description
Protea namaquana is an upright, rounded, densely branched shrub 1–2 m tall. Its trunk is single and can be up to 200 mm in diameter. Flowering branches are hairless and upright. Leaves are hairless, pale green, upward pointing, with rounded tips, becoming thinner at the base to linear spoon-shaped. The leaves are 31–60 mm long and 4–9 mm wide.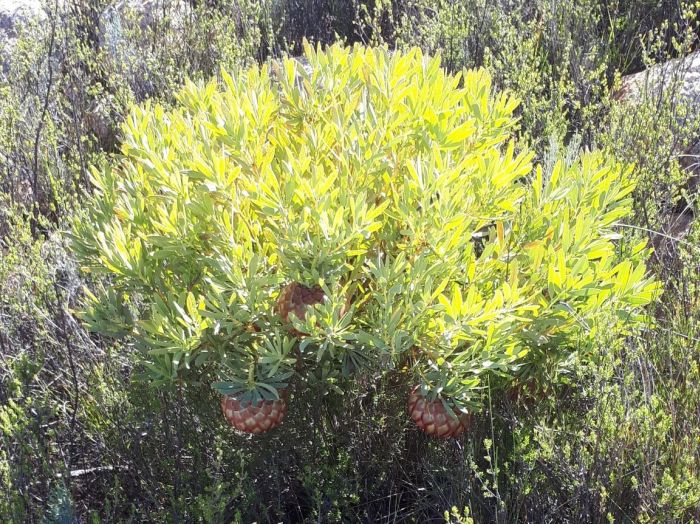 Flowerheads hang downwards, are rounded in bud, shallowly bowl-shaped when open, dull carmine, 90–100 mm in diameter. Open flowerheads emit a strong yeasty odour. This plant flowers in winter and spring (June to September).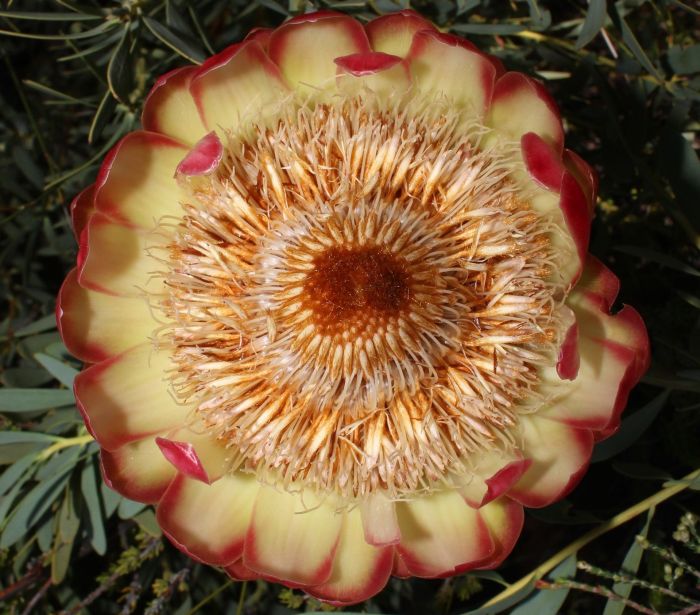 For a long time, P. namaquana has been confused with P. sulphurea (sulphur sugarbush), however, its growth habit and leaves are very different. The Kamiesberg sugarbush is not as enchanting as the sulphur sugarbush. The former is upright and rounded, whereas the latter, has trailing stems that spread horizontally, but their flowerheads look similar when they are open.
Conservation Status
Status
Protea namaquana is assessed in the Red List of South African plants as Critically Endangered (CR) (Rebelo et al. 2006). This slow-growing, reseeding species is threatened by inappropriate fire regime. This is because of fire exclusion, where it grows close to agricultural land, and too frequent burns in other areas to enhance grazing. Increasing temperatures in Namaqualand has made it more difficult for this species to survive, and drought-related mortality events have been observed. The population of P. namaquana is small and not protected, should habitat transformation and degradation continue, it is likely to go extinct in the near future.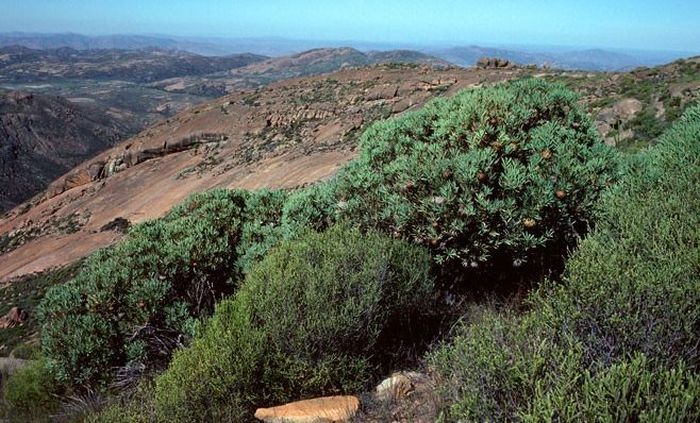 Distribution and habitat
Distribution description
Protea namaquana is endemic in Namaqualand and it occurs on rocky granite slopes in the Kamiesberg Mountains. Namaqualand is a semi-desert area with dry summers and rainfall occurring in the winter months (Desmet 2007). The area receives an average of 350 mm rainfall per annum, fluctuating between the highest rainfall in June and the lowest in December. Other important sources of precipitation are in the form of coastal fog and heavy dew, the source of which is the nearby Atlantic Ocean. Frost is rare, and temperatures are becoming hotter and have increased over the past century. The mean maximum temperature in winter is 18ºC and 30ºC in summer.
Derivation of name and historical aspects
History
Carl Linnaeus, the father of taxonomy, named the genus Protea after the Greek god Proteus who was able to take on many different forms. This name is appropriate because this family presents itself in different shapes, sizes and forms. The specific epithet namaquana means 'from Namaqualand'.
The Proteaceae family comprises of more than 1 600 species and 80 genera. Australia has the most with 45 genera, followed by Africa with 14 genera. Other species occur in Central and South America, islands east of New Guinea, New Caledonia, Madagascar, Southeast Asia, New Guinea and New Zealand. Africa has about 400 species of which 352 species occur in South Africa, mainly in the winter-rainfall area of the Western Cape.
Ecology
Ecology
Protea namaquana is rare and an outlier in its natural fynbos habitat, that has been separated from the main distribution area of the Cape Floristic Kingdom. Mature individuals of this species are killed by fires, and only seeds survive. Wind-dispersed seeds are stored in fire-resistant inflorescences, and released after fires. This species is probably pollinated by small animals, such as mice, which are attracted by the strong yeasty odour emitted by the newly opened inflorescences.
Uses
Use
As this is such an uncommon species, there are no known medicinal or cultural uses.
Growing Protea namaquana
Grow
This species is rare and has not been cultivated to our knowledge. To propagate and grow it successfully, follow similar methods used for other species of Protea, i.e. treat the seeds with smoke from burning fynbos and sow in autumn, use well-drained (sandy), acidic soil and keep moist, however, this species is highly drought adapted, and may need specific soil and climatic conditions to grow successfully.
References
Desmet, P.G. 2007. Namaqualand – A brief overview of the physical and floristic environment. Journal of Arid Environments 70(4): 570–586.
Jackson, W.P.U. 1990. Origins and meanings of names of South African plant genera . University of Cape Town.|Jeffrey, C. 1967. Cucurbitaceae. Flora of tropical east Africa .
Lephaila, D. 2019. Small-scale farmers face climate impacts in the Kamiesberg. WWF online. https://www.wwf.org.za/our_news/blog/_small_scale_farmers_face_climate_impacts_in_the_kamiesberg.cfm
Mucina, L. & Rutherford, M.C. 2006. The vegetation of South Africa, Lesotho and Swaziland. Strelitzia 19. South African National Biodiversity Institute, Pretoria.
Protea Atlas Project. Protea Gallery, Proteas, Penduline Sugarbushes. https://www.proteaatlas.org.za/sugar14.htm. Accessed on 2019/12/02.
Rebelo, A.G. 2001. Proteas. A field guide to the proteas of southern Africa. Fernwood Press, Vlaeberg, Cape Town.
Rebelo, A.G., et al. 2006. Protea namaquana Rourke. National Assessment: Red List of South African plants version 2017.1. Accessed on 2019/12/02.
Rourke, J.P. 1990. A new species of Protea (Proteaceae) from Namaqualand with comments on the Kamiesberg as a centre of endemism. South African Journal of Botany 56(2): 261–265.
Snijman, D.A. (ed.). 2013. Plants of the Greater Cape Floristic Region 2: The Extra Cape Flora. Strelitzia 30. South African National Biodiversity Institute, Pretoria.
Credits
Hlengiwe Mtshali and Dewidine van der Colff
Threatened Species Unit
December 2019
Acknowledgements: images courtesy of Nick Helme, Ismail Ebrahim and Brian du Preez.
Plant Attributes:
Plant Type: Shrub
SA Distribution: Western Cape
Soil type: Sandy, Clay, Loam
Flowering season: Winter
PH: Acid
Flower colour: Brown, Green, Red
Aspect: Full Sun
Gardening skill: Challenging
Special Features:
Drought resistant
Fragrant
Horticultural zones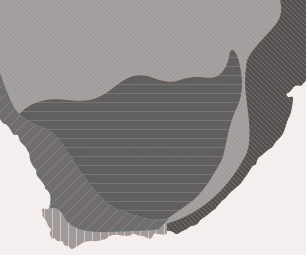 Zone 2 Coastal winter rainfall, frost free
Zone 3 Winter rainfall Karoo, light frost
Google QR Code Generator