Protea odorata Thunb.
Family: Proteaceae
Common names: Swartland sugarbush
Introduction
A small, champion shrub that produces very pleasant pink flower heads, pointing upwards or sideway of the branches, that have a slight sweet fragrance, and with attractive light green growth on current season and two to three year-old branches.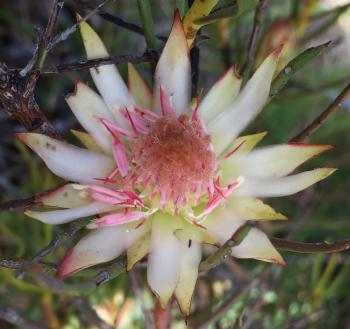 Description
Description
Protea odorata is a small, sparsely branched, evergreen, fynbos shrub, that grows about 0.7–1.2 m high. It has a single stem, hairless and brown with age, up to 20 mm in diameter, with light-green branches, that turn brown when they get older. It produces needle-like, curved leaves pointing upwards, about 25–65 mm long and 1.5–2.0 mm wide. The leaves are hairless and have a bent spine at the tip that might slightly hurt the hand when touched. The spines are pinkish to reddish when leaves are young and turn black as they age.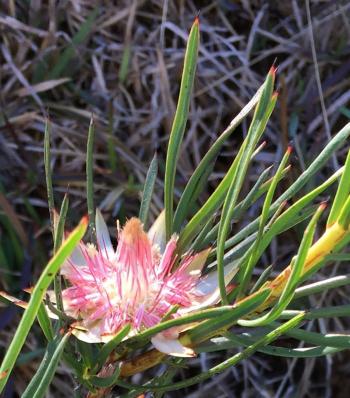 It produces bowl-shaped flower heads which are 20–30 mm in diameter. Male and female parts are carried in the same flowers. The female consists of ovary, style and stigma, and the pollen presenter. The style is  pink and straight and about 15–17 mm long and has a modified tip, 4 mm long, that carries the pollen on opening, called the pollen presenter. The male consists of stamens and anthers. Protea odorata flowers from late summer to mid-winter (February to June), peaking in abundance in autumn (from March to April). It produces creamy white involucral bracts with the tips that are flushed with pink, with 10–20 mm long and 2–5 mm wide inner series.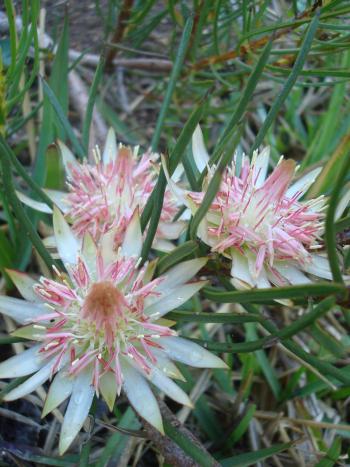 The fruits are serotinous (retained within the seed head on the plant for years) and take about 7 months to ripen. These fruits remain on the plants for years until the plants are burnt, although a few are released when branches or plants die or when the insects boring in the stems stop the water supply to the seed head.
Conservation Status
Status
According to the Red List of South African Plants, Protea odorata is assessed as Critically Endangered (CR). This is caused by too frequent fire, agricultural expansion, invasive alien plants, overgrazing and road construction. The bulk of the populations are extinct, and only a single marginal population of about 5 plants still survive. Kirstenbosch National Botanical Garden has conserved about 18 plants in the motherstock section and is trialing the grafting of specimens for display purposes. The seed is collected and stored in kirstenbosch seedbank for restoration and conservation purposes.
Distribution and habitat
Distribution description
Protea odorata is endemic to Malmesbury Flats, from Klapmuts to Riverlands. It grows in slightly saline, klipheuwel gravels, mixed with sands in flatlands. Protea odorata almost became extinct (Rebelo 2001). It used to occur in Atlantis and Cape Flats Sand Fynbos, but is extinct in these areas. It survives in a transitional patch of Alluvium Fynbos/Swartland Shale Renosterveld.
Derivation of name and historical aspects
History
The genus Protea was named by Carl Linnaeus, the father of taxonomy after Proteus, the mythological Greek god, who could see into the future and always spoke the truth. However, to be able to extract a prophecy, one had to grasp him while he changed into numerous animate or inanimate forms. Odorata is a Latin word meaning 'fragrant' or 'perfumed', referring to the fragrant flower heads.
Protea odorata is also known as one of the 'shale sugarbushes'. Shale is a type of rock which formed from consolidated mud or clay and can be split easily into fragile slabs, and weathers to form the soft and fine soils that this protea grows in. According to Rebelo 2001, there are only 2 species of shale sugarbushes, which are Protea mucronifolia and P. odorata. These species are recognized by very small flower heads and short styles, and with pink-ivory involucral bracts. Its common name Swartland sugarbush, refers to the region where it occurs.
The Proteaceae is a family of magnificent flowering plants. It comprises of more than 1 700 species and 80 genera. Most of about 800 species and 45 genera, are native to Australia. Africa has about 400 species of which 352 species occurring in South Africa, mainly in winter rainfall area (southwestern Cape). Other species occurs in Central and South America, islands east of New Guinea, New Caledonia, Madagascar, Southeast Asia, New Guinea and New Zealand.
Ecology
Ecology
Protea odorata flowers have a slight sweet fragrance and are pollinated by wasps.
When the proteas die or are killed by fire, the serotinous (retained) fruits open and the seeds fall out and become available food for rodents and birds until the seeds germinate after the autumn and winter rain. The seeds of Protea odorata have a softer coat with hairs that hold the seed into the damp soil after they have been dispersed by wind.
The leaves are needle like, with a sharp point at the tip that is hard and blackens as it ages but is pinkish to reddish when fresh. The spines protect the plants from leaf eaters. Protea odorata and P. mucronifolia are the only South African proteas that produce such spines on their leaves. These spiny tips can hurt the hand when collecting the seed heads. The linear or needle-like leaves also function to prevent the loss of water during the hot summer season.
It grows from a single stem and is killed by fire and will not resprout. Its fire adaptation is to reseed after a fire.
The proteoid roots function as nutrition absorption from the very nutrient poor soil typical of the fynbos; normally these roots are not far from the soil surface.
Uses
Use
Protea odorata is an excellent shrub suitable for small fynbos gardens and can be planted with various fynbos species. It is particularly suitable for gardens on shale-derived soils. It is an interesting subject for a fragrant garden.
Growing Protea odorata
Grow
Protea odorata is easily propagated and respond best when propagated by seed. Sow the seed in late summer to autumn (March to May) in a well-drained, coarse sand mixed with fine-milled, pine bark medium. Treat your seed with a dusting systemic fungicide containing the active ingredient metalaxyl, to prevent post emergence seedling infection. The optimum temperature for germination is 5–10ºC for night temperature and 15–20ºC for day temperature. The drop of temperature is important to stimulate the germination of fynbos seed. The treated seed will germinate easily.
Seedlings are easily infected by the Phytophthora root rot. To keep the seedling or plant alive in cultivation is very difficult. It is important to select the fertile seed before sowing; more often these seeds are fat, whereas unfertile are not. Protea seeds are very sensitive to waterlogging. Use a well-aerated and drained pot or sowing bench and smoke the seed with the fynbos dry and green material.
At Kirstenbosch, seed trays are treated with fynbos smoke, they are laid under an air-tight plastic tent and smoke from burning fynbos is piped into the tent. Smoke extract can also be used to treat the seed and is available for sale from the Kirstenbosch Seedroom. After sowing, cover the seed with a light layer of sand, making sure any exposed seeds are covered. Keep the soil moist and apply fungicide once a week. To prevent the birds, rodents from eating the seed, cover the benches or trays with a grid. Once the seeds have germinated, they will produce the cotyledons, followed by true leaves. The seedlings are ready to be transplanted into small plastic bags or into compartmentalized trays, when they have their true leaves. Plant the seedlings into a well-drained, acidic soil mix, preferably between 5–7 pH levels. At Kirstenbosch the seedlings are placed under shade netting for hardening off in the nursery until they are ready to be planted into the garden after the period of 1 to 2 years. Shade net reduces the direct sun which can dry out the soil in the bags and can also prevent scorch.
Protea odorata is a water-wise shrub in the winter rainfall region once it has established in the garden, normally 3 years after it was planted. These plants survive the extremely hot, dry summers in the motherstock beds at Kirstenbosch, where they only receive rain water in winter and no supplementary water in summer.
Protea odorata it can also be propagated by cuttings. Take the cuttings from November to April from the semi-hard growth of the season. Select the disease-free cuttings of 200 to 250 mm, upright-growing, lateral shoots. Dip the cutting in a rooting hormone for at least 5 seconds. Place your cuttings in a well-drained, aerated medium of 70% perlite and 30% fine bark or coarse sand and finely milled, pine bark, in the multi-trays. Put the trays on the heated benches of 22–25ºC and regularly treat the cuttings with fungicide to prevent fungal infection. Remove the dead leaves and wilting cuttings until your cuttings are rooted. Rooting of Protea odorata cuttings is quite difficult and they can take up to 3 months to root.
Protea odorata grows on nutrient-poor soil more specifically where phosphorus is scarce. Use the application of organic fertilizer to encourage the development of the sensitive proteoid root. Avoid using artificial fertilizers containing phosphorus, as they can cause the plants to collapse and eventually die. Phosphate toxicity can cause the tips of new growth to scorch or die and causes yellowing on the leaves. Keep the soil cool and moist during the hot, dry season by mulching your bed about 5 mm thick. Ensure that the mulch is free of Armillaria root rot, as it will infect the plants and kill them. The mulch will keep the roots cool, keep moisture to the soil and reduce the growth of weeds. Chipping mulch is much recommended, as they break down very slowly and release small amounts of nutrient to the plant. The use of compost should be taken into consideration, as it may change the texture of the soil. Protea odorata does not need much pruning attention, except to remove or prune branches that grow sideways.
Protea odorata is also susceptible to infection by the root rot fungus, Phytophthora cinnamomi. Kirstenbosch is trialing the grafting of Protea odorata on the scion of the hybrid Protea 'Pink Ice', a cross between Protea compact and P. susannnae, which is less susceptible.
References
Brown, N.A.C. & Duncan, G.D. 2006. Grow fynbos plants. Kirstenbosch Gardening Series. South African National Biodiversity Institute, Cape Town.
Cowell, C. Plant story—conserving Protea odorata, an endangered plant species. Retrieved 30/01/17. http://www.kew.org/discover/news/plant-story-conserving-protea-odorata-endangered-plant-species
Duncan, G., Brown, N. & Nurrish, L. 2013. Grow proteas. Kirstenbosch Gardening Series. South African National Biodiversity Institute, Cape Town.
Manning, J. & Goldblatt, P. 2012. Plants of the Greater Cape Floristic Region 1: the Core Cape Flora. Strelitzia 29. South African National Biodiversity Institute, Pretoria.
Rebelo, A.G., et al 2005. Protea odorata Thunb. National Assessment: Red List of South African plants version 2015.1. Accessed on 2017/01/30.
Rebelo, A.G. 2000. Proteas of the Cape Peninsula. Protea Atlas Project. National Botanical Institute, Cape Town.
Rebelo, A.G. 2001. Proteas. A field guide to the proteas of southern Africa, edn 2. Fernwood Press, Vlaeberg, Cape Town.
Credits
Mashudu Nndanduleni
Kirstenbosch National Botanical Garden
February 2017, updated March 2018
Plant Attributes:
Plant Type: Shrub
SA Distribution: Western Cape
Soil type: Sandy
Flowering season: Late Summer, Autumn, Winter
PH: Acid
Flower colour: Pink, Cream
Aspect: Full Sun
Gardening skill: Challenging
Special Features:
Drought resistant
Fragrant
Horticultural zones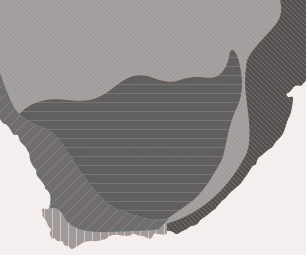 Zone 2 Coastal winter rainfall, frost free
Google QR Code Generator