Protea speciosa (L.) L.
Family: Proteaceae
Common names: brown-beard sugarbush, brown-bearded protea (Eng); bruinbaard suikerkan, baardsuikerkan, baardsuikerbos, brandhout, kreupelboom, kreupelbos, kreupelbossie, suikerbos (Afr)
Introduction
This is a beautiful, low-growing shrub that occurs on sandstone slopes in the mountains of the Western Cape; it produces magnificent flower heads that are used in the cut flower industry and attract birds.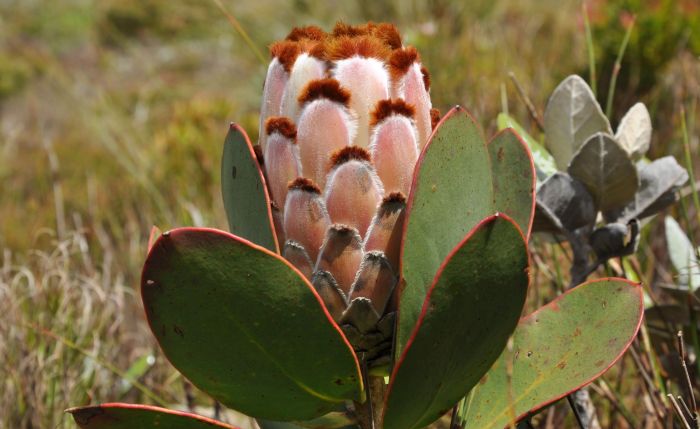 Description
Description
Protea speciosa is an evergreen, erect, multi-stemmed shrub that grows 0.5 to 1.2 m tall, from a large, woody, persistent rootstock. The leaves are obovate to oblanceolate, 90–160 mm long and 10–60 mm wide, leathery, hairy when young and hairless when mature. The shrub produces oblong flower heads, 90–140 mm long and 60–80 mm wide, from midwinter to midsummer (June to January) with a peak in spring, during the months of September and October. The flower heads have chocolate-brown or tawny beards on the tips of incurved involucral bracts, which enclose the flowers. The involucral bracts are hairy, green to cream, pink or brown.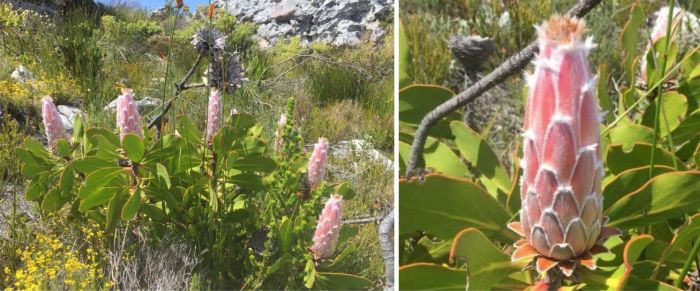 This species has a variety of natural forms that occur in habitat. The plants on the Cape Peninsula have broad leaves that look similar to those of Protea grandiceps, while the Klein River Mountain plants have narrower leaves (10–20 mm wide) and lime-yellow involucral bracts. The Hottentots-Holland Mountain plants have involucral bracts with mainly white beards.
Conservation Status
Status
The population of Protea speciosa is stable and assessed as Least Concern (LC) on the Red List of South African plants.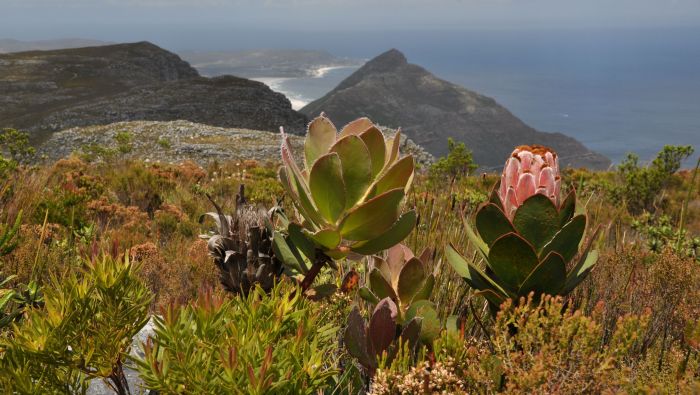 Distribution and habitat
Distribution description
Protea speciosa grows naturally on the mountains of the Cape Peninsula, the Hottentots-Holland to Riviersonderend and Langeberg, Klein River and Bredasdorp and seaward flats, and Potberg. The plants are found growing as scattered individuals and in dense stands, on cool southeastern, sandstone slopes, usually at 300–600 m altitude and also from 0–1300 m altitude.
Derivation of name and historical aspects
History
The Proteaceae comprises of more than 1 700 species and 80 genera. The majority of them, about 800 species and 45 genera, are native to Australia. Africa has about 400 species, of which 352 species occur in South Africa, mainly in the winter rainfall area on the southwestern tip. Other species occur in Central and South America, islands east of New Guinea, New Caledonia, Madagascar, Southeast Asia, New Guinea and New Zealand.
Carl Linnaeus, the father of taxonomy, named the genus Protea after Proteus, the mythological Greek god, who could change his form at will. This name suitably recognizes the wide variety of forms that the protea family exhibits. The species name, speciosa, means, 'beautiful, handsome or good-looking'.
Protea speciosa, with its attractive flowerheads, was very noticeable in their natural habitat to the early botanists visiting the Western Cape. Paul Hermann was the first botanist to observe the species in early 1672, and later on around 1720, it was published by Boerhaave, with a long description. The seed was collected and introduced to the Royal Botanic Gardens at Kew in 1786 by Francis Masson. Plants were propagated from seed and kept in glasshouses. Joseph Knight who had observed the cultivation of this species and propagated it from cuttings, featured them in his fine coloured paintings (engravings) of the flowers in his treatise called On the Cultivation of The Plants Belonging to The Natural Order Proteeae, in 1809. Joseph Knight made this species popular with collectors in Europe during the nineteenth century.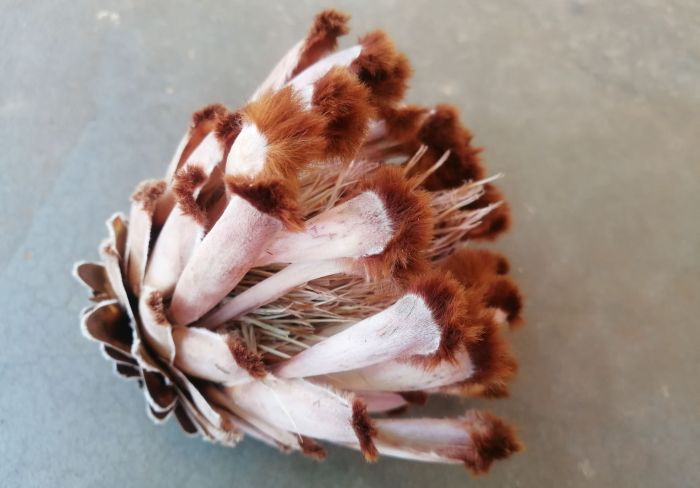 Ecology
Ecology
Protea speciosa is wind-tolerant, water-wise and protected from fire (resprouter). The plant regenerates after a fire because of its woody, underground rootstock. Dr. Rourke has measured the rootstock of a plant, which was over 1 m in diameter, with the scars of fire and made an assumption of the age of the plant to be over 100-150 years.
Proteas are serotinous; when a protea plant dies or is killed by fire the retained seedheads open to release the seeds, which fall off the dry fruit or are blown from the plant. They seeds stay on the ground and become available as the food for rodents and birds until they germinate after the winter rain. Protea speciosa flowers are mostly pollinated or visited by sunbirds and sugarbirds.
Proteas have proteoid roots, also known as cluster roots, that form clusters of closely spaced, short, lateral rootlets. They may form a 2- to 5 cm-thick mat just beneath the leaf litter. They enhance nutrient uptake, possibly by chemically modifying the soil environment to improve nutrient solubilization. As a result, plants with proteoid roots can grow in soil that is very low in nutrients, such as the phosphorus-deficient native soils of the Fynbos.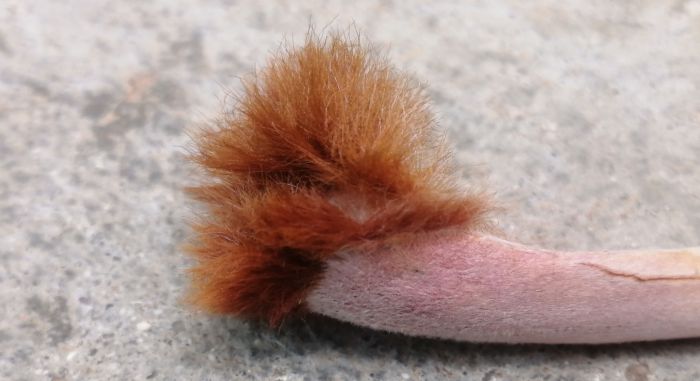 Uses
Use
Although this species has much beauty, each plant produces few flowerheads, and as a result it seems not to get as much attention in the garden display. Grow Protea speciosa with restios, and other fynbos shrubs and perennials, on an open, sunny, well-drained slope or rockery garden. This species can also be grown, and does well, in well-aerated glasshouses in areas that experience frost. The fresh and dried flowers are harvested and used in the cut flower industry.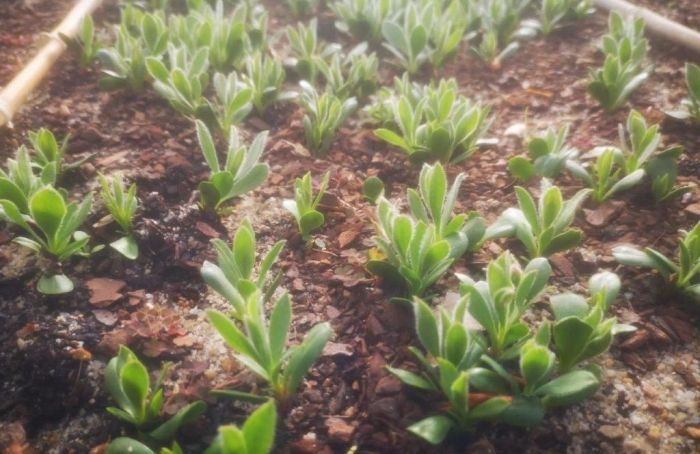 Growing Protea speciosa
Grow
The magnificent response of Protea speciosa when propagated by seeds is amazing.
The flowerheads of the past year (after 9–12 months) are harvested, dried out. The flowerheads will open a little and close up again when finished flowering. When the fruit is dry, it opens up and releases the seeds. The seeds are collected and sown in the autumn (March-May) in well-drained, acidic soil suitable for fynbos. Select the fertile seeds, free from worm damage and treat them with a systemic fungicide to prevent post emergence seedling infection and smoke to improve germination. The seeds germinate when the temperature reaches 5–10 ºC for night temperature and 15–20 ºC for day temperature.
Keep the soil moist and apply fungicide once a week. When the seedlings have a true leaf, transplant them into the small plastic bags or into compartmentalized trays. Protea speciosa is a slow growing species that begins to flower after 5 years when raised from seed.
Use mulch to keep the roots cool, keep moisture to the soil and reduce the growth of weeds. Chipping mulch is much recommended as the chips break down very slowly and also release small amounts of nutrients to the plants.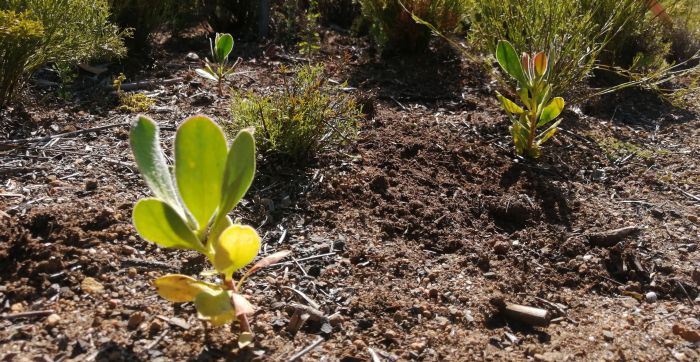 Protea speciosa requires hard pruning on the old flowering stems to promote vigorous growth, allow the energy to be used by new growth and the production of flowers. This species usually gets leaf spot (Teratosphaeria maculiformis), Colletotrichum alienum which causes shoot dieback, stem, leaf necrosis, stem rot, seedling damping-off, and blight, cutting back. It also attacked by witches broom disease, which results in the dense clusters of shoots with long internodes and the proliferation of malformed leaves. Use preventative cultivation methods, provide good air movement between the plants or remove the highly infested plants from an area.
References
Crous, P.W. et al. 2013. Cultivation and diseases of Proteaceae: Leucadendron, Leucospermum and Protea. Bio CBS Biodiversity Series 13. An institute of the Royal Netherlands Academy of Arts and Sciences.
Duncan, G., Brown, N. & Nurrish, L. 2013. Grow proteas. Kirstenbosch Gardening Series. South African National Biodiversity Institute, Cape Town.
Flower Valley Conservation Trust, Natural Resource Management System. Protea speciosa. Accessed December 2020. https://www.flowervalley.co.za/en/specie/protea-speciosa/
Rebelo, T. 2000. Proteas of the Cape Peninsula. Protea Atlas Project. National Botanical Institute, Cape Town.
Rebelo, T. 2001. Proteas. A field guide to the proteas of southern Africa. National Botanical Institute, Cape Town.
Rourke, J.P. 1980. Proteas of South Africa. Tafelberg, Cape Town, Johannesburg.
Vogts, M. 1982. South Africa's Proteaceae: know them and grow them. Struik, Cape Town.
Credits
Mashudu Nndanduleni
Kirstenbosch National Botanical Garden
January 2020
Plant Attributes:
Plant Type: Shrub
SA Distribution: Western Cape
Soil type: Sandy
Flowering season: Spring, Early Summer, Winter
PH: Acid
Flower colour: Brown, White, Pink, Cream
Aspect: Full Sun
Gardening skill: Average
Special Features:
Attracts birds
Drought resistant
Horticultural zones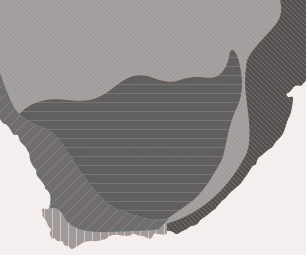 Zone 2 Coastal winter rainfall, frost free
Zone 3 Winter rainfall Karoo, light frost
Google QR Code Generator