Protea susannae E.Phillips
Family: Proteaceae
Common names: stink-leaf sugarbush (Eng.); stinkblaarsuikerbos (Afr.)
SA Tree No: 98.1
Introduction
This easy-to-grow protea has lovely flowers throughout the winter months.
Description
Description
Protea susannae is a large, robust, upright shrub arising from a single stem of up to 150 mm in diameter. It grows 2-3 m tall and spreads 3-4 m across.
The leaves are oval, wavy and about 80-160 mm long and curl upwards. They have an unpleasant, sulphurous smell when crushed. The young leaves are covered with minute soft hairs, and as they mature they become hairless and leathery.
The flower heads are cup-shaped, 80-100 mm long and open up to 110 mm wide, with pink-brown involucral bracts that are covered with a sticky brown layer. Flowering time is mainly autumn-winter (May to July) but flower heads may be found from autumn until spring (April to September).
Conservation Status
Status
Protea susannae is Near Threatened, meaning that it may become in danger of extinction in the near future. It has lost nearly 30% of its population due to the loss of 25% of its distribution range to urban expansion, invasive alien plants, protea farming and thatch harvesting practices. Dense infestations of alien acacias are causing a continuing decline.
Distribution and habitat
Distribution description
Protea susannae occurs in the Overberg area from Stanford to Still Bay, including Elim, Bredasdorp and Riversdale. It grows in coastal limestone and sand in dense, isolated stands between sea level and 200 m. It is common in the Albertinia-Still Bay area.
Derivation of name and historical aspects
History
The Swedish naturalist Linnaeus named this family after the Greek god Proteus who had a special talent: he could tell the past, present and future. Since he was often asked for predictions he escaped by changing into different shapes and forms. This name is appropriate because this family presents itself in different shapes, sizes and forms.
Protea susannae is named after Susanna Muir, the wife of Dr John Muir. He was a Scottish born medical doctor, naturalist and cultural historian. He studied the vegetation of the Riversdale area between 1912 and 1925. He collected extensively along the coast and in the Worcester-Riversdale area. He is commemorated in the genus Muiria and in many species, e.g. Leucospermum muirii.
Ecology
Ecology
Most proteas occur in the fire prone area of the Cape Floral kingdom and are specially adapted for these conditions.
Protea susannae stores its seeds on the plant in the fire-proof seed heads for years. In the event of a fire, the seeds are released after the bush has been killed. This fire-survival strategy works as long as the plants have sufficient time between fires to build up a new seed bank. The hairs on the seeds aid in dispersal. The hairs expand as the seed head opens and forces the seed out. The hair gives the seed buoyancy in high winds.
Plants growing in nutrient-poor soil often form a symbiosis with soil-living fungi to assist with water and nutrient uptake. Most Fynbos plants make use mycorrhizae. Proteas are unusual in not having any symbiosis with mycorrhizae. However, they produce masses of lateral roots along their normal roots. These roots are called proteoid roots and they are produced in the leaf litter layer after rain. The rain promotes the decay of the leaf litter which results in the release of nutrients. These roots usually shrivel at the end of the growth season. They are twice as efficient as normal roots in absorbing water and nutrients.
Uses
Use
Protea susannae hybridises freely and is the parent to numerous hybrids such as 'Pink Ice', 'Special Pink Ice', 'Cardinal', 'Sylvia' and 'Susara'. Protea susannae is ideal for growing in sandy areas as a wind-resistant cover.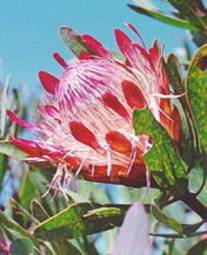 Growing Protea susannae
Grow
Protea susannae is one of the easiest proteas to grow. It thrives in a variety of soils from acidic to alkaline soil, and can be grown in any well-drained soil, but is particularly suitable for deep sandy soil.
Propagate by seed or cuttings. Sow seeds in autumn (March-May). Soak seeds overnight in Instant Smoke Plus Seed Primer water. Fill seed trays with a well-drained soil mixture of bark, silica sand and loam (1:2:1 mix). Scatter seeds on top of mixture and lightly cover with river sand. Water well and apply a fungicide. Keep trays moist. As the first true leaves appear, transplant the seedlings into pots in a well-drained, sandy fynbos mix. Grow on for a year before transplanting into the garden.
Take tip cuttings in summer-autumn (from December to March). Use a rooting hormone and place in a well-drained mix of bark and polystyrene balls. Cuttings must be kept moist, but not wet. Rooting occurs in approximately five weeks. Harden off rooted cuttings for three weeks and then transplant into pots as for seedlings.
References
Brown, N. Kotze, D., & Botha, P. 1998. Grow proteas. Trident Press, Cape Town.
Eliovson, S. 1970. Proteas for pleasure. How to grow and identify them. Howard Timmens, Cape Town.
Manning, J. 2007. Field guide to Fynbos. Struik, Cape Town.
Matthews, L. 1993. Proteas of the world. Bok Books, Durban, in association with David Bateman Ltd, Auckland, New Zealand.
Raimondo, D., Von Staden, L., Victor, J.E., Helme, N.A., Turner, R.C., Kamundi, D.A. & Manyama, P.A. (eds) 2009. Red List of South African plants. Strelitzia 25. South African National Biodiversity Institute, Pretoria.
Rebelo, A. (Tony). 2001. Proteas, A field guide to the proteas of Southern Africa, edn 2. Fernwood Press, Cape Town.
Rourke, J.P. 1980. The proteas of Southern Africa. 1980. Purnell, Johannesburg, Cape Town, London.
website: Protea Atlas Project. http://protea.worldonline.co.za.
Credits
Olivia Tyambetyu
Millennium Seed Bank Project (SANBI)
January 2011
Plant Attributes:
Plant Type: Shrub
SA Distribution: Western Cape
Soil type: Sandy, Loam
Flowering season: Spring, Autumn, Winter
PH: Acid, Alkaline, Neutral
Flower colour: Brown, Pink
Aspect: Full Sun
Gardening skill: Average
Special Features:
Attracts birds
Feeds honeybees
Horticultural zones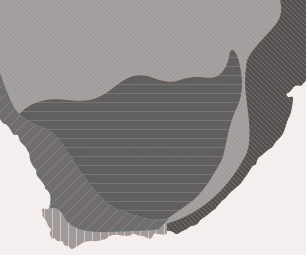 Zone 2 Coastal winter rainfall, frost free
Google QR Code Generator