Pseudoselago serrata (P.J.Bergius) Hilliard
Family: Scrophulariaceae
Common names: saw-tooth powderpuff, saw-tooth false selago (Eng.); blouaarbossie (Afr.)
Introduction
This striking, hardy perennial is the perfect filler to provide cheerful mauve blooms which attract butterflies and a host of other insects, increasing biodiversity in your garden in summer when it flowers.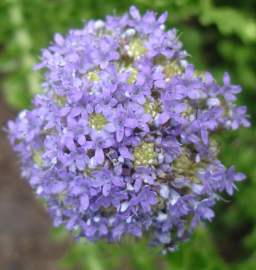 Description
Description
Pseudoselago serrata is a perennial that grows up to a height of 0.9 m and has an erect or sprawling growth habit.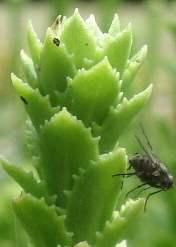 Its stems are densely covered with leathery, hairless, recurved, dark green oval leaves. The leaf margins are serrated (toothed) and grow up to about 25 mm long and 10 mm across. The bright tubular flowers appear in summer, between October and February, in crowded mauve heads, about 100 mm across. Each head elongates after flowering as the seeds are produced, resembling heads of barley.
Conservation Status
Status
This plant is common throughout its distribution area.
Distribution and habitat
Distribution description
This species can be found in typical fynbos vegetation on mountain slopes between Clanwilliam and Knysna, generally between 60 and 1 200 m above sea level. It thrives in well-drained soils and can tolerate strong winds and high temperatures in summer.
Derivation of name and historical aspects
History
There are 79 genera of the snapdragon family in South Africa . The genus Pseudoselago has 28 species and is endemic to the south-western Cape. Pseudoselago differs from Selago as follows: Selago seeds are tapered on both ends, whereas in Pseudoselago seed is compressed atonly one end. Pseudoselago has a yellow/orange patch inside the flower which is not present in Selago. These are just two differences among others which can be observed.
The genus Selago, with 150 Selago species in Africa, comprises mainly herbs and shrubs and its name is derived from the Greek sel- meaning sight and jach meaning salutary, referring to its supposed medicinal properties. The snapdragon family is well-known for its ornamentals, such as the snapdragons and veronicas, as well as its medicinal plants, such as the foxgloves, the Digitalis species.
Ecology
Ecology
Members of the snapdragon family are usually annuals, perennial herbs or shrubs, rarely trees or climbers and some are parasitic. Selago species attract butterflies of the Lepidochrysops genus. Pseudoselago serrata is frequented by a diverse range of insect life in the garden and should be an effective addition to increase biodiversity.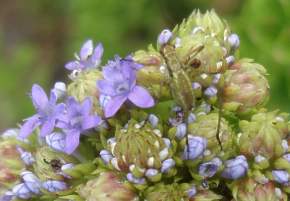 Uses
Use
Use this species as a colourful filler in between other small shrubs, or use it to create a hardy, low-maintenance and water-wise border to provide a splash of colour from October to February. Even though the snapdragon family is well-known for its medicinal plants, there does not seem to be much evidence that Pseudoselago serrata is used medicinally.
Growing Pseudoselago serrata
Grow
Collect mature seed after flowering in late summer. Sow seed in a well-drained soil medium that should result in a good germination rate. Make cuttings using new growth from stem tips or side branches in late winter/early spring before buds set. Apply rooting hormone to the base of the cuttings to facilitate root growth in a well-drained rooting medium. Cuttings can be made throughout the year but may take longer to root.
Once the cutting has a few roots or the seedling has developed a few young leaves, transplant it into a small pot with well-drained, composted soil that allows for sufficient drainage. Keep this in a sheltered location that allows for some sunlight, but is free from strong winds. Water the plant at least twice a week, without over-watering, until it has developed three to five stems, then plant it out in your garden. This plant will thrive in full sun and water it well once a week.
Remember that the best time for planting in the garden is always just before the rainy season, to provide the young plants with a good start.
It makes good combinations with small blue and white Felicia sp. and grey-leaved Helichrysum sp. for constrast.
References
Bean, A. & Johns, A. 2005. Stellenbosch to Hermanus . South African Wild Flower Guide 5, . Botanical Society of South Africa , Cape Town .
Burman, L. & Bean, A. 1985. Hottentots Holland to Hermanus . South African Wild Flower Guide 5, Botanical Society of South Africa , Cape Town .
Leistner, O.A. (ed.). 2000. Seeds plants of southern Africa : families and genera. Strelitzia 10. National Botanical Institute, Pretoria .
Mustart, P., Cowling, R. & Albertyn, J. 1997. Southern Overberg . South African Wild Flower Guide 8. Botanical Society of South Africa , Cape Town .
Pooley, E. 1998. A field guide to wild flowers of KwaZulu-Natal and the Eastern Region . Natal Flora Publications Trust, Durban .
Credits
Antonia Xaba
Harold Porter National Botanical Garden
December 2005
Plant Attributes:
Plant Type: Perennial
SA Distribution: Western Cape
Soil type: Sandy, Clay, Loam
Flowering season: Early Summer, Late Summer
PH: Acid, Neutral
Flower colour: Mauve/Lilac
Aspect: Full Sun
Gardening skill: Average
Special Features:
Attracts butterflies
Horticultural zones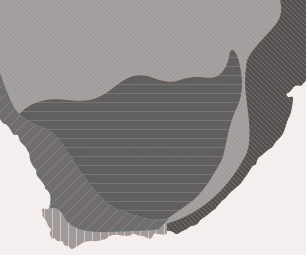 Zone 1 Coastal summer rainfall, frost free
Zone 2 Coastal winter rainfall, frost free
Zone 3 Winter rainfall Karoo, light frost
Google QR Code Generator