Pterocarpus angolensis DC.
Family: Fabaceae
Common names: kiaat, bloodwood, paddle-wood, sealing-wax tree, wild teak, Transvaal teak (Eng.); kiaat, bloedhout, dolfhout, greinhout, kajatenhout, lakhout, wilde-kiaat (Afr.); morôtô (North Sotho); mokwa, morotômadi (Tswana); umvangazi, umbilo (Zulu)
SA Tree No: 236
Introduction
A brown and papery, spiky, fried egg is what the seed pod of this beautiful tree looks like. The pods remain on the tree long after the leaves have fallen and make it easy to identify. It is one of the two Trees of Year for 2003, the other being the red currant, Rhus chirindensis.
Description
Description
The kiaat is a deciduous, spreading and slightly flat-crowned tree with a high canopy. It reaches about 15 metres in height and has dark bark. The shiny leaves are compound (divided into leaflets) and characteristically hang downwards. An abundance of scented, orange-yellow flowers appear in spring. These are carried in sprays. The flowering time is rather short, two to three weeks only.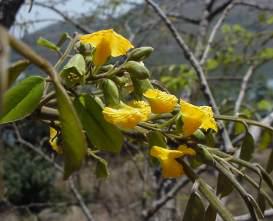 Distribution and habitat
Distribution description
Pterocarpus angolensis grows in the warm, frost-free areas in the northeast of the country, extending into Zimbabwe, northern Botswana, Mozambique and Namibia and northwards into other parts of Africa. It grows in bushveld and woodland where the rainfall is above 500 mm per year, and it favours rocky slopes or well-drained, deep, sandy soil.
There are roughly 30 species in the genus and these may be found in the more tropical regions of the world. Four species occur in southern Africa. The specific name, angolensis, means "of Angola".
Derivation of name and historical aspects
History
This tree is part of the pea or bean family (Fabaceae). The genus Pterocarpus has been placed in a further division of this family (called a subfamily). The subfamily Papilionoideae has characteristic pea-like flowers. The genus has been given a name which describes the unusual seed pods, pter meaning "wing" in Greek and carpus which means "fruit" in Greek. The central, hardened seed case is surrounded by a broad, membranous wing and is therefore called "wing fruit" or Pterocarpus. The first "P" in Pterocarpus is silent and the name is pronounced tero-car-pus.
The brilliant dramatically red sap found in Pterocarpus gives it the common name of "bloodwood". The wood apparently bears some resemblance to the unrelated true teak from tropical east Asia (Tectona grandis), hence the common name "wild teak".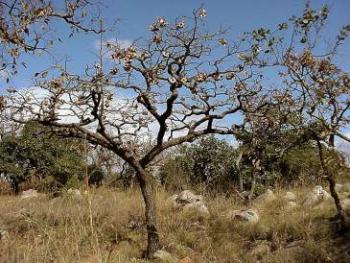 Ecology
Ecology
The kiaat is a larval food plant for the bushveld charaxes butterfly (Charaxes achaemenes achaemenes), and squirrels, baboons and monkeys feed on the seed pods in spite of the sharp bristles on the seed case. Game animals browse the leaves and elephants have been known to push the tree over. The wavy, membranous wing allows the pods to float to the ground away from the tree.
Uses
Use
This graceful tree has very many uses and is much valued throughout Africa. The beautiful timber is easy to work and is used for furniture, implements and curios. The reddish brown heartwood is resistant to borer and termite and also polishes well. The sapwood is pale yellowish, and furniture and curios often have the sapwood included in the article. Kiaat is also used to make canoes because the wood does not shrink and swell much. Historically there was trade in this timber in the old Transvaal. This was on a minor scale and fitted in with the seasonal cattle drives from the lowveld winter grazing back to the highveld in summer. The red sap is used traditionally as a dye and in some areas mixed with animal fat to make a cosmetic for faces and bodies. It is also believed to have magical properties for the curing of problems concerning blood, apparently because of its close resemblance to blood.
There are many medicinal uses recorded for kiaat, including treatment for ringworm, stabbing pains, eye problems, malaria, blackwater fever, stomach problems and to increase the supply of breast milk. The tree is sometimes planted around the chief's enclosure to make a living fence. Baskets are also woven from the inner bark.
Growing Pterocarpus angolensis
Grow
Pterocarpus angolensis makes a stately garden subject for warm frost-free areas in South Africa. It casts a light shade and therefore will not shade out lawn beneath it. It is not common in cultivation because of difficulty with seed germination. Seed needs to be removed from the hard seed case and then treated by filing the seed coat to allow the seed to absorb water for germination to occur. Apparently even with treatment, germination is erratic. It reportedly will also grow from truncheons taken in October when the sap is rising. It prefers a well-drained situation so will not enjoy shallow or heavy soils, which will affect the appearance of the tree.
References
COATES PALGRAVE, K. 1981. Trees of southern Africa. Struik, Cape Town.
FUNSTON, M. 1993. Bushveld trees: Lifeblood of the Transvaal Lowveld. Fernwood Press, Cape Town.
JACANA & TWISISA. 1997. Sappi tree spotting: Lowveld. Jacana, Johannesburg. LEISTNER, O.A. (ed.) 2000. Seed plants of southern Africa: families and genera. Strelitzia 10. National Botanical Institute, Pretoria.
MIGDOLL, I. 1987. Field guide to the butterflies of southern Africa. Struik, Cape Town.
PALMER, E & PITMAN, N. 1972. Trees of southern Africa, vol. 2. Balkema, Cape Town. PIENAAR, K. 1996. The ultimate book of trees and shrubs. Southern Book Publishers, Halfway House, Gauteng.
SMITH, C.A. 1966. Common names of South African plants. Memoirs of the Botanical Survey of South Africa No. 35. Botanical Research Institute, Pretoria.
STEARN, W.T. 1983. Botanical Latin. David & Charles, Newton Abbot. VAN WYK, B. & VAN WYK, P. 1997. Field guide to trees of southern Africa. Struik, Cape Town.
VON BREITENBACH, J. et al. 2001. Pocket list of southern African indigenous trees: including selected shrubs and woody climbers, edn 4, abridged reprint. Briza Publications & Dendrological Foundation, Pretoria.
Credits
Alice Aubrey
Witwatersrand National Botanical Garden
January 2003
Plant Attributes:
Plant Type: Tree
SA Distribution: KwaZulu-Natal, Limpopo, Mpumalanga
Soil type: Sandy, Loam
Flowering season: Spring
PH: Neutral
Flower colour: Yellow
Aspect: Full Sun
Gardening skill: Challenging
Special Features:
Attracts butterflies
Fragrant
Medical plant
Useful plant
Horticultural zones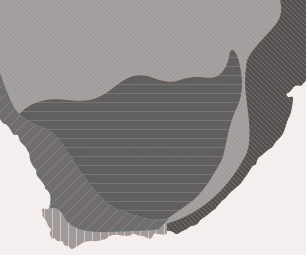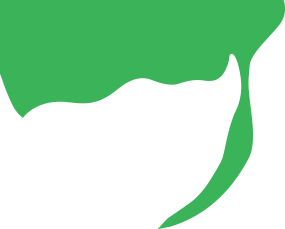 Zone 1 Coastal summer rainfall, frost free
Zone 5 Bushveld summer rainfall, Light frost
Google QR Code Generator