Pyrrosia schimperiana (Mett. ex Kuhn) Alston
Family: Polypodiaceae
Common names: canyon fern (Eng.); afgrondvaring (Afr.)
Introduction
A rare fern, only known from the Blyde River Canyon in the Mpumalanga Province, confined to sheer cliffs. The plant grows in small, dense clusters, with simple, greyish, densely velvety, leathery, semi-succulent leaves. During the dry winters, the plant survives in a semi-desiccated state. Easily grown as a pot plant. It is one of two species which occur in South Africa.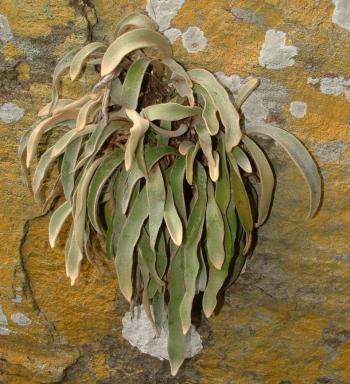 Description
Description
Pyrrosia schimperiana is cluster-forming, with creeping rhizomes, 2 mm in diameter. The rhizome scales are egg-shaped to spear-shaped, up to 6 mm long, dense, entire. The fern leaves (fronds) grow closely spaced (2–6 mm apart), ascending to spreading, often becoming pendent, 150–300 × 17–35 mm, semi-succulent and leathery. The leaf stalks (stipe) are densely hairy (silvery grey to golden hairs), becoming hairless with age. The leaf (lamina) is oblong to spear-shaped, rarely with 1 or 2 lobes and the margin is entire. The upper surface is densely hairy, becoming hairless. The leaf under surface remains densely hairy with grey to golden, minutely branched hairs. The leaf base is wedge-shaped and the leaf tip ends in an acute point. The reproductive organs (sori) are rust-brown dots, about 1 mm in diameter, evenly spaced in the upper two thirds of the lower leaf surface. Spores are released during the rainy season (November to April).
Conservation Status
Status
The plant is not threatened and its cliff habitat ensures a fairly safe habitat. Classified as Least Concern (LC) (Raimondo et al. 2009) in the Red List of South African plants.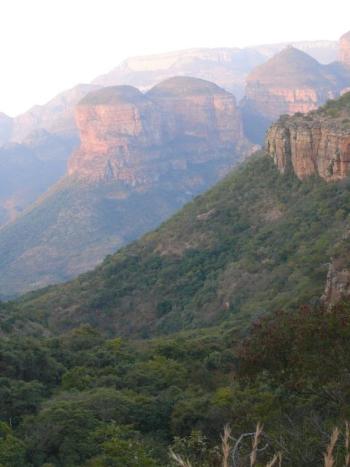 Distribution and habitat
Distribution description
Although widespread in Africa, it reaches its southernmost limit in Mpumalanga at the Blyde River Canyon, at altitude of 1 400–1 650 m. Here the plant grows on sheer, south-facing, quartzitic, sandstone cliffs of the Black Reef Formation (Transvaal Supergroup), often among lichens and other succulent flora. Associated succulent plants in the habitat are: Aeollanthus parvifolius, Aloe spicata, Cotyledon barbeyi, Delosperma lebomboensis, Peperomia blanda and Plectranthus cylindraceus. Elswhere in tropical Africa, the plant also grows as an epiphyte on trees. In the Limpopo Province of South Africa, the plants grow on ledges, rooted in crevices. The average daily maximum temperature is about 26ºC for summer and 14ºC for winter. Precipitation is experienced mainly in summer and averages about between 1 000–1 250 mm per annum. The vegetation in the habitat consists of Mosaic of Northern Mistbelt Forest (Forest Biome) and the Sub-Escarpment Savanna Bioregion of the Savanna Biome (Mucina et al. 2005).
Derivation of name and historical aspects
History
The genus name Pyrrosia is derived from pyrros, meaning 'red' and pertains to the reddish hairs on some species. Pyrrosia schimperiana honours the German plant explorer, George Heinrich Wilhelm Schimper (1804–1878), who collected plants in North Africa.
Pyrrosia schimperi is closely related to P. africana from coastal regions of the Eastern Cape and KwaZulu-Natal. It differs from P. africana by its upper leaf surface which is densely hairy and scattered sori on the lower surface. Pyrrosia africana is an epiphyte, occurring in coastal forest of the Eastern Cape and KwaZulu-Natal and with an almost hairless upper leaf surface.
Ecology
Ecology
Adapted to survive in a semi-desiccated state during the dry winters, known as poikilohydry; the leaves shrivel up for the dry season, only to recover again after rain. The semi-succulent nature of the leaves ensures its survival on the cliff face. Spores are released in the rainy season and dispersed by wind. Plants are cluster-forming, with short, creeping rhizomes, thus ensuring its hold on the cliff-face habitat. It spreads by vegetative growth, proliferating and rooting where the rhizome touches a crevice.
Uses
Use
Only horticultural use is known.
Growing Pyrrosia schimperiana
Grow
Pyrrosia schimperiana is easily grown as a pot plant and a worthwhile introduction to horticulture. Best grown indoors or in dappled shade in a green house. It grows well in small containers or hanging baskets. Best for moist bushveld or forest gardens in South Africa (Van Jaarsveld 2010). Grow in a sandy loam soil, with ample compost. Feed with organic fertilizer during the growing season. Propagate plants by division in spring. In regions with frost, it should be brought indoors. Keep moist in spring and summer.
References
Crouch, R.N., Klopper, R.R., Burrows, E.J. & Burrows, M.S. 2011. Ferns of southern Africa: a comprehensive guide. Struik, Cepe Town
Germishuizen, G. & Meyer, N.L. (eds) 2003. Plants of southern Africa: an annotated checklist. Strelitzia 14. National Botanical Institute, Pretoria.
Glen, H.F. & Germishuizen, G. (compilers). 2010. Botanical exploration of southern Africa, edition 2. Strelitzia 26. South African National Biodiversity Institute, Pretoria.
Jackson, W.P.U. 1990. Origins and meanings of names of South African plant genera. University of Cape Town.
Miller, R. McG. & Schalk, K.E.L. 1980. Geological map of South West Africa/Namibia. Geological Survey of the Republic of South Africa and South West Africa/Namibia.
Mucina, L. & Rutherford, M.C. (eds) 2006. The vegetation of South Africa, Lesotho and Swaziland. Strelitzia 19. South African National Biodiversity Institute, Pretoria.
Raimondo, D. et al. 2009. Red list of South African plants. Strelitzia 25. SANBI (South African National Biodiversity Institute), Pretoria.
Van Jaarsveld, E.J. 2010. Waterwise gardening in South Africa and Namibia. Struik, Cape Town.
Visser, D.J.L. 1984. Geological map of the Republics of South Africa, Transkei, Bophuthatswana, Venda and Ciskei and the Kingdoms of Lesotho and Swaziland. Government Printer, Pretoria.
Credits
E.J. van Jaarsveld
Kirstenbosch National Botanical Garden (Retired)
Babylonstoren Farm
Extraordinary senior lecturer and researcher, Department of Biodiversity and Conservation, University of the W. Cape
March 2017
Plant Attributes:
Plant Type: Epiphyte, Fern
SA Distribution: Mpumalanga
Soil type: Sandy, Loam
Flowering season: Early Summer, Late Summer
PH: Acid
Flower colour: Brown
Aspect: Shade, Morning Sun (Semi Shade), Afternoon Sun (Semi Shade)
Gardening skill: Challenging
Special Features:
Drought resistant
Good potplant
Indoor plant
Horticultural zones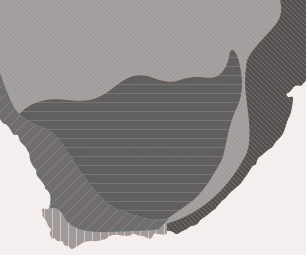 Zone 1 Coastal summer rainfall, frost free
Google QR Code Generator