Raphionacme hirsuta (E.Mey.) R.A.Dyer
Family: Apocynaceae
Common names: false gentian, khadi-root (Eng.); khadiwortel, khadi (Afr.); kherenchane (SSo.); intsema (Xho.); umathangane, umathanjana (Zul.)
Introduction
An attractive, small, summer-growing perennial, with a large, tuberous root and pretty starry flowers in shades of purple, mauve and white, in early summer. A good plant for a grassland garden and an interesting container plant for collectors.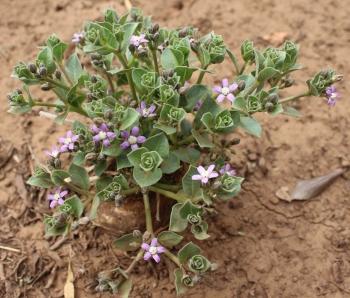 Description
Description
A fairly small, much-branched, perennial plant, 50–200 mm tall, with herbaceous, finely hairy stems containing a milky sap, and a large, tuberous rootstock. It usually goes dormant during the winter season and sends out new growth in spring. The stem tuber is spindle-shaped and up to about 380 mm long and 150 mm wide. The leaves are hairy or hairless, 12–50 × 6–25 mm, with a prominent midvein and parallel secondary veins.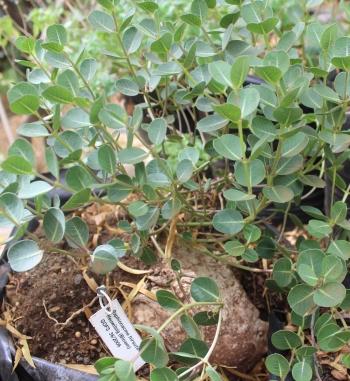 Flowers are star-like, with 5 petals, 4–9 × 1–4 mm, variable in colour; blue, white or bright purple, in clusters, in spring to early summer (Aug.–Dec.), often before the new leaves.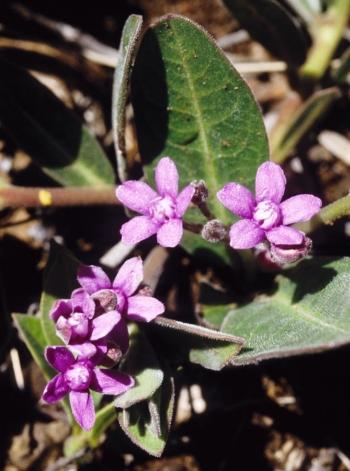 Fruits are solitary or paired, 25–75 × 7–13 mm, splitting to release many, elongated seeds, 7–8 × 3 mm, with a tuft of silky white, 10–15 mm long hairs.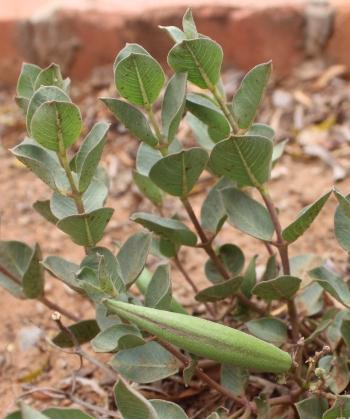 Conservation Status
Status
Distribution and habitat
Distribution description
Raphionacme hirsuta is usually found on rocky and hilly areas in open grassland and savanna, in the South African Provinces of Gauteng, Free State, Mpumalanga, KwaZulu-Natal, the Eastern and Northern Cape, North West and Limpopo, and in southern Mozambique, Swaziland, Botswana and Lesotho. It occurs from the coast to 2 600 m altitude.
Derivation of name and historical aspects
History
The derivation of the name Raphionacme is unclear. It is possibly derived from the Greek raphis, meaning 'a needle' and akme, meaning 'highest point', although what feature of the plant this alludes to, is unclear. Perhaps the author intended the name to refer to the genus Raphanus (radish), the tuber of which resembles that of Raphionacme, and iono, 'violets', for the violet-like flowers. The species name hirsuta means 'hairy' in Latin.
Khadi, as it is commonly or popularly known as (also a girl's name), is said to be the original name for a kind of beer in which roots were used as a source of yeast. The fermenting capacity of khadi roots is caused by the presence of fungi. There may possibly be mesembrine-type alkaloids in the roots, which may contribute to the intoxicating properties. Plants in the genus Khadia (Aizoaceae) have apparently also been used as a source of yeast, and the name khadi was first applied to them, but has been extended to several other plant species with fleshy rootstocks that are used in a similar way, such as Raphionacme hirsuta.  
The genus Raphionacme was established in 1842. It consists of 36 species that occur across Africa, with one species on the Arabian Peninsula and 18 species in southern Africa.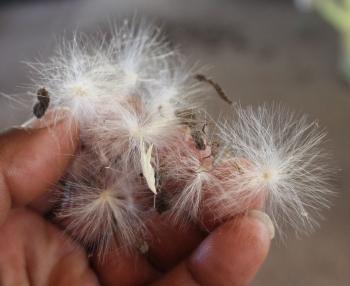 Ecology
Ecology
The bright purple flowers of R. hirsuta attract ants, bees and small insects. The seeds have a tuft of long silky hairs, and are dispersed by wind. This is a variable species that occurs over a wide area in environments that vary from relatively wet to dry subtropical areas.
Uses
Use
Although, said to be poisonous, R. hirsuta tubers or roots are traditionally used as a source of yeast to brew beer and are also used as traditional treatment of ailments and diseases such as chronic ulcers.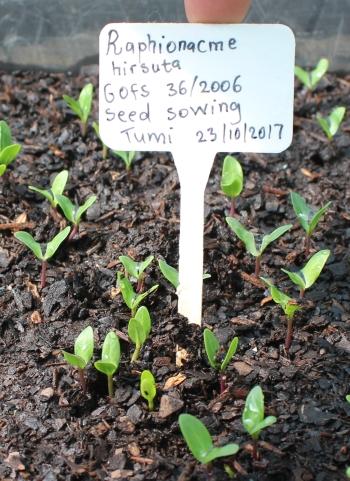 Growing Raphionacme hirsuta
Grow
It is not so difficult to grow and propagate Rapionacme hirsuta and it makes an interesting garden or container plant, and is particularly suited to grassland gardens. Grow it in a sunny spot, in well-drained soil. Minimal watering is recommended when growing R. hirsuta, and keep it dry during its winter dormant period, to prevent rotting of the tuber.
It is easily propagated from ripe seeds, sown in a normal nursery tray, using a well-drained seed-sowing compost and silica sand mixture (silica sand improves drainage) kept moist and at a temperature of approximately 22ºC. The seeds need some degree of humidity for successful germination. One can generally expect seeds to germinate within 3–4 weeks (one month).
References
Jackson, W.P.U. 1990. Origins and meanings of names of South African plant genera. University of Cape Town.
Pooley, E. 2003. Mountain flowers, a field guide to the flora of the Drakensberg and Lesotho. Natal Flora Publications Trust, Durban.
Pooley, E. 2005. A field guide to wild flowers KwaZulu-Natal and the eastern regions. The Flora Publications Trust, Durban.
POSA: Plants of southern Africa online. http://posa.sanbi.org accessed 18 Dec. 2017.
Smith, C.A. 1966. Common names of South African plants. Memoirs of the Botanical Survey of South Africa No. 35. Government Printer, Pretoria.
Van Wyk, B.-E. & Gericke, N. 2000. People's plants. Briza Publications, Pretoria.
Venter, H.J.T. 2009. A taxonomic revision of Raphionacme (Apocynaceae: Periplocoideae). South African Journal of Botany 75: 292–350.
Credits
Stemmer Ngalo, Free State National Botanical Garden
and Alice Notten, Kirstenbosch National Botanical Garden
January 2018
Plant Attributes:
Plant Type: Bulb, Perennial
SA Distribution: Eastern Cape, Free State, Gauteng, KwaZulu-Natal, Limpopo, Mpumalanga, North West, Northern Cape
Soil type: Sandy, Loam
Flowering season: Early Summer
PH: Acid, Neutral
Flower colour: Blue, Green, Purple, Mauve/Lilac
Aspect: Full Sun
Gardening skill: Average
Special Features:
Drought resistant
Good potplant
Poisonous
Medical plant
Useful plant
Horticultural zones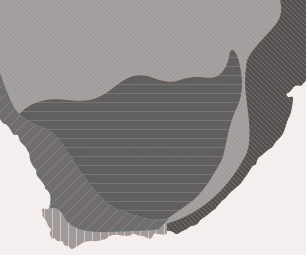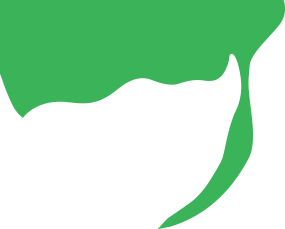 Zone 1 Coastal summer rainfall, frost free
Zone 4 Summer rainfall Karoo and Highveld, Frost in winter
Zone 5 Bushveld summer rainfall, Light frost
Google QR Code Generator