Restio virgeus Mast. (= Ischyrolepis virgea (Mast.) Linder)
Family: Restionaceae
Common names: twiggy peg-reed
Introduction
A small restio forming dense, tangled tufts, with curly branches when young, that straighten out when mature and produce attractive, reddish-brown inflorescences in summer.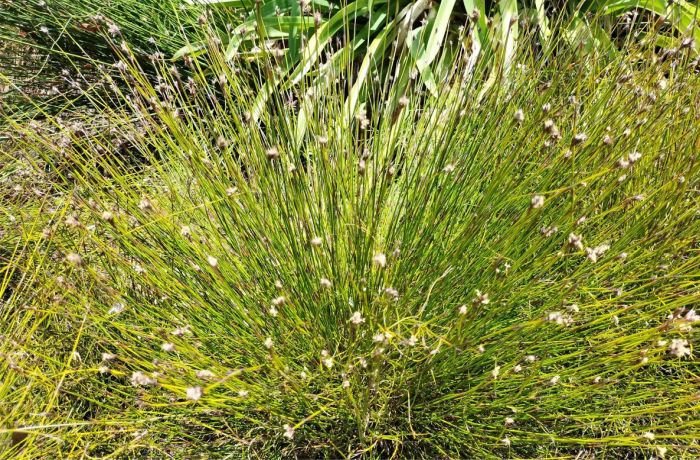 Description
Description
Restio virgeus is an evergreen, dioecious, reed-like perennial that grows in small, dense tufts, 0.3–0.5 m tall and 0.1–0.5 m wide at the crown. Cultivated plants in the garden were recorded at 0.8 m high. This species produces rhizomatous or stoloniferous roots. The stems (culms) round, curling on young plants, becoming slightly straighter in the third to fourth years, smooth, branched but usually sparingly. Both culms and sheaths have white or yellow speckles, but it is not that easy to see.
Sheaths are persistent (do not drop off), twisted, hairy on the tip, convoluted, about 12–35 mm long, orange to reddish-brown with deep, pale, membranous margins.
The female inflorescences are 10–30 mm long, interrupted or globose, with 1 to 10 spikelets, of which each spikelet carries 6 to 15 flowers, oblong or oblanceolate, with 1, or without, sterile bracts. The spathes persistent and shorter than the spikelets, while the bracts are taller than the flowers.
The male inflorescences are 8–40 mm long, globose or paniculate, carrying 2 to 50 spikelets, with 3 to 50 flowers. The spathes are persistent and could be shorter or equal or higher than the spikelets, with 4–7 mm long bracts.
The fruit is a white, pitted, ovate seed, about 1.9 × 1.3 mm, with 2 seeds produced per capsule.
Restio virgeus flowering time varies, it may flower in spring (October), early summer (November or December), midsummer (January or February) or late summer (March).  The seeds may be released from March to May, and were observed being released in October to November, but they are only released after the next cohort of flowers have flowered, i.e. they take a year or so to mature on the plant.
Restio virgeus is very similar to Restio schoenoides, and only differs in the female spikelet and growth habit.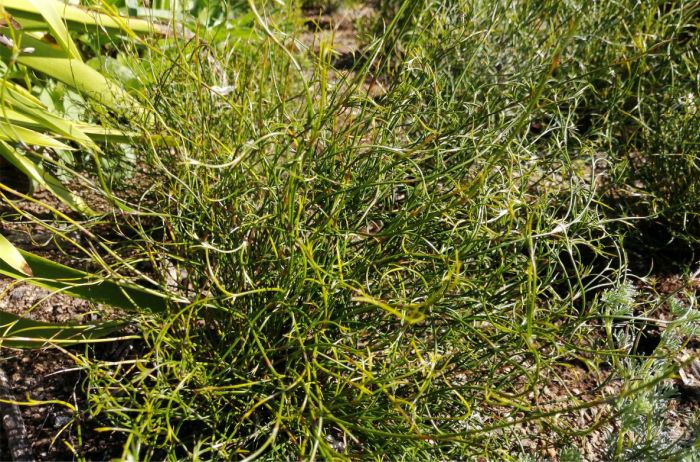 Conservation Status
Status
Restio virgeus is assessed as Least Concern (LC), according to the Red List of South African plants. It is common and widespread and was not highlighted as a species of conservation concern and this status was automatically given. However, the threats are unknown and the Threatened Species Programme is busy completing the full assessment of the taxa.
Distribution and habitat
Distribution description
Restio virgeus naturally occurs in the Cape Floristic Region, in the Western Cape Province, in the northern and south-western mountains, from the Cederberg to the Riversonderend Mountains, including the Hex River, Groot Winterhoek, Limietberg and Nuweberg but excluding the Langeberg and Swartberg Mountains. This species is found growing on rocky slopes, in well-drained, sandy to stony and rocky soil, that is derived from Peninsula Formation Sandstone, between the altitudes of 1 100–2 000 m.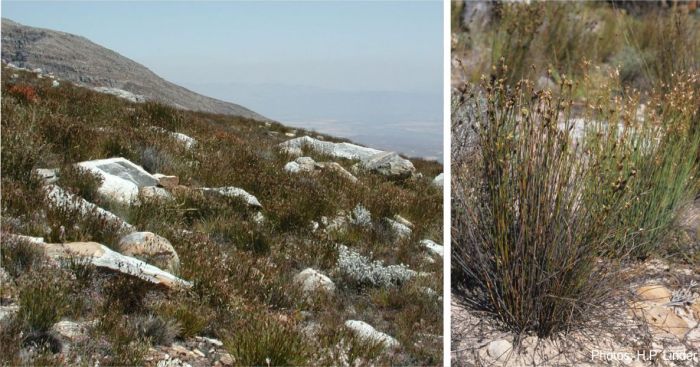 Derivation of name and historical aspects
History
The genus name Restio is derived from the Latin restis, which means 'rope' or 'cord' and alludes to the use of these plants in southern Africa. This genus has given its name to the family of Restionaceae. The species name virgeus is Latin and means 'consisting of twigs or shoots', perhaps referring to the many slender culms (stems).
The family Restionaceae has approximately 40 genera and 400 species, most of which occur in the winter rainfall region, on poor sandy soils in South Africa and Australia, with a few outliers in the north of Africa, Madagascar, Indo-China and Chile.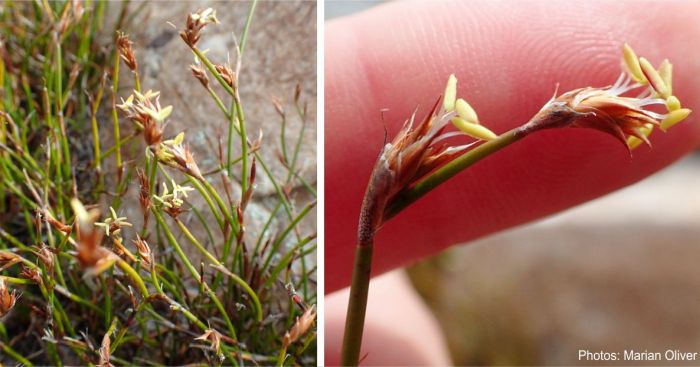 Ecology
Ecology
Restio virgeus plants are killed by fire and regenerate by seed. However, some plants may survive and coppice after the fire, resprouting from their shallow rhizomes.
Restio virgeus is pollinated by wind, as most restios are. The male and female flowers are borne on separate plants, the botanical term for this is dioecious. Both female and male plants are found growing in groups in their natural habitat. The male plants produce masses of pollen which is carried by the wind from the male plant, to the female flower, where it drops and settles on the feathery styles for fertilization to occur.
While other plants produce leaves, restios produce reduced, leaf-like structures, called sheaths. Restios produce cylindrical stems, called culms, which are the only green part of the plants, and perform the photosynthetic function.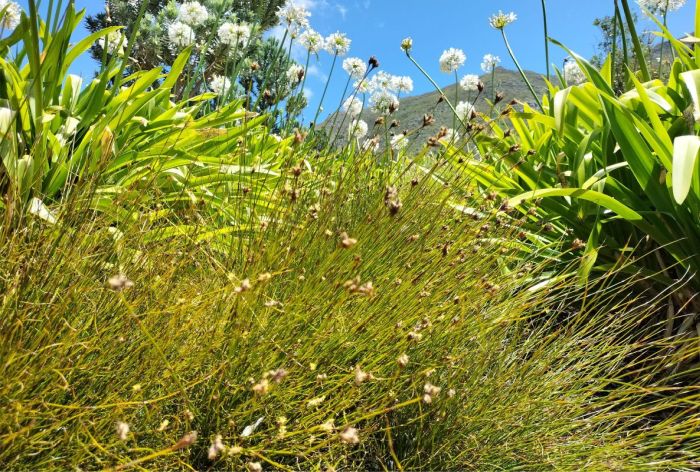 Uses
Use
This is a small restio, suitable for any sunny, fynbos garden, in a well-drained soil, planted as border, or filler. However, it can also be planted with summer-rainfall perennials and cultivars to get textural variation. In Kirstenbosch, it is planted with Agapanthus praecox 'Selma Bock', which makes a very good colour and textural contrast, supported by the orange to reddish-brown sheaths. The silvery background of Leucadendron argenteum and the mountain create an outstanding view.
Growing Restio virgeus
Grow
Restio virgeus is a small to medium sized species best cultivated by seed. The seeds are collected when ripe; to test if the seeds are ripe, shake the culms and ripe seeds will drop out. The seeds are sowed in the early winter season, when the temperatures drop to 5–10°C at night and 15–20°C during the day. The seeds are treated with smoke derived from burning dry and wet fynbos plant material, to break seed dormancy and stimulate germination. The sowed seeds are treated with fungicide before sowing and once a week after sowing, to prevent fungal infection.
Lay the seeds on the well-drained fynbos soil and cover with a fine-sieved fynbos mixture. The seeds take about 6 weeks to germinate. Feed the seedlings with organic fertilizer during the growing season to prevent yellowing and unhealthy plants. Keep your seedlings moist, not dry or too wet.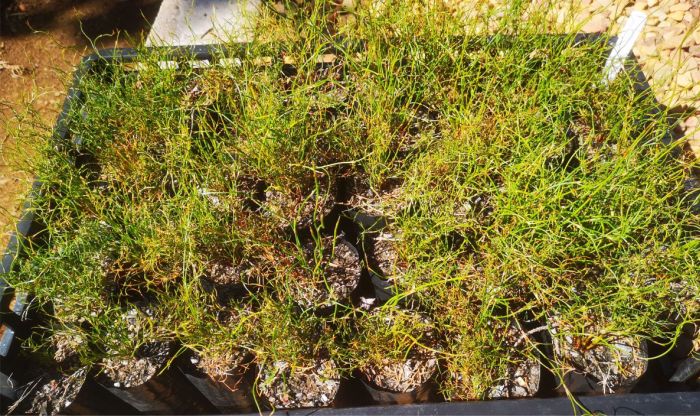 Seedlings are ready to plant out in the open ground after a period of 2 years. The best time for planting in the garden is at the start of the growing season, the beginning of the rainy season. This applies for both winter- and summer-rainfall areas. Plants prefer full sun, in a well-drained, acidic soil and plenty of air movement. Mulch the bed to prevent weed growth, to reduce water evaporation, and keep the roots cool.
References
Brown, N.A.C. & Duncan, G.D. 2006. Grow fynbos plants. Kirstenbosch Gardening Series. South African National Biodiversity Institute, Cape Town.
Brown, N., Jamieson, H. & Botha, P. 1998. Grow restios. Kirstenbosch Gardening Series. National Botanical Institute, Cape Town.
Dorrat-Haaksma, E. & Linder, H.P. 2012. Restios of the fynbos. Struik Nature, Cape Town.
Linder, H.P. 2011. The African Restionaceae: an IntKey identification and description system. Version 6. Contributions from the Bolus Herbarium 19.
Nndanduleni, M. 2020. Restio similis Pillans. (Restionaceae). PlantZAfrica. Online. http://pza.sanbi.org/restio-similis.
Oliver, M. 2019. Observation of Restio virgeus, Waaihoek, Western Cape. iNaturalist. Online. https://www.inaturalist.org/observations/33795762.
Pillans, N. S. 1928. The African genera and species of Restionaceae. Transactions of the Royal Society of South Africa 16(3-4): 272-273.
World of Dictionary. https://worldofdictionary.com/dict/latin-english/meaning/virgeus. Accessed 25/01/22.
Credits
Mashudu Nndanduleni
Kirstenbosch National Botanical Garden
April 2022
Acknowledgements: The author thanks Marian Oliver and Peter Linder for the pictures as credited.
Plant Attributes:
Plant Type: Restio
SA Distribution: Western Cape
Soil type: Sandy, Loam
Flowering season: Spring, Early Summer, Late Summer
PH: Acid
Flower colour: Brown, Yellow
Aspect: Full Sun
Gardening skill: Average
Special Features:
Drought resistant
Feature plant
Horticultural zones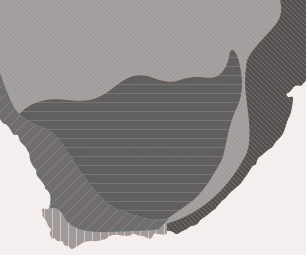 Zone 1 Coastal summer rainfall, frost free
Zone 2 Coastal winter rainfall, frost free
Zone 3 Winter rainfall Karoo, light frost
Google QR Code Generator